CBP Paid a Contractor $13.6 Million to Hire 2 Agents
$13.6 million might be a drop in the bucket. But this is still incredibly wasteful.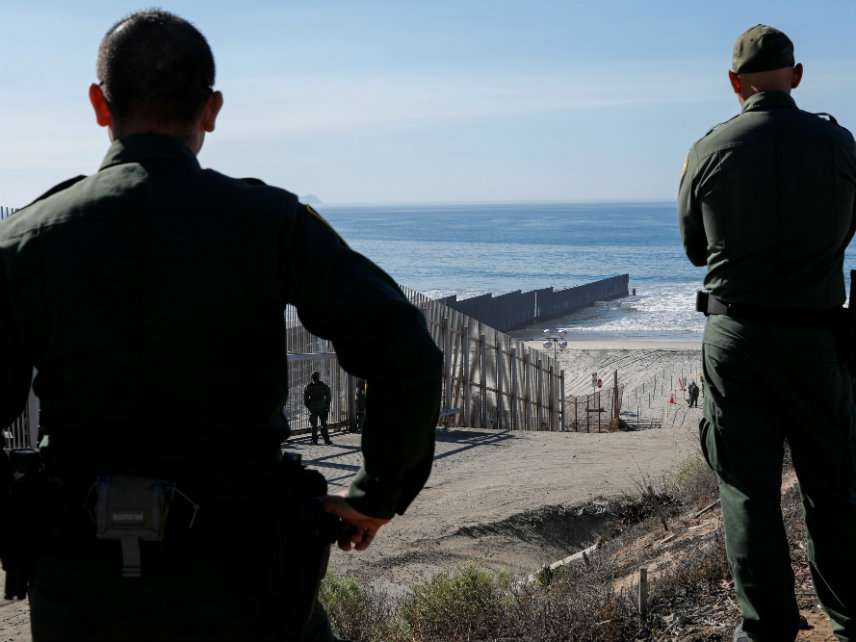 An internal watchdog report has revealed that U.S. Customs and Border Protection (CBP) paid an outside company $13.6 million to hire two new agents.
Let's be clear about something: In the grand scheme of federal government spending, $13.6 million is not a lot of money. Sure, it's a fortune for most people (I could spend all day thinking about what I would use that much money for), but for the feds, it's really just a drop in the bucket. During the 2019 fiscal year, the federal government will spend upward of $4 trillion. That includes a proposed budget of more than $74 billion for the Department of Homeland Security (DHS), more than $16 billion of which will likely go to CBP.
So even in terms of CBP's budget, $13.6 million isn't very much. That being said, this latest example of government waste is still egregious when you consider how the $13.6 million was spent.
Not long after he was sworn into office, President Donald Trump issued an executive order directing the CBP commissioner to hire 5,000 additional agents. Trump, who ran on a platform of securing the U.S.'s southern border with Mexico, was trying to fulfill his campaign promise of curbing illegal immigration. In November of that year, CBP awarded a $297 million contract to Accenture, which describes itself as a "global professional services company providing a range of services & solutions in strategy, consulting, digital, technology & operations." The money was supposed "to help meet the demands of recruiting and hiring agents and officers under" Trump's executive order, according to a report published Thursday by the DHS Office of Inspector General. The goal was to hire 7,500 workers over five years. The latter four were "option years," likely meaning that CBP could terminate the contract after the first year.
To put it simply, that didn't happen. The report states:
[A]s of October 1, 2018—10 months into the contract—CBP has paid Accenture approximately $13.6 million for startup costs, security requirements, recruiting, and applicant support. In return, Accenture has processed two accepted job offers.
So whose fault was it: Accenture or CBP? In reality, it's probably a combination of both. "[B]efore awarding Accenture the contract, CBP did not ensure the proposed systems and processes, such as applicant tracking, complied with all applicable laws and regulations or could be integrated into its hiring process," the report notes. "CBP also did not establish metrics to assess the contractor's performance and hold the contractor accountable."
This meant that when Accenture failed to hold up its end of the contract, CBP didn't have much recourse.
And fail it did. Accenture promised "a team of technical experts and tools" to carry out the contract's requirements, the report says, as well as "an innovative applicant tracking system to manage the hiring process." Instead, the company appears to have let CBP do much of the work, failing to provide the promised experts, vendors, and applicant tracking system.
Eventually, CBP realized that Accenture wasn't up to the task and gave it another three months to get with the program. During that time, much of the agency's hiring-related operations were left to CBP staff themselves. But Accenture still got some of the credit and the payment. According to the inspector general:
During this period, since Accenture could not determine which applicants it recruited, CBP agreed to give credit and temporarily pay Accenture for a percentage of all applicants regardless of whether CBP or Accenture processed the applicants. As of October 1, 2018, CBP had processed 14 applicants on behalf of Accenture. All 14 applicants accepted job offers and 7 of the 14 entered on duty, which translated to payment of approximately $500,000 to Accenture for work CBP had completed.
The inspector general issued several recommendations, most notably that CBP look into whether Accenture has performed as promised and seek reimbursement if not. CBP argued in response that while the $13.6 million only resulted in two hires, Accenture has actually "marketed and recruited thousands of new applicants, and conducted many of the hiring steps for several thousand applicants." Of course there's no way to know if that's actually true, because as the inspector general points out, Accenture did not provide a way to track the applicants it recruited.
Ultimately, CBP concurred with each of the report's recommendations.
It's worth noting that more CBP agents is not necessarily a good thing. After all, increasing the number of agents assigned to the border is part of Trump's failed immigration crackdown. And that crackdown is based on the assumption that illegal immigration hurts the country, when in fact the opposite is true. Plus, there are Fourth Amendment concerns regarding searches conducted by border agents.
Still, it seems pretty clear that CBP spent the vast majority of $13.6 million to hire a measly two agents. Would it have been better spent if they had hired more workers? That's up for debate, depending on how you feel about the existence and goals of the agency in the first place. What's undeniable is that CBP blew millions in taxpayer money and should be scrutinized for their waste.