Miami Beach Shut Off Home's Electricity, Water, Over Unpaid Airbnb Fines
The fine is likely unconstitutional, and the city's strong-arm tactics were blocked by a judge this week.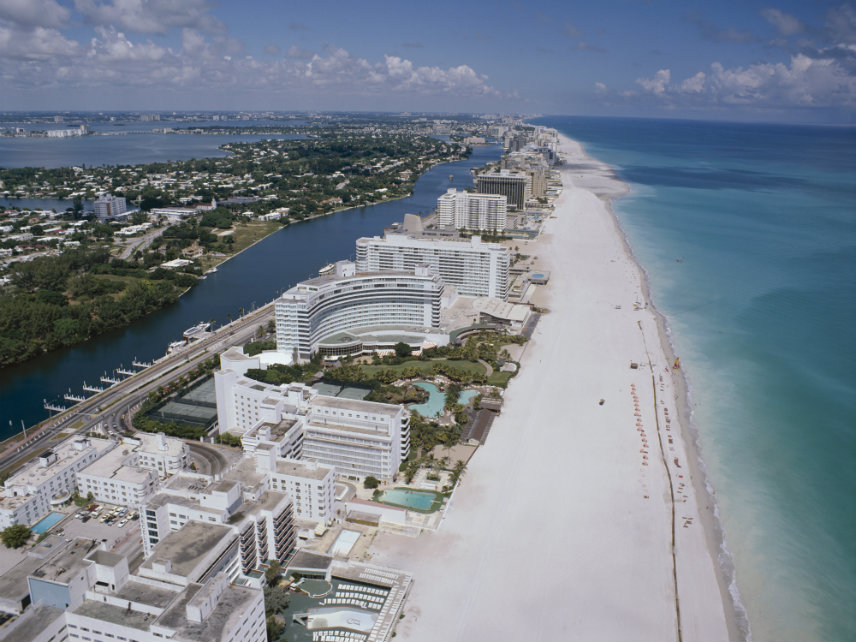 When a homeowner refused to pay possibly unconstitutional fines for an Airbnb listing, the city of Miami Beach, Florida, took the unusual step of turning off the water and electricity supply to the house.
In a lawsuit filed last month, homeowner Ralph Serrano accuses the city of resorting to "strong-arm tacitcs" to get him to pay "constitutionally excessive fines" totaling $200,000. Earlier this week, a district judge ordered the city to immediately restore utility services to the home
The saga began last year, when Miami Beach began cracking down on short-term rentals by issuing fines up to $100,000 for violations of city zoning ordinances that effectively outlawed Airbnb-style rentals in most of Miami Beach's residential areas. Serrano refused to pay a series of fines imposed during 2017, arguing that the city's penalty was a violation of the Florida Constitution's ban on excessive fines—other Miami Beach residents are currently engaged in a separate lawsuit against the city making the same argument, and even a member of the city council has admitted the fines are "grossly disproportional."
In March of this year, the city revoked the home's certificate of occupancy and later used the lack of a certificate to order Florida Power & Light and Miami-Dade County Water to shut off electricity, sewer, and water services.
The city zoning ordinance that allowed Miami Beach to target homeowners like Serrano for listing their property on Airbnb spells out the punishments for violating the rules, including the massive fines and the right to seek a court-order to mandate payment if property owners refuse to do so. Nowhere in the ordinance does it say that the city can terminate utility services or revoke a certificate of occupancy as punishment for refusing to pay a fine. The city's actions have resulted in "a de facto forfeiture" of his home, Serrano argues.
When Serrano approached the city about getting the power and water services restored, he alleges, city officials provided him with a list of demands that included showing proof of a long-term rental contract for the home—despite the fact that it is illegal to rent a home that lacks a certificate of occupancy—and required him to show evidence that he'd asked Airbnb and other short-term rental platforms to remove listings for the home. Those requests also exceed the city's authority under the zoning ordinance, Serrano says.
The lawsuit will move forward despite this week's order from Judge Jennifer Bailey telling the city that it must restore utility service. A hearing is scheduled for January.
"The judge's order is a step in the right direction, correcting these strong-arm, illegal and unconstitutional tactics by the City of Miami Beach," Serrano told Reason in an emailed statement. But Serrano says the house has already suffered mold damage after going months without power.
The action taken again Serrano represents a significant escalation in Miami Beach's ongoing war on short-term rentals. The city's aggressive policing of short-term rentals has made headlines for years, but it upped the ante in 2016 by increasing the maximum fines from $1,500 to $100,000 for a first offense. City officials have argued that the fines are not excessive because some of the rental rates in Miami Beach are astronomical—Kylie Jenner, for example, stayed at a $12 million Miami Beach villa, rented for about $8,000 a night on Airbnb. But that's hardly the whole picture. A $100,000 fine is still a lot of money, even for someone who owns a $12 million home—but that same fine can be destructive when levied against an average homeowner, and is no where near being proportional to the offense.
As of last year, the city had issued more than $6.5 million in fines, but had collected only about $125,000.
Longtime resident Natalie Nichols filed a lawsuit on the grounds that the Florida Constitution prohibits excessive fines. The Goldwater Institute, an Arizona-based libertarian think tank, is assisting with the lawsuit.
Miami Beach has apparently been undeterred. The city recently considered changing it's anti-Airbnb rules from a mere zoning violation to a full-fledged misdemeanor, meaning that violators could be tossed in jail for simply renting out a house for a weekend.