China's Xi Fools Another U.S. President With Promises of a Fentanyl Crackdown
And once again, Trump is distracted from real policy by symbolic brutality.
Just days after a White House press release described China's willingness to crack down on illicit fentanyl as a "wonderful humanitarian gesture," President Donald Trump took to Twitter to say "the results will be incredible" if the Chinese government uses "the Death Penalty for distributors and pushers."
…..considered to be the worst and most dangerous, addictive and deadly substance of them all. Last year over 77,000 people died from Fentanyl. If China cracks down on this "horror drug," using the Death Penalty for distributors and pushers, the results will be incredible!

— Donald J. Trump (@realDonaldTrump) December 5, 2018
The White House announced on December 1 that Chinese President Xi Jinping agreed, during a meeting with Trump in Argentina, that China would "designate Fentanyl as a Controlled Substance, meaning that people selling Fentanyl to the United States will be subject to China's maximum penalty under the law."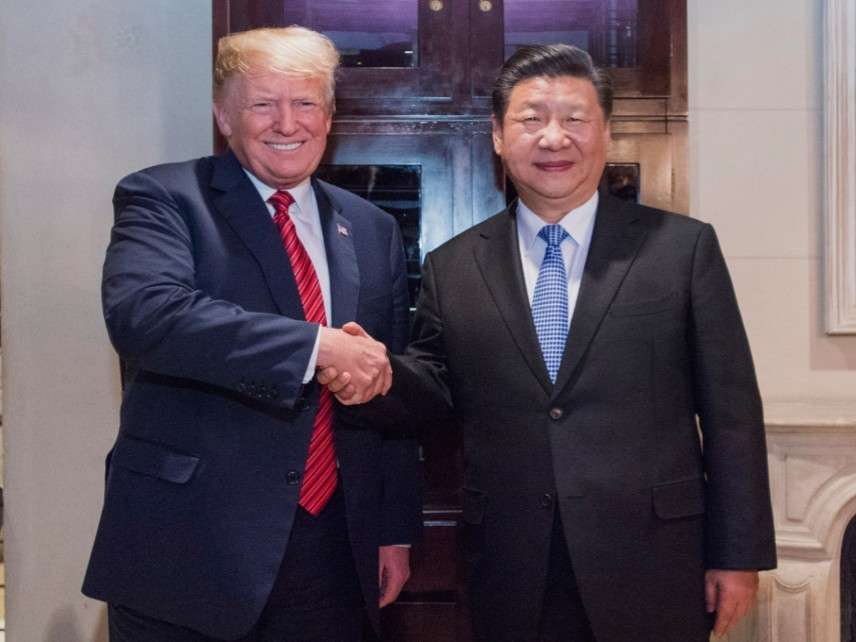 While the White House press release skirts the issue, Trump eagerly makes plain that the maximum penalty for drug offenses in China is capital punishment. Chinese courts—perhaps at the behest of the Communist Party or in response to international outrage over illicit drug exports—have began using public sentencings to message toughness. This time last year, a court in Guangdong province sentenced seven drug offenders to death. The sentencing was treated like an event: held in a sports stadium, advertised on social media, and broadcast live online.
That Trump sees Xi's willingness to execute even more people—quite a feat, considering that China already leads the world in murdering its own citizens—reveals yet another way in which the American president favors vague bravado over policy nuance. If, in the coming months, China were to announce a large fentanyl bust (or two) and then send a dozen (or more) offenders to the gallows, Trump could take credit for wringing a concession from Xi, even though China regularly murders drug offenders and has for years.
Trump would call that a win, but people who study illicit trade know better. In 2015, China added six fentanyl products (including fentanyl itself) to its list of controlled substances; American overdose rates did not decline. As Sui-Lee Wee reports for The New York Times, China promised the Obama administration in 2016 that it would "crack down" still more on illicit fentanyl; American overdose rates did not decline. Much like American drug warriors, Xi is promising to do more of what he's already done. It hasn't worked before and it won't work now.
China's chemical manufacturing sector is too large to regulate; its law-breakers are too savvy to stay out of business for long; and its regulators are too corrupt to do the work of, well, regulating. Consider these very real obstacles, culled from a U.S.-China Economic and Security Review Commission report released in 2017:
China is home to over 5,000 pharmaceutical companies and over 160,000 chemical companies, and the line between legal and illegal operation is blurred by the fact that licensed manufacturers will supply both legal and illegal customers.
Shippers of illicit fentanyl use a network of package forwarding services that work so well most shippers will guarantee a free replacement shipment in the even of confiscation
Fentanyl is intentionally mislabeled as other drugs, or hidden alongside completely legal items, in order to evade detection (and it works)
Pill presses, used here in the U.S. and in Mexico to disguise fentanyl as prescription pills, are shipped in pieces to avoid detection (and it works)
Just months after adding fentanyl to its list of controlled substances in 2015, Chinese chemical factories began pumping out furanyl fentanyl, which was not on the list of controlled substances. Illicit chemists have done this, and will continue to do this, with every banned substance.
Chinese regulators and law enforcement have been known to delay visa approvals for Food and Drug Administration inspectors who visit to the country to inspect factories that export to the U.S., and to destroy records that would likely show legal factories are engaged in diverting substances to illegal markets.
Due to the massive (and growing) volume of legal Chinese goods shipped to the U.S. through legitimate online marketplaces, U.S. Customs inspectors simply cannot intercept even a meaningful fraction of the illicit substances sent to the U.S. each day
Hammering out a bilateral agreement that actually reduced the amount of illegal drugs China shipped to the U.S. would be a tall order for even a wonky president. Trump doesn't stand a chance.