Minneapolis Cops Find a Way to Make a Christmas Tree Racist
The most bigoted tree in Minnesota?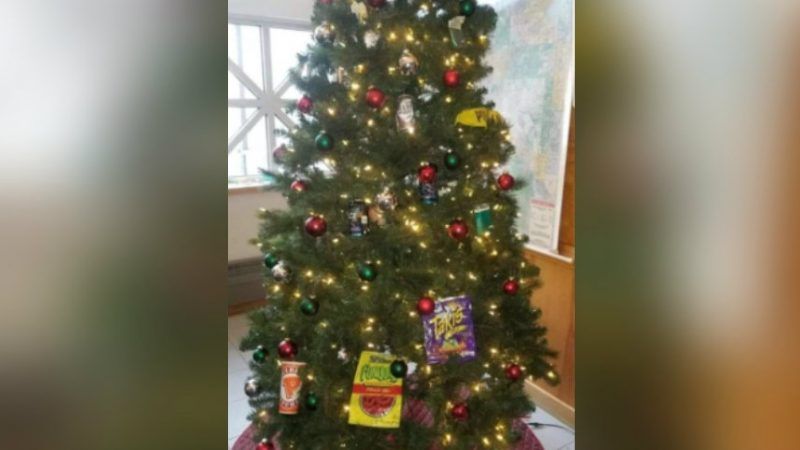 (Twitter/@northxnorthside)
Two Minneapolis police officers apparently thought it would be funny to decorate the Fourth Precinct Christmas tree with items often stereotypically associated with African Americans. The decorations included a cup from Popeyes Louisiana Kitchen, empty bags of Funyuns and Takis tortialla chips, two Newport cigarettes containers, and malt liquor cans:
This is a photo of a racist and derogatory Christmas tree at the Minneapolis 4th precinct. @jeremiah4north @CunninghamMPLS @Jacob_Frey We must demand an apology and commitment to build better community relations. This is unacceptable. pic.twitter.com/xNq4CUZUu5

— North by Northside (@northxnorthside) November 30, 2018
Councilman Phillipe Cunningham, who represents the city's Fourth Ward, reports that the offending ornaments were added after the tree had already been decorated by an assigned officer.
The tree has since been taken down. Minneapolis Police Chief Medaria Arradondo, who is black, said in a statement he was "ashamed and appalled by" such behavior, according to WCCO. Mayor Jacob Frey initially promised that the "offending party will be fired" by the end of Friday, but his spokesperson, Mychal Vlatkovich, later clarified to the Minneapolis Star Tribune that there's a "legally required process that must be followed" before an officer can be terminated.
Two officers are currently on paid administrative leave while internal affairs investigates.
Local activists see the Christmas tree incident as just the latest sign of a broken culture within the police department. "If you understand the history and the attitude that the police have toward the citizens here, you'd understand that there was a meaning behind it," community activist Mel Reeves tells WCCO. Following the November 2015 police shooting of Jamar Clark, an unarmed black man, protesters camped around the Fourth Precinct headquarters for 18 days. The department ended up clearing two officers of wrongdoing in the shooting.
It's hard to tell how long the ornaments in question were up before the tree was taken down. Inspector Aaron Biard, who leads the Fourth Precinct, reportedly told Cunningham that the ornaments came down the same day they went up. But when reached by Reason, a police spokesperson refused to comment on the timeline, citing the open investigation.