America's Fitness Boom Is a Free Market Success Story
America has added about 100,000 yoga instructors, personal trainers, and spin class teachers in the past 14 years or so. That's supply meeting demand.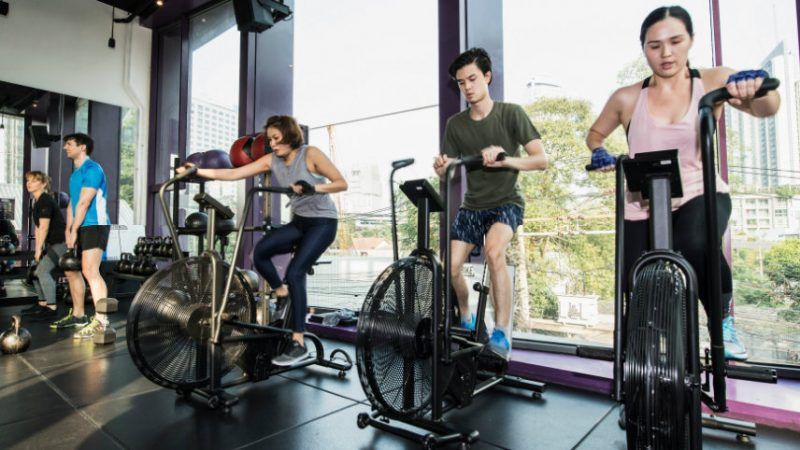 (Henn Photography Cultura/Newscom)
A recent report in Inside Higher Ed shows "exercise science" as the fastest growing academic field, with religion and history most rapidly shrinking.
It's the latest in a series of data points suggesting that organized exercise is challenging the humanities and traditional religion as a place where people seek community, meaning, and discipline.
The students making choices about college majors may be making rational decisions about their employment prospects.
The federal Bureau of Labor Statistics counted about 280,080 fitness trainers and instructors in 2017, up from 241,000 in 2014 and from 182,280 in 2004.
Compare that to clergy: 49,850 jobs in 2017, according to the BLS, up from 46,510 in 2014 and from 35,790 in 2004.
In other words, if the federal statistics are accurate, America has added about 100,000 yoga instructors, personal trainers, and spin class teachers in the past 14 years or so, but only about 14,000 ministers, rabbis, priests and imams.
A federal time use survey offers some additional supporting data. If the federal government is going to spend taxpayer dollars studying this sort of thing based on probably nonexistent constitutional authority, after all, we might as well make some productive use of the information. In 2017, among the civilian noninstitutional population aged 15 and older, average time spent each day in "participating in sports, exercise, and recreation" was 0.28 hours, while 0.13 hours were spent on "religious and spiritual activities."
These pursuits don't have to be mutually exclusive. Plenty of religious people exercise, too, and plenty of people who exercise also go to church or synagogue or mosque. Some of the people working out are doing so at YMCA or YWCA facilities in which the "C" stands for Christian, at least nominally.
This trend is visible in rural America, where small towns now routinely seem to have a yoga studio alongside the local hardware store and tractor dealer. And it's visible in prosperous suburbs such as Newton, Mass.; Ardmore, Pa., and St. Louis Park, Minn., where vast Life Time health clubs also offer homework help for children and even, in some cases, co-working space for people who want their office to be at the gym.
The juxtaposition seems particularly noticeable in December, when holiday parties and the temptations of eating and drinking to excess are followed by New Year's resolutions aimed at diet and exercise. In some cases, the talk at the Chanukah or Christmas parties revolves around which gym participants will go to the next day to work off the calories.
We have a long way to go before finding out whether SoulCycle, the spin-class provider founded in 2006, can serve souls in as enduring a way as ancient faith traditions.
Some will be tempted to read into this a tale of American decline, a story about how the humility of worshipping a higher power and of seeing oneself as a small part of a long story has been replaced with cult gyms that are less about health and fitness than they are about status and appearance.
But that risks being too pessimistic. What both the gyms and the churches and synagogues seem to realize is that there's something powerful in getting together, face-to-face, with other people in a physical place. It means putting down our cellphones and getting out of our cars and committing to something that may become a regular habit. Particularly in a season when daylight is scarce and the weather, at least in the Northeast, can be grim, it can help keep people happy.
So if the market for exercise science degrees is booming, maybe it's a sign of not only of physical health but of market health—a capitalist success of supply meeting demand. Capitalist abundance is often blamed for obesity. Let it also get some credit for the exercise boom. If and when all these newly fit instructors and their students live long enough to start wondering what they are doing on earth in the first place and what if anything will happen to them once they leave, they may yet have the strength to explore other disciplines.
Ira Stoll is editor of FutureOfCapitalism.com and author of JFK, Conservative.