The NAFTA Rewrite Is Flawed, but Not Getting It to Congress This Year Might Be an Even Bigger Mistake
Trump's best chance to enact the United States-Mexico-Canada Agreement may have already passed.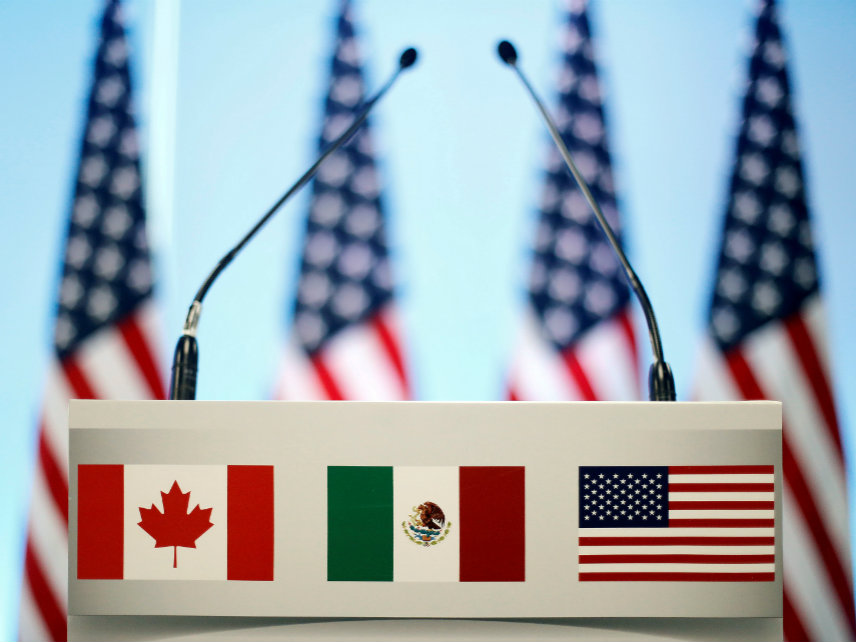 For all the talk of his deal-making prowess, President Donald Trump has precious little to show for it during his nearly two years in office. Unless his administration takes quick action to get the rewrite of the North American Free Trade Agreement (NAFTA) before Congress, even that mild accomplishment may be relegated to legislative limbo.
This morning Trump held a high-profile signing ceremony with Canadian Prime Minister Justin Trudeau and Mexican President Enrique Peña Nieto at the G-20 summit in Argentina. The leaders of the three countries put their signatures to the final version of the United States–Mexico–Canada Agreement (USMCA), but the deal must still be ratified by each domestic government.
If the Trump administration wants to get the USMCA through Congress solely with Republican votes, the clock is running out. Realistically, today is the deadline for getting the proposal in front of Congress. Under the terms of what's known as "Trade Promotion Authority," Congress granted Trump the power to unilaterally renegotiate NAFTA, but the legislative branch must ratify the agreement with an up-or-down vote after a mandatory 30-day review period. The current session of Congress ends on January 3. After that, Democrats will control the House.
The approaching Democratic takeover does not foreclose the possibility of Congress voting to ratify the USMCA, but certainly complicates the pact's path forward. Politically, of course, Democrats may hold up the passage of the USMCA merely to deny Trump a policy win. Practically, Democratic leaders may demand changes to the agreement that Senate Republicans or the Trump administration (or the governments of Canada or Mexico) will not abide.
For that matter, it's not clear that the USMCA would pass even with Republicans in control of both chambers. That's because some congressional Republicans disagree with the Trump administration on trade issues and correctly see the USMCA as moving North America further from free trade.
"On balance, it leaves us with diminished trading opportunities, rather than expanded trading opportunities with Mexico and Canada," says Sen. Pat Toomey (R–Pa.), who has emerged as Senate Republicans' most vocal critic of the USMCA. Toomey says he would be a "no" vote on the USMCA as currently written.
His objections are good ones. The USMCA imposes new requirements for the origin of cars and car parts, mandating that at least 75 percent of cars' content must be produced in North America and at least 40 percent must be produced by workers earning $16 an hour (or the equivalent in other currency) in order to cross national borders tariff-free. That's likely to raise the cost of making cars in North America and could lead automakers to move more production overseas. The agreement also sets quotas for imported cars from Canada and Mexico, and raises the threat of further automotive tariffs. Finally, Toomey objects to the USMCA's sunset provision, which would see parts of the agreement expire automatically after 16 years. "It's a bad idea to have a trade agreement that's designed to go away," Toomey says, citing the need for investor certainty.
While Toomey is alone in putting his vote on the USMCA on the record, he's not the only senator to raise concerns with the deal. Ben Sasse (R–Neb.) has said the greement appears to be "empowering government bureaucrats rather than markets to determine the components in cars and other goods." Marco Rubio (R–Fla.) took his complaints about "how bad the new trade deal with Mexico is for Florida" to Twitter on Wednesday—though Rubio appears to be seeking more protectionism, not freer trade.
Still, threading the needle on the USMCA will only become more difficult after January 3, when the current Congress ends.
If Democrats are willing to consider the trade deal at all—keep in mind that Speaker-elect Nancy Pelosi (D–Calif.) killed a Bush-era trade deal with Colombia in 2008 by refusing even to schedule a vote on it—they may try to move it in a more protectionist direction. Some of Trump's priorities, like the minimum wage rule and import quotas, align more closely with Democrats' long-term views on NAFTA, but Democrats are likely to push for even more changes to avoid giving Trump an easy win and to appeal to their own progressive base. Remember, Democrats running for president in 2016 unanimously opposed the Obama-era Trans-Pacific Partnership deal (even Hillary Clinton, who had previously supported it), while every major Republican candidate except Trump favored it.
Rep. Richard Neal (D–Mass.), who is in position to become chairman of the House Ways and Means Committee in January, may have tipped the Democrats' hand in October when he said that "the bar for supporting a new NAFTA will be high" and that he was "not confident at all" that the deal would clear Congress. And that was before the Democrats won the election.
As The New York Times has outlined, Democrats' opposition to the USMCA will likely focus on upping the effective minimum wage rate for automakers, indexing it to inflation, and setting stricter environmental regulations across all three countries.
Even if Trump goes along with those demands, any changes to the USMCA that erect further barriers to trade would make pro-trade Senate Republicans more likely to jump ship.
It's tempting to think that the USMCA falling apart in Congress is for the best. While it does include some improvements over NAFTA—freer trade of Canadian agricultural products, some sensibly updated rules for technology—the USMCA is, on the whole, a more protectionist framework than what it would be replacing. Just let it die, right?
Toomey disagrees. If the White House is unable to get the USMCA through Congress next year, he worries the president will do what he's long threatened to: Unilaterally yank the United States out of NAFTA without a replacement ready. That would be disastrous for the economy, Toomey warned in a Wall Street Journal op-ed last week. It could also send Washington spiraling into another constitutional crisis, because it's not clear whether Trump would have the authority to do that without congressional approval.
Still, if Trump wanted to get his NAFTA rewrite through Congress quickly and easily, the best choice would have been to dial down the protectionism and seek approval soon after a deal with struck with Canada and Mexico last month. At this late moment, the chances that the USMCA will be approved before Democrats take the House are slim to none. Getting it passed in December is "probably, sadly impractical," Sen. John Cornyn (R–Texas) tells The Weekly Standard's Haley Byrd. The Trump administration, Cornyn says, does not seem to have any sense of urgency to get the deal done.
Depending on how cynically you view Trump, it's possible to conclude that the president is trying to create Toomey's nightmare scenario—where lack of congressional agreement on the USMCA gives Trump the impetus to act alone on killing NAFTA, something he wanted to do soon after taking office only to be dissuaded by aides who urged the renegotiation approach.
"The path to getting this ratified, if the administration chooses to wait, is not at all clear to me," says Toomey. "It almost certainly means it moves in a more protectionist direction."