Dutch Church's Month-Long, 24/7 Service Is Saving a Family of Refugees From Deportation
The church faced a dilemma: "choosing between respect for the government and protecting the rights of a child."
(Facebook/Joost Schelling)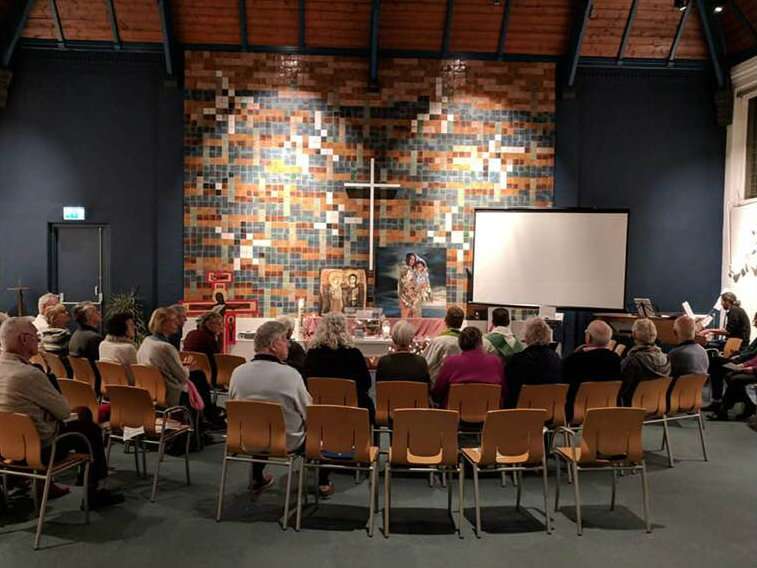 When the leaders of a Dutch church found out that a family of Armenian refugees was facing deportation, they realized this was a chance to act on their convictions, even if it meant a bit of civil disobedience. As a result, the church has spent more than a month taking advantage of a legal loophole to ensure that the family stays.
For almost nine years, the Tamrazyan family has living as refugees in the Netherlands. And for good reason—according to their asylum request, the father has received death threats due to his political activism in Armenia. While a judge granted them asylum, the government fought back, and the initial ruling was eventually overturned.
Facing a deportation order, the family of five, who had previously been living in an asylum center, sought aid. "This week I can be expelled from the Netherlands after 9 years," 21-year-old Hayarpi Tamrazyan said in a video posted to Twitter in September, according to Euronews."On behalf of my brother and sister, I ask you for help."
Hayarpi and her siblings—Warduhi and Seyran—as well as her father Sasun and mother Anousche, moved out of the asylum center and took refuge at the church where they were members: Gereformeerde Kerk vrijgemaakt (GKv) Katwijk. But as Quartz reported, the church was too small to house them over a long period of time.
That's when Bethel Church in The Hague stepped in to help. In addition to taking the family in, the church made certain authorities couldn't arrest them. How? According to Dutch law, police are not allowed to force their way into houses of worship while religious services are taking place. So ever since October 26, Bethel has been holding a round-the-clock church service.
"We do all this by continuously [sic] praying, singing, listening to sermons and worshipping," Axel Wicke, a minister at Bethel, tweeted Sunday. "The Tamrazyan familiy is literally living in a protective house built by prayers and worship."
Bethel has received the support of the Protestant community in the Netherlands. Its efforts have attracted pastors from around the country, who lead the service in shifts, no matter how many people are in the congregation. The church is trying to "create time and space for dialogue with the government about a dilemma that…should not be faced by a church: choosing between respect for the government and protecting the rights of a child," Theo Hettema, chairman of the General Council of Protestant Ministers, told Eternity News.
Where do "the rights of a child" come into play? The Tamrazyan family previously tried to obtain a "children's pardon," which allows families seeking asylum to stay if they have a child who's been in the country for more than five years. Having lived in the Netherlands for nearly nine years, the Tamrazyans should have been eligible, but their application was still rejected. In fact, from 2013—when the policy was implemented—to April 2016, less than 10 percent of children's pardon requests were granted, according to the Dutch Immigration and Naturalisation Service website.
Wicke told the Australian Broadcasting Corporation (ABC) that Bethel has been aware of this issue "for a while"—long before the Tamrazyans sought aid. He also explained why Bethel feels it's so important that the family not be sent back to Armenia. "We know from the family that [Sasun] also got abducted several times—he was politically active and people in the country were wanting him dead," Wicke said.
Bethel is not the only church to take drastic measures in order to try and stop deportations. On Monday, Reason's Zuri Davis wrote about CityWell United Methodist Church in Durham, North Carolina. For 11 months, CityWell sheltered Samuel Oliver-Bruno, an undocumented immigrant whose wife and son are both American citizens. On Friday, Oliver-Bruno showed up for an appointment at the local U.S. Citizenship and Immigration Services (USCIS) office, only to be arrested by plainclothes Immigration and Customs Enforcement (ICE) agents. Dozens of his supporters who had accompanied him to the appointment surrounded the van where he was taken by immigration agents. They prayed, chanted, and sang. Police ended up arresting 27 of them.
Reason's Shikha Dalmia reported in February that there many churches across the United States providing sanctuary to undocumented immigrants. Authorities usually don't force their way into sensitive locations like churches and hospitals, though in some cases agents will simply wait until immigrants leave to arrest them.
As for the Tamrazyans, Hettema told Quartz he hopes Dutch Minister of Migration Mark Harbers will grant them legal residency, which Harbers has the power to do. But Hettema understands that a never-ending church service isn't the final solution.
"We do not have any illusions. It may end with vans of the Repatriation and Departures Service out front, or may end because we can no longer continue the service," he told Eternity News. "But that was not reason not to do it," he added, indicating that when a family asks for help, it's up to the church to step up.