What's Happening in the Mississippi Senate Runoff
The race has come to be defined more by controversy than by policy.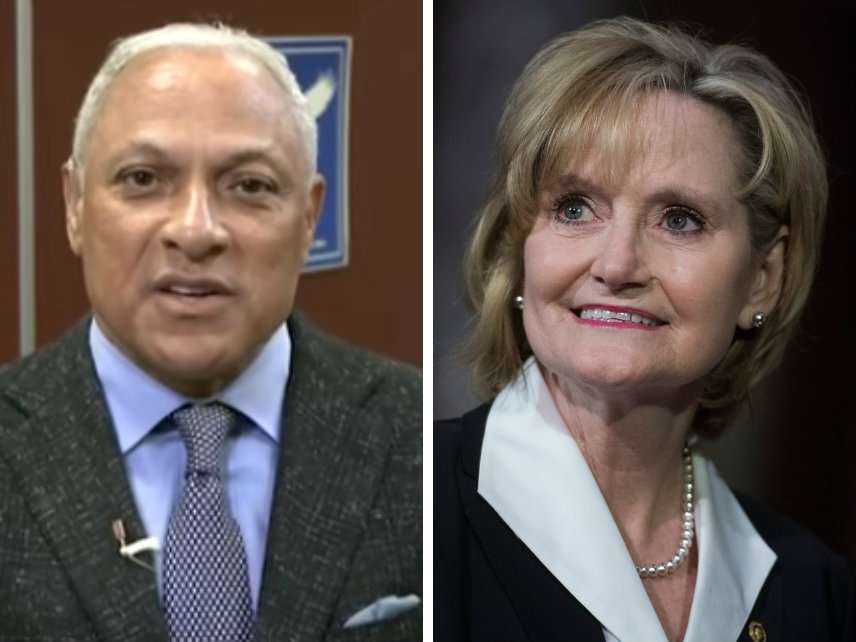 More than two weeks after Election Day, the 2018 midterms aren't quite over. In Mississippi, neither Republican incumbent Sen. Cindy Hyde-Smith nor Democratic challenger Mike Espy received a majority of the vote on Election Day. As a result, they'll face off tomorrow in the culmination of a race that's come to be defined more by controversy than by policy.
The runoff follows the retirement of longtime Sen. Thad Cochran, a Republican, who had more than two years remaining in his term when he stepped down. GOP Gov. Phil Bryant appointed Hyde-Smith, who previously served as agriculture and commerce secretary, to fill Cochran's seat. Meanwhile, a special election was scheduled for November 6, with the major candidates including Smith, Clinton-era agriculture secretary Espy, and state Sen. Chris McDaniel, a conservative who also ran for Senate in 2014.
On Election Day, Hyde-Smith won a plurality with 41.5 percent of the vote—but Espy wasn't far behind with 40.6 percent. McDaniel's 16.5 percent wasn't nearly enough to win, but it was enough to ensure a runoff.
Policy-wise, neither candidate's views are that surprising. Hyde-Smith is a boilerplate conservative, with her campaign website highlighting her opposition to abortion and illegal immigration as well as her support for the Second Amendment. Espy is a relative moderate on some issues, including immigration, where he supports border security but opposes President Donald Trump's proposed border wall. As ABC News reports, Espy has said he'll be more than happy to work with Trump "if it's good for Mississippi."
But the candidates' policies have gotten significantly less attention than a series of controversies that have engulfed the race since Election Day. On November 11, Bayou Brief publisher Lamar White Jr. posted a video from November 2 in which Hyde-Smith says that if one of her supporters invited her "to a public hanging," she'd "be on the front row." Her remarks drew widespread criticism, given Mississippi's history of lynching African Americans. Though she apologized, several companies who had previously donated to her campaign, including Major League Baseball and Walmart, asked for their money back.
The "public hanging" controversy was just the start. Another video from White, posted on November 15 but taken on November 3, showed Hyde-Smith making a joke about voter suppression. The candidate told supporters at a campaign stop that "there's a lot of liberal folks in those other schools who maybe we don't want to vote. Maybe we want to make it just a little more difficult. And I think that's a great idea."
Hyde-Smith has also faced criticism for attending a segregation academy—a private school originally established for white children who wanted to avoid the newly integrated public schools—and for sending her daughter to the same institution. CNN noted that as a state senator, Hyde-Smith co-sponsored legislation to honor "the last known living 'Real Daughter' of the Confederacy living in Mississippi." Also last week, a 2014 photo posted to Facebook of Hyde-Smith wearing a Confederate soldier's hat resurfaced.
To some observers, the race brought to mind last year's special Senate election in Alabama, where Democrat Doug Jones upset Republican Roy Moore. There are some similarities: Both Deep South states usually go Republican, and Trump carried each by a large margin in the 2016 election. And like Hyde-Smith, Moore was mired in controversy in the days leading up to the election. The controversies were rather different, though—he was accused of inappropriate behavior with underage girls, not potentially insensitive comments.
A recent poll has Hyde-Smith up by 10 points: 54 percent to 44 percent. But no other major polls have been conducted since Election Day, so Republicans are still on edge. "I think Espy supporters are probably a little more energized than Hyde-Smith," Henry Barbour, the Republican National Committee's national committeeman in Mississippi, tells Politico. "We don't want to have an Alabama," he adds.
It's not that likely. According to the nonpartisan Cook Political Report, Hyde-Smith has a greater chance to win, even if "observers might be surprised by how close the margin ends up being." FiveThirtyEight, meanwhile, points out that "there's not a lot of evidence that Hyde-Smith's gaffes have thrown this race wide open."
Whoever does end up winning will get to be a first—Hyde-Smith would be the first woman elected to represent the state in the Senate, while Espy would be the first black senator elected in the state in more than 125 years. Regardless of the outcome, Republicans will have a Senate majority.
CORRECTION: This post originally stated that if elected, Espy would be Mississippi's first African American senator. In fact, Mississippi had two black senators during the Reconstruction era: Hiram Revels and Blanche K. Bruce. Espy would be the state's first black senator since Bruce left office in 1881, and this post has been updated to reflect that.