This Thanksgiving, Here Are 6 Ways the Government Suppresses Charity
Government has repaid acts of service with exorbitant fines and misdemeanor charges.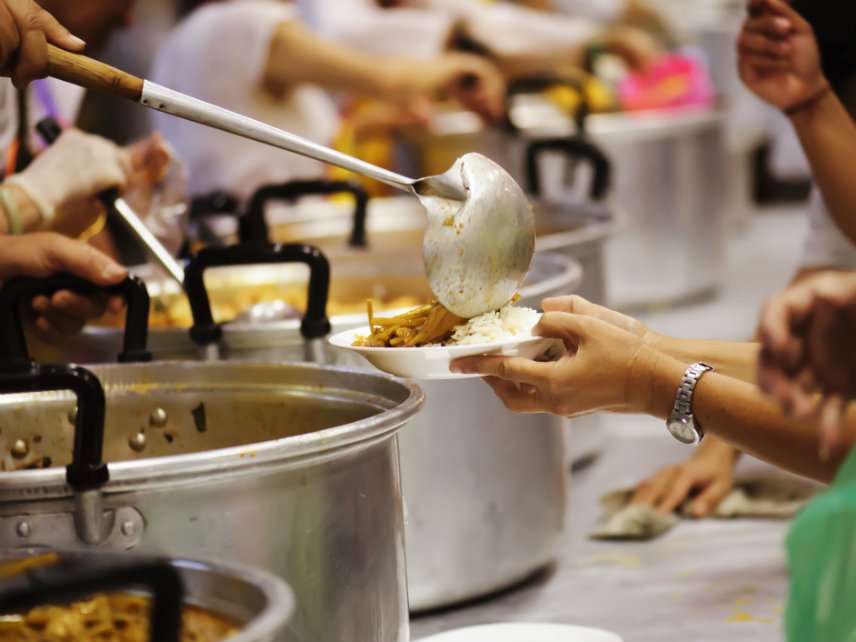 Thanksgiving is a pretty self-explanatory holiday: It's a time to take stock of one's blessings. Over the years it has also evolved into a time to eat far too much turkey, to argue with relatives about politics, to watch football—and to help the less fortunate. Each November, millions of Americans volunteer at soup kitchens, participate in charity races, or find other ways to help the needy.
Philanthropy isn't limited to Thanksgiving, of course. Many people and organizations work year-round to aid the sick, the poor, and the hungry. Unfortunately, their efforts are often hindered by the government. Here are six times the government didn't quite get the spirit of charity in 2018:
Good Samaritans were charged with misdemeanors after feeding the homeless near San Diego.
In January, a group of Good Samaritans spent Martin Luther King holiday weekend feeding the homeless in El Cajon, California. El Cajon police officers spent the weekend handing out citations to the volunteers. A 14-year-old girl was among the people cited.
The city council had previously passed an "emergency" law to prevent the feeding of the homeless out of supposed concern for Hepatitis A. It was actually unlikely that the disease was being spread by non-homeless people passing out free food. Still, the ban turned turned the charity work into a misdemeanor offense. A group called Break the Ban deliberately broke the rule, both to help the homeless and to bring attention to the overreaching law.
A San Francisco landlord was fined for housing low-income vets.
The city of San Francisco is in the middle of a housing crisis. To help alleviate the burden on low-income veterans, San Francisco landlord Judy Wu converted 12 of her properties into 49 housing units. But the local zoning rules allowed for only 15 dwellings, so the city fined Wu $8 million and ordered most of the units dismantled.
City attorney Dennis Herrera tried to paint Wu as someone taking advantage of the disadvantaged. Yet her tenants indicated that they did not wish to move away. At least one described her as someone who had helped them rebuild their lives with respect and humanity. Nonetheless, the city evicted them.
Police shut down a charity lemonade stand in Denver.
Over the summer, two young brothers in Denver went to Charity International and found a five-year-old Indonesian boy in need of assistance. The Knowles boys set up a lemonade stand near the Denver Arts Festival, hoping to donate the proceeds to the Indonesian. They charged 75 cents for a cup of lemonade, or $1 for two.
After they'd raised $200, the boys' operation was shut down by police. If they wanted to stay in business, they were told, would need to purchase a permit for $125 a day. That's more than half of the money they raised. The boys' mother suspects that another vendor, who was selling lemonade for $7 a cup, may have had a hand in the cops' arrival.
Country Time lemonade has offered to pay the lemonade fines and permit costs for up to a year for kids in similar predicaments.
A North Carolina woman was arrested for sheltering pets during a hurricane.
Tammie Hedges wanted local pets to have a safe place to stay as Hurricane Irma made landfall in September. So her nonprofit, Crazy's Claws N' Paws, took in 27 pets, and volunteers made sure they were taken care of round the clock.
Days later, Hedges was arrested and charged with administering medicine to the pets without a license. Most of the charges, Hedges told the Goldsboro News-Argus, were a result of her administering amoxicillin, which is used to treat bacterial infections.
After her story went viral, the county announced it was dismissing the charges. But a statement from the district attorney suggested it was simply the bad publicity that led prosecutors to give up on the case. The local government has not addressed the larger issue: Volunteers are often best equipped to save animals during disasters, and those who donate their time to care for pets certainly shouldn't be punished.
Kansas City officials would rather bleach food than let the homeless eat it.
The nonprofit group Free Hot Soup showed up at four different locations November 4 with hot food for the homeless. City officials responded by seizing their chili, sandwiches, and soup and soaking them in bleach. The health department and Mayor James Sly claimed this was an issue of food safety: Free Hot Soup didn't have a permit to feed the homeless, so the city hadn't been able to check whether the food is safe to eat. Never mind the fact that the organization's food comes from volunteers who help out when they can, making it near impossible for the city to inspect every kitchen where food might be prepared.
Free Hot Soup was back at it the following week—but at least at one location, volunteers had to serve less healthy prepackaged foods rather than hot meals.
An Akron landowner has had to fight the city to keep the homeless on his property.
Sage Lewis, a wealthy businessman and former candidate for mayor of Akron, Ohio, lets homeless people camp out in tents behind a commercial building he owns in a poor part of town. But his nonprofit, The Homeless Charity, doesn't have a zoning permit for a tent city, and officials don't want to give it one.
Originally, the city said the homeless had until November 23—the day after Thanksgiving—to vacate the premises, though that deadline has since been extended by two weeks. The city is working with an anti-homelessness organization called Continuum of Care to rehouse those who are displaced. But you still have to wonder why the city thinks it can stop a private landowner from letting needy people live on his property in the first place.
Government apologists often argue that without coercion (read: taxes), the disadvantaged will not have their needs met. So why spend those taxes trying to deter people from helping one another?