Manipulation and Sheer Boredom at Heart of Compelling Prison Escape Docudrama
Showtime recreates infamous 2015 caper from upstate New York.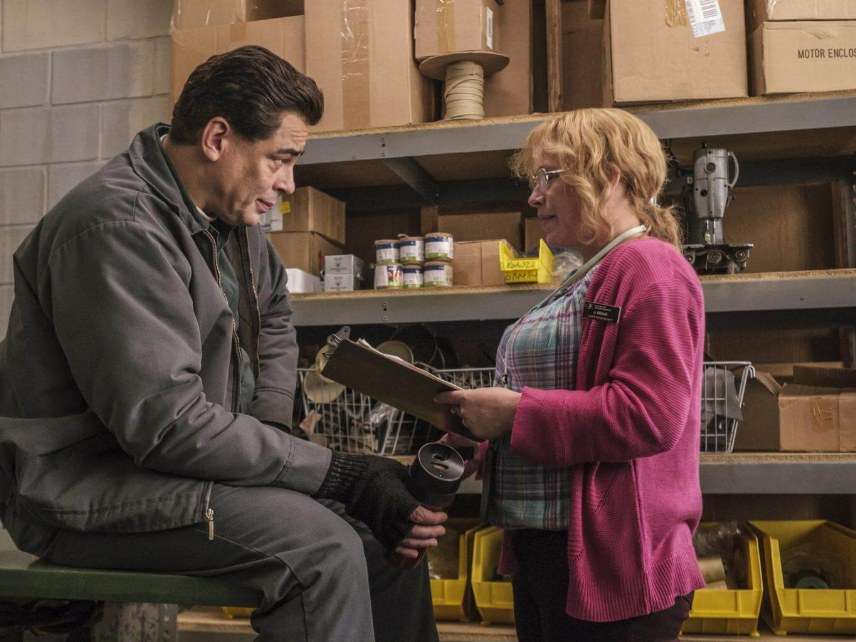 Escape at Dannemora. Showtime. Sunday, Nov. 15, 10 p.m.
Two prison guards—correctional officers, or COs, as it goes in the lingo—are sitting around, waiting for their shift to end. One is asking that what the hell the world has come to when the inmates are allowed to have TV sets in their cells. The other clucks sympathetically to a complaint he's heard many times from many colleagues, but then offers some realpolitik counsel: "What's the alternative? You've got a guy in the cell all days, wondering, 'How do I kill this guy with a toothbrush?'"
Nobody plots to kill any correctional officers (husbands are not so lucky) in Escape at Dannemora, Showtime's excellent miniseries recreation of the 2015 escape from an upstate New York prison that captured the country's attention for a month.
But the principle is central to both the show and the prison experience: Inmates with little to lose sit around all day long, brooding about how to manipulate a situation that's at best lethally monotonous and, at worst, just plain lethal, to their own advantage.
The manipulation at the heart of Dannemora is directed toward the frowsy, bored-to-nuttiness boss of the prison clothing factory, Tilly Mitchell (Patricia Arquette, CSI: Cyber), by two cunning inmates, Richard Matt (Benicio Del Toro, the Che films) and David Sweat (Paul Dano, 12 Years a Slave).
The youthful Sweat's attentions to Tilly at first have no purpose beyond furtive doggy-style rides in a back room. But when prison officials start to suspect what's going and transfer Sweat to another job, his buddy Matt slides over to take his place.
Matt's courting is darker, and his ambitions more grand. Tilly soon is hiding hacksaw blades in the hamburger she smuggles to him for late-night snacks back in his cell. Beyond the usual barriers to jailbreaks, this scheme has a more intimate one: Tilly's husband Lyle (Eric Lange, The Bridge) also works at the prison. She's confident he's a clueless rube with no suspicion of what's going on, but Matt speaks with the certainty of a veteran cuckolder: "The husband always knows." No worry, Matt's got a plan for that.
Dannemora's script was written by Brett Johnson and Michael Tolkin, both veterans of Showtime's hard-guy drama Ray Donovan. They based the script a large part on the 150-page report done by the New York attorney general's office in the wake of the escape.
It's larded with the dark detail of prison life. My favorite: a detailed how-to sequence on rousting cockroaches from cells with smudge pots made from old tuna cans.
Coupled with the leisurely direction of Ben Stiller (yes, that Ben Stiller, breaking with his comic career), who gives his story the time and space to breathe, Johnson and Tolkin create a claustrophobic portrait of a dank, wormy, pit that even the guards refer to as Little Siberia. "I just want to get the fuck out of here and get my pension," sums up one.
Not that life outside the walls in the barren landscape of upstate New York—where "fuckin' snow" is a routine greeting—is so welcoming. For Tilly, it's a prison with walls of ice and ennui. When her husband suggests a weekend trip to nearby Plattsburgh to see the War of 1812 museum, her tonelessly murmured reply of "fancy" conveys a wasteland without end. There's more than one escape going on in Dannemora, even if all the routes end in the same place.