The Postal Service Lost $3.9 Billion Last Year
Despite a $1 billion increase in revenue, unsustainable personnel costs pushed USPS' losses to such great heights.
The U.S. Postal Service (USPS) finished fiscal year 2018 nearly $4 billion in the red—a whopping 44 percent increase in losses from the previous year, despite the fact that the post office saw revenue increase by more than $1 billion at the same time.
In its annual fiscal report, released Wednesday, the USPS attributed more than $2 billion of the deficit to an "ongoing volume loss"—largely the result of fewer people using the government's mail system for sending letters—of 3.6 percent. The rest was the result of increasing payments for pensions and retiree health benefits.
Far from being an aberration, fiscal year 2018, which ended on September 30, is a sign of things to come. Without changes to how it operates, the USPS will continue to post losses at "an accelerating rate," Postmaster General Megan Brennan tells Government Executive.
"Simply put, we cannot generate revenue or cut enough costs to pay our bills," she says.
What's really stunning is that the USPS managed to lose so much money in a year when income from shipping packages jumped by 10 percent and overall revenue increased by 1.5 percent. That wasn't enough to make up for an increase of $896 million in personnel costs.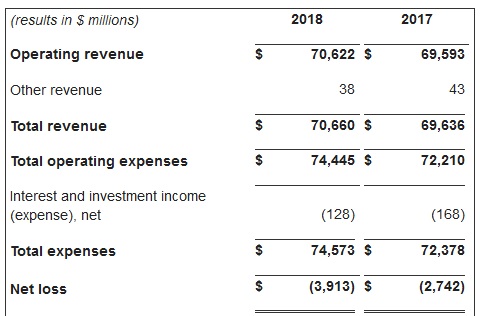 The post office probably would have gone bankrupt long ago if it were a private entity—FedEx and UPS wouldn't exist today if they were posting annual losses of $4 billion. At the very least, it would be forced to make immediate, significant changes to how it operates. The service staggers onward, piling up ever larger amounts of debt (more than $13 billion at the end of fiscal year 2018), solely because it is a government enterprise.
Instead, the only change the postal service will make is to increase the cost of using it. The cost of a stamp will jump by 5 percent in 2019, the USPS announced Wednesday. Other mailing services will see prices hiked by 2.5 percent. Those changes will generate an estimated $1.7 billion in additional revenue.
Raising rates may make sense, but this year's huge increase in operating losses despite impressive revenue growth should make it clear that the USPS has a spending problem more than a revenue one. That personnel costs are driving the Postal Service's problems is not exactly news— the agency has $100 billion in unfunded pension liabilities and "no clear path to profitability," according to a White House assessment report from earlier this year—but Brennan's comments and the new fiscal data demonstrate that it is becoming a more acute problem.
As Reason has been arguing for literally 50 years, the postal service should be privatized and subjected to competition.
There's a chance that might actually finally happen. A White House report released in June that highlighted the possible privatization of government services included two options for reforming the USPS. One idea would have private managers take over running the USPS with the government maintaining oversight responsibility. The second proposal would have the post office sold in its entirety.
A sale would likely require changes and restructuring to first net a profit, and would probably require the federal government to absorb the current debts. Still, it could net a windfall to help pay off the service's massive liabilities—the Cornell economist Richard Geddes has found that a USPS IPO could raise $40 billion.
Importantly, it would also stop the Postal Service from continuing to post annual losses of billions of dollars. But privatizing the Postal Service would require the divided Congress to agree to take on special interests, including postal workers' unions, who are opposed to any course besides the currently unsustainable one. So don't hold your breath.