Here's What's Happened So Far in the Florida Recount
Florida's Senate race is far from over.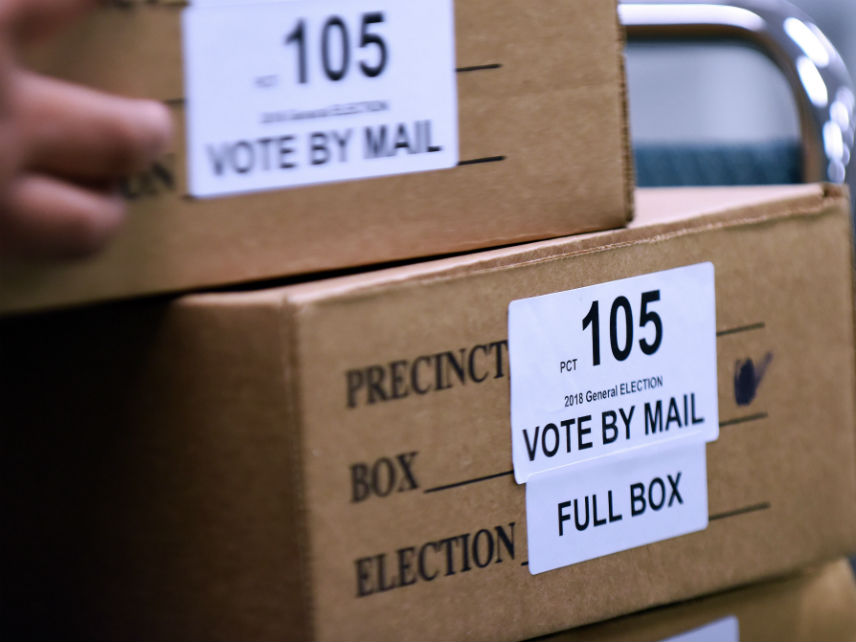 Though the midterm elections are over for most, one state is still counting ballots.
On election day last Tuesday, Floridians stood in long lines to cast votes for their next governor, senator, and state representatives. Ballots also contained a number of proposed amendments to the state constitution. For weeks, the gubernatorial race between Republican Ron DeSantis, a congressman, and Democrat Andrew Gillum, the mayor of Tallahassee, garnered national attention following accusations of racism, socialism, and Trumpism.
Despite talks of a "blue wave," DeSantis managed to pull ahead and claim victory. Gillum then conceded the race to his opponent. Though Republicans typically win the Florida governorship, the results in this race were unusually close, with DeSantis carrying a victory margin of just 0.7 percent.
Meanwhile, in the race for U.S. Senate between Democratic Rep. Bill Nelson and Republican Gov. Rick Scott, the results slowly came within a 0.5 percent margin, triggering an automatic recount under state law. (Florida does not have runoff elections for these races.) Though Scott claimed the unofficial victory, Nelson announced on Wednesday morning that his team was "proceeding to a recount.
Much to the irritation of Scott's campaign, the Nelson campaign's recount efforts got a boost as the heavily Democratic counties of Broward and Palm Beach were still processing absentee and early voting ballots on the day after the election. State law also gives a 10-day grace period following the election to count overseas absentee ballots.
Then, on Thursday and Friday, pictures of undelivered ballots in mail centers began to cause panic that votes were not being counted. Though some voted as early as October, several voters either had their absentee ballots returned or received word that they were either delivered later than promised or lost altogether. Adding to those concerns was the slow pace at which Broward County officials were counting ballots, even missing a Thursday deadline to submit recounted votes.
Scott filed several lawsuits in response, including one accusing Broward County Supervisor of Elections Brenda Snipes of withholding information about the number of counted and uncounted ballots. Scott initially won those suits.
Yesterday, however, a Broward Circuit Court judge denied one of Scott's lawsuits requesting that the ballots and machines at the Broward Election office be impounded. Instead, Judge Jack Tuter requested the addition of three deputies who are not affiliated with Snipes. The deputies will monitor cameras and USB drives that contain votes, and also supervise, without reporting to the county supervisor of elections.
Nelson has pursued his own legal action. A suit filed on Monday sought to count absentee ballots that were sent before election day, but delivered after polls closed.
Other issues have arisen outside of Broward and Palm Beach Counties. The Manatee County Supervisor of Elections Office was forced to restart its recount effort when a human error was caught well after 33,000 early voting ballots were processed through a voting machine.
Amid the drama in the Senate race, Democratic gubernatorial candidate Gillum withdrew his concession on Saturday (neither his concession nor the withdrawal are legally binding). Acknowledging that his loss may remain unchanged, Gillum made an "uncompromising and unapologetic call that we count every single vote."
I am replacing my earlier concession with an unapologetic and uncompromised call to count every vote.

— Andrew Gillum (@AndrewGillum) November 10, 2018
The move was largely ignored by DeSantis, who has already appointed a transition team in preparation for his governorship.
President Trump has also gotten involved in the Florida recount. On Monday, Trump demanded that the Senate race be called in favor of Scott and insinuated that fraudulent behavior was afoot.
The Florida Election should be called in favor of Rick Scott and Ron DeSantis in that large numbers of new ballots showed up out of nowhere, and many ballots are missing or forged. An honest vote count is no longer possible-ballots massively infected. Must go with Election Night!

— Donald J. Trump (@realDonaldTrump) November 12, 2018
Though Trump did not expand on his accusation, he later tweeted that the "characters" involved will not be able to "find" enough votes to swing the election in Nelson's favor.