Amazon Snags $2 Billion in Bribes and Tax Credits From New York and Virginia
But Amazon's decision to put it's new headquarters in Arlington and Queens also shows it wasn't all about the money.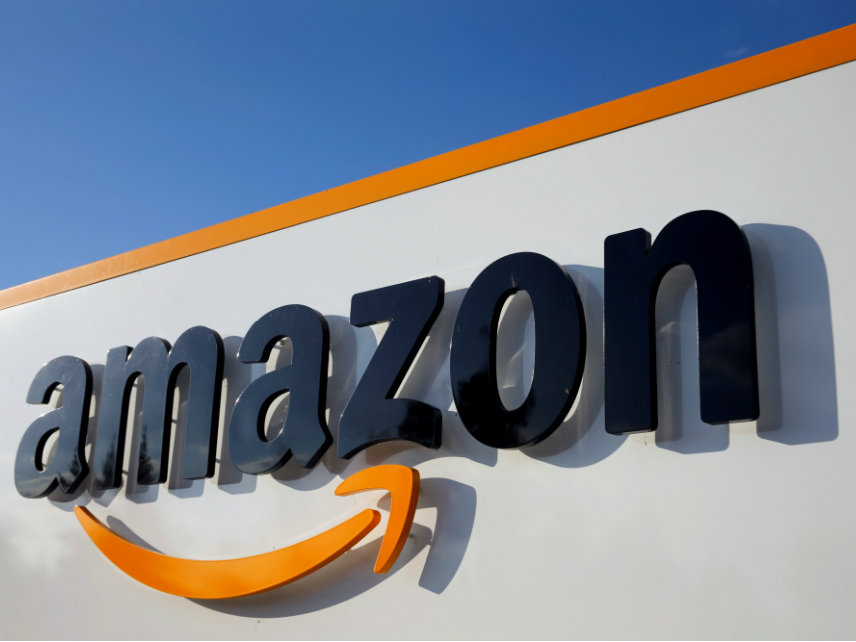 Amazon is getting some prime real estate.
In exchange for more than $2 billion in economic incentives, the online shopping giant will locate a pair of new corporate headquarters just across the Potomac River from Washington, D.C., and just across the East River from Manhattan. Tuesday's much-anticipated announcement of the locations for Amazon's "HQ2" also included details—which had previously been kept from the public—about the economic incentives that successfully lured the Seattle-based firm to the east coast's political and economic hubs.
Amazon says it will invest $5 billion and create more than 50,000 jobs across the two new locations, with at least 25,000 employees at each of its new corporate campuses, to be located in Virginia's Crystal City and New York's Long Island City. Nashville wins a consolation prize: a new supply chain and logistics center that promises 5,000 jobs in exchange for $102 million in economic incentives.
In New York, Amazon will receive $1.2 billion in refundable tax credits through a state-level economic development program and a cash grant of $325 million that's tied to the construction of new buildings at the Long Island City location over the next 10 years. In Virginia, the state is ponying up $573 million in tax breaks tied to the creation of 25,000 jobs, and the city of Arlington will provide a cash grant of $23 million over 15 years funded by an existing tax on hotel rooms.
Yes, the numbers are staggering—New York state's pledge of $1.52 billion for 25,000 jobs works out to more than $60,000 in taxpayer support per new job created—but Amazon appears to have selected New York and the D.C. area based on more than just how many zeroes local officials agreed to put on the giant cardboard check.
After all, New Jersey offered Amazon $5 billion (with another $2 billion from Newark), and Maryland offered $8.5 billion. Yet Amazon passed them both over to pick their neighbors.
"At the end of the day, it suggests that even New York City and Virginia and Nashville didn't really need to offer those subsidies, because Amazon is chasing other factors," Michael Farren, a research fellow at the Mercatus Center, a free market think tank housed at George Mason University, tells Reason. Although most of the Amazon HQ2 bids were kept secret—sometimes in direct violation of state open records laws—Farren's research estimates that the average offer to Amazon from the 20 finalist cities totaled around $2.15 billion from cities and $6.75 billion from states over the next 15 years.
For that amount of spending, the average state could cut its corporate income tax for all businesses by 29 percent, says Farren. That's the sort of thing a place like New York (home to one of the nation's worst business tax climates) could have used. But instead of helping businesses from the Bronx to Buffalo to be more competitive, New York taxpayers will help a wildly successful company bring more jobs to Long Island City.
The fact that Amazon was willing to accept a smaller incentive package for a more ideal location should send a message to politicians everywhere. Namely, landing major employers has more to do with running a thriving, sustainable city than it does with how much of other peoples' money you throw around.
Of course, being close to the seat of political power matters too. Virginia's deal comes with the unwritten promise that Amazon will be just a stone's throw away from not only the country's top lawmakers, but from the most important lobbying firms too. It's yet another unfortunate side effect of an all-powerful central government that seemingly draws all aspects of American life closer to it, both literally and metaphorically.
Add to that the fact that New York City has been the center of American economic and cultural life for hundreds of years. When it comes right down to it, Amazon's decision to plop down new headquarters in these two locations is something of a no-brainer. It's also a symbolic transition for a company that was born in the start-up culture of Seattle but has now become the symbol of American capitalism in the 21st century. Even though most of Amazon's business can be done from anywhere—indeed, that's the very essence of Amazon—location still matters.
Of course, the $2 billion in other peoples' money doesn't hurt either.