Jeff Sessions Is Out, 2020 Speculation Is In: Reason Roundup
For Democrats-and bookmakers-the 2020 election is already underway.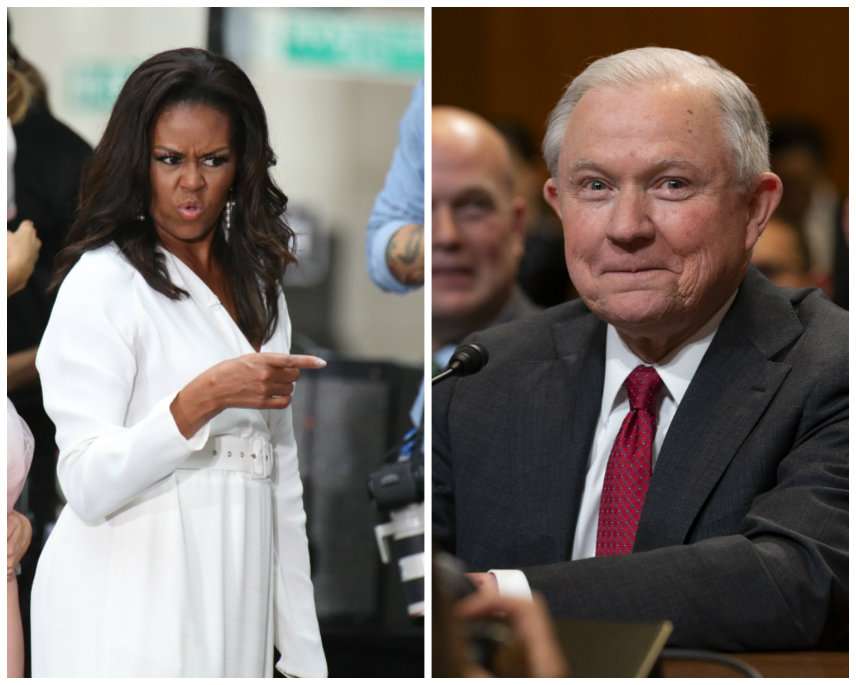 This is the song that never ends… Like the drug stores that start stocking Christmas candy the day after Halloween, the minds of media and political operatives are—just two days past the 2018 midterm elections—already turning toward 2020. Yesterday's news that Attorney General Jeff Sessions is leaving the Justice Department could barely staunch the anticipatory hype. ("To retain the pundit license, I must now speculate about 2020," joked Esquire's Charles P. Piece.)
And it looks like a lot of stars of this year's storylines will be back in the upcoming seasons.
Even Sessions may not be truly gone yet. According to Jake Tapper's sources, the "resigning" attorney general—does it really count as resigning if you're being ordered to do so?—is eyeing a 2020 run to reclaim his Senate seat. So say good riddance to that drug-war-sustaining, crime-panic-feeding, Monopoly-Man-looking windbag for now, but we're not likely to have seen the last of him.
Jeff Sessions regaining his old Senate seat and then being the deciding vote for conviction after Trump gets impeached by the House will be the greatest season finale ever

— Seth Mandel (@SethAMandel) November 7, 2018
We may not be done with former First Lady Michelle Obama, either. For a while now, Democrats have been casually tossing around Sens. Kamala Harris (D–Calif.) and Cory Booker (D–N.J.) as potential presidential candidates. But on MSNBC yesterday, filmmaker and perennial political gadfly Michael Moore argued that neither Harris nor Booker has any chance against President Donald Trump in 2020. Moore said the party needs someone more "beloved," suggesting Michelle Obama or pilot Sully Sullenberger.
Others are now eyeing Beto O'Rourke, the Texas Democrat who held his own against Ted Cruz this year. (O'Rourke lost, but by a much smaller margin than many thought possible.) "O'Rourke has not yet indicated his intentions, but he has built, in the course of a few short months, a national brand and a national fundraising base that few Democrats can match," points out Politico's Ben Schreckinger. And "the chief knock on O'Rourke's campaign, that he embraced staunchly progressive positions that played poorly in Texas, only heightens his appeal in a national primary for a Democratic Party that has been tacking leftward."
O'Rourke isn't faring bad in online betting markets dedicated to the 2020 presidential race. The New York Post notes that the British bookies at Coral give Harris the best odds among Democrats of winning the presidency, at 8–1, followed by O'Rourke at 12–1.
Other favored Democrats include Vermont Sen. Bernie Sanders and Massachusetts Sen. Elizabeth Warren (both at 16–1), and former Vice President Joe Biden (20–1). Booker, Minnesota Sen. Amy Klobuchar, New York Sen. Kirsten Gillibrand, and former New York Mayor Michael Bloomberg are all given 33–1 odds.
Oprah Winfrey is given 50–1 odds of winning the presidency in 2020, on par with Ohio Sen. Sherrod Brown and slightly higher than Hillary Clinton. Coral places Clinton's odds at 66–1, the same odds given to Michelle Obama, Colorado Gov. John Hickenlooper, and lawyer Michael Avenatti.
In a new Hill.TV American Barometer poll of likely Democratic voters, Warren, Biden, Sanders, Booker, Harris, Bloomberg, and Clinton were all offered as potential 2020 candidates. The most popular choice was "none of the above."
FREE MINDS
Record voter turnout this year. Forty-seven percent of U.S. voters cast a ballot in the 2018 midterm elections. "'Almost half of possible voters actually voted' might not sound impressive," notes NPR. "But for a U.S. midterm election, it's a whopping figure. Compare that to just 36.7 percent in 2014, and 41 percent in 2010."
QUICK HITS
Supreme Court Justice Ruth Bader Ginsburg has been hospitalized with broken ribs.
President Donald Trump has appointed Matthew Whitaker as acting director of the department of justice. Whitaker has been an outspoken critic of Robert Mueller's investigation into Trump and Russia. Whitaker also enjoyed a stint with "a Miami-based invention-marketing company the Federal Trade Commission shut down last year after calling it a scam," notes the Miami New Times.
BREAKING: Sheriff says 13 are dead including gunman, sheriff's sergeant after shooting at Southern California bar.

— The Associated Press (@AP) November 8, 2018