Remember When Lindsey Graham Warned, 'If Jeff Sessions Is Fired, There Will Be Holy Hell to Pay'?
In the space of a year, Graham went from Trump critic, warning about impeachment, to Trump backer, taking the president's side on Jeff Sessions.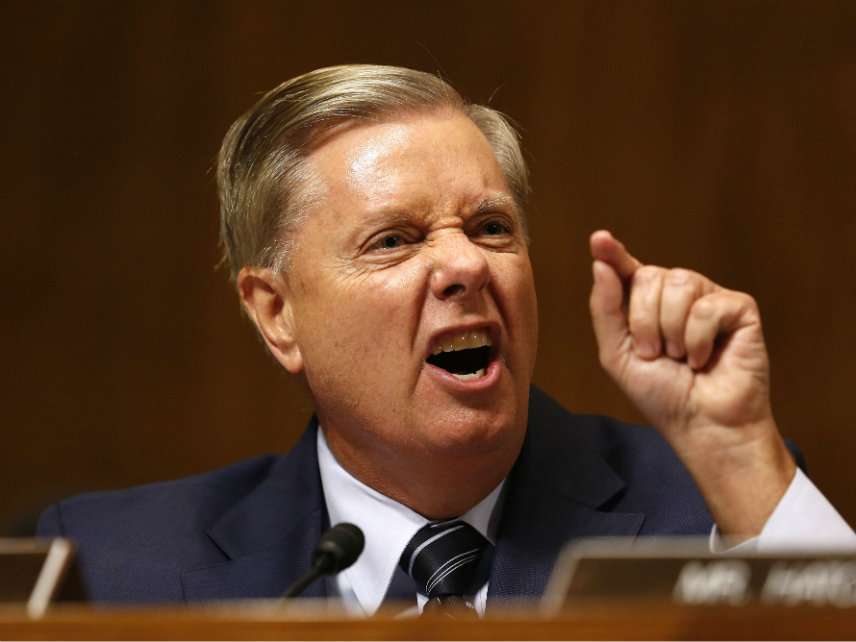 To understand how fully Trump has taken over the Republican party, and how remarkable the president's decision to request the resignation of Attorney General Jeff Sessions is, consider Sen. Lindsey Graham (R–SC).
Back in the far more innocent time of summer 2017, when President Trump was still relatively new in his job, and his relationship with much of the Republican party was still rocky, Graham delivered a stern warning about what would happen should Trump fire Attorney General Jeff Sessions or interfere with the Mueller investigation. "If Jeff Sessions is fired, there will be holy hell to pay," he said. "Any effort to go after Mueller could be the beginning of the end of the Trump presidency."
Strong words from Graham: "Holy hell to pay" if Trump fires Sessions, and going after Mueller = beginning of the end of Trump's presidency pic.twitter.com/uFbWnFfKTm

— Nolan D. McCaskill (@NolanDMcCaskill) July 27, 2017
Strictly speaking, Trump did not fire Jeff Sessions. But earlier today, he asked for, and received, Sessions' resignation, installing Matthew Whitaker as acting attorney general. Whitaker, notably, has been a critic of the Mueller probe, writing last year that if Mueller were to broaden the scope of the investigation into Trump family finances, it would constitute a "witch hunt"—the same language that Trump often uses to deride the probe. Whitaker is now in charge of overseeing that probe, taking over for Deputy Attorney General Rod Rosenstein, who had assumed the oversight role after Sessions recused himself. (Trump has repeatedly insulted Sessions in public, and reportedly complains frequently about the recusal.)
You might think that Graham would be hopping mad about this state of affairs. He's not. In recent months, Graham has changed his tune on Sessions, predicting he would step down after the midterms, and suggesting this week that we would have a new attorney general by early 2019.
Graham's flip-flop is illustrative. When the senator issued his warning last year, Trump was still an unknown quantity, on the outs with much of the Republican establishment. Graham, meanwhile, was a vocal critic. Today, the Republican party is the party of Trump in nearly every way, and Graham has warmed up to the president. There will be no hell to pay, no threat to Trump's presidency, because Graham has come around. He has taken Trump's side.
Nor is Graham the only Republican to soften a critical stance towards the president. In 2016, Mitt Romney declared that if "Republicans choose Donald Trump as our nominee, the prospect for a safe and prosperous future are greatly diminished." Yet during his successful Senate campaign this year, he happily accepted Trump's endorsement. Meanwhile, GOP lawmakers who did not or could not back off their criticisms of Trump, like Mark Sanford and Jeff Flake, have lost and left their seats.
These are just a few of the signs of how thoroughly Trump has taken over the GOP, and how little pushback he's likely to receive from Republicans, even for acts that those same GOP lawmakers would have deemed unacceptable, and perhaps worthy of impeachment, a little more than a year ago (and certainly if they'd been carried out by President Obama). The party's total embrace of Trump and his approach to politics has been both rapid and remarkable.
Earlier today, I wrote that the midterm election was surprisingly normal, in that it both went roughly as expected and revolved around familiar domestic policy disputes like health care, education, and the economy. Trump's decision to ask for Sessions' resignation, and his installation of a known skeptic of the Russia probe—all but announcing that he pushed Sessions out because of the Mueller investigation—are reminders of all the ways that the president and the party he leads are anything but normal, and are unlikely to return to normalcy anytime soon.