Expect the House Education Committee to Target Betsy DeVos and Title IX Reforms
Democrats can't stop her, but they can hold a lot of hearings.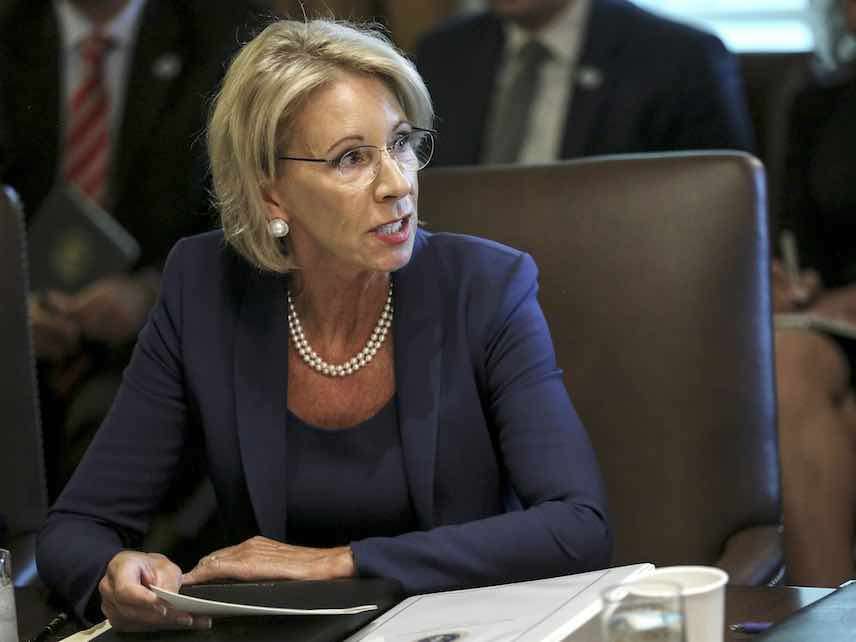 With control of only one chamber of Congress, the Democrats will have trouble passing any new education legislation. But they have gained the power to hold hearings, and a likely target will be Education Secretary Betsy DeVos.
DeVos featured prominently in Democratic attack ads during the campaign. Katie Porter, who came up just short in her attempt to unseat incumbent Republican Rep. Mimi Walters in a South California race, accused DeVos of repealing "protections that keep our sons and daughters safe on college campuses," according to Politico. This was a reference to DeVos's proposed reforms for Title IX, the federal sex equality statute that became an important component of campus sexual misconduct adjudication during the Obama years.
Under DeVos, the Education Department plans to release new guidance that guarantees due process rights to students accused of sexual misconduct. These changes are important because the previous guidelines encouraged university administrators to forbid cross-examination during hearings, and forced them to use the preponderance of evidence standard—meaning that the deck was effectively stacked against the accused.
The Democrats recapturing the House doesn't put DeVos's Title IX agenda in real danger, but Rep. Bobby Scott (D–VA.), incoming chairman of the House Committee on Education and the Workforce, could summon DeVos and her aides to testify in oversight hearings. According to Education Week:
Democrats on the Hill have indicated that they want a bunch of Trump administration education officials to testify about specific policy decisions in various areas. So you might see officials like Kenneth L. Marcus, the assistant secretary for civil rights, and Frank Brogan, the assistant secretary for elementary and secondary education, take their turns testifying as well.
Education Week also predicts that Scott will focus on higher education issues as a means of appealing to young voters in the run up to 2020.
Still, there was good news for proponents of Title IX reform last night: Sen. Claire McCaskill (D–MO.), one of the Senate's most ardent defenders of unfair campus adjudication procedures, was defeated.