Nigerian Army Justifies Killing Protesters With Trump Video on Stone-Throwing Migrants
Trump's comments are not the same as the Nigerian Army's actions. But regardless of the nation, shooting protesters is bad.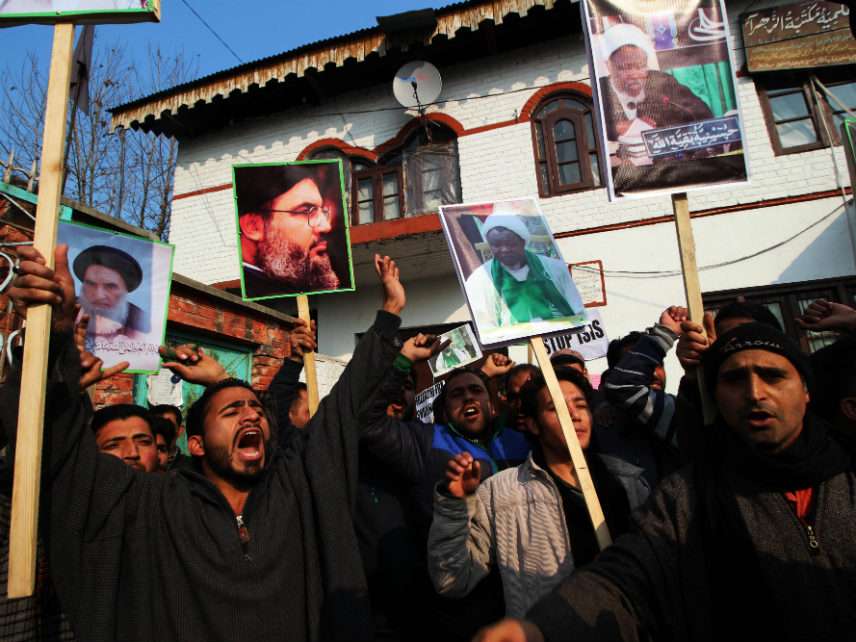 Nigeria's military today justified the deaths of Shia protesters using U.S. President Donald Trump's remarks suggesting American soldiers might fire on rock-throwing migrants.
In a speech from the White House yesterday, Trump said U.S. troops—5,200 of which he deployed to the border earlier this week—won't tolerate members of the migrant caravan who throw stones. "They want to throw rocks at our military, our military fights back," the president said. "I told them to consider it a rifle. When they throw rocks like what they did to the Mexican military and police I say consider it a rifle."
Indeed, there were reports of clashes between migrants in the caravan, which started from Guatemala last month, and Mexican authorities. According to the BBC, some migrants threw stones, prompting police to respond with tear gas.
The Nigerian Army, meanwhile, seized on Trump's words. The army's official Twitter account posted a clip of his remarks to Twitter, along with the caption: "Please Watch and Make your Deductions."
The post, which seems to have been deleted, came days after Shia protests in Nigeria turned deadly. An Amnesty International report published Wednesday said 45 peaceful supporters of the Islamic Movement in Nigeria (IMN) were killed by the Nigerian military and police. Six people died after protests on Saturday, Amnesty International said, while 39 were killed on Monday.
"Video footage and eyewitness testimonies consistently show that the Nigerian military dispersed peaceful gatherings by firing live ammunition without warning, in clear violation of Nigerian and international law," said Osai Ojigho, Director of Amnesty International Nigeria. The group also claims soldiers used automatic weapons on Monday.
The Nigerian military tells a different story. Just three protesters were killed, the military says, according to The New York Times. Meanwhile, AFP reports that the military says six people died. The video of Trump speaking, Nigerian defense spokesperson John Agim told AFP, "was posted in reaction to the Amnesty International report accusing the army of using weapons against pacifist [Shia] protesters."
"Not only did they use stones but they were carrying petrol bombs, machetes and knives, so yes, we consider them as being armed," he added.
According to the Times, videos posted to social media did show some protesters throwing rocks before being shot in the back as they ran away. But throwing rocks is not the same thing as shooting with live ammunition, said IMN spokesperson Ibrahim Musa. "Rocks are not equal to bullets," he told the Times. "The use of force is disproportionate."
The Nigerian military has a "long and disturbing history of violence," as Reason's Nick Gillespie noted in 2015. Amnesty International reported in January that "more than 1,200 people have been unlawfully killed by the military," with many of those deaths serving as "reprisals following attacks by Boko Haram." Thousands more have been tortured, the group said. The country has a checkered history when it comes to human rights, so it's not like we can blame Trump for the Nigerian military's behavior.
But as with recent acts of domestic terrorism, we can criticize Trump for spouting dishonest, thuggish, and hateful comments that autocrats and terrorists alike cite to justify their own atrocious behavior. And should the U.S. military use disproportionate and deadly force against rock-throwing migrants, we certainly can—and should—lay the blame at Trump's feet.