Has America's Obsession With Manufacturing Jobs Gone Too Far?
A Wisconsin town is spending billions, seizing homes, and breaking state law to lure a Taiwanese company.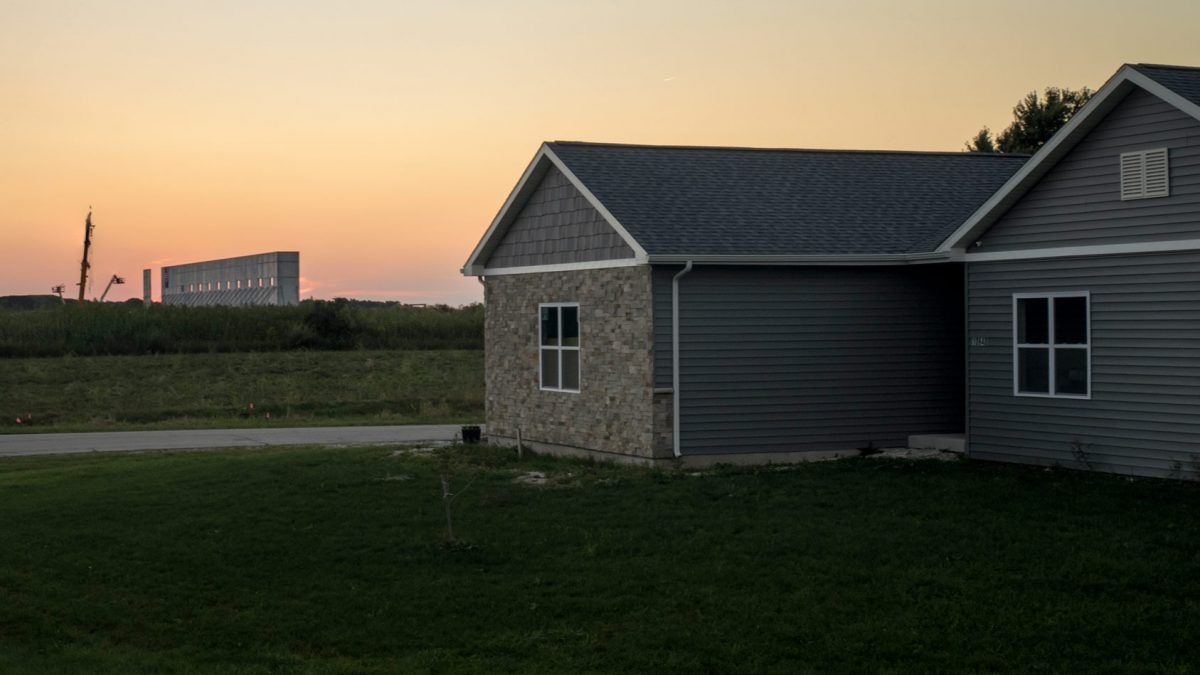 In 2009, Kim and Jim Mahoney bought a one-acre parcel of land in Mount Pleasant, Wisconsin, and began designing a home from scratch. A rural village in the southeast corner of the state, the location offered the Mahoneys the chance to enjoy a slice of country living. Jim would have the space to practice target shooting with his bow and arrow, while Kim could view magnificent sunsets from the front yard every night.
At the same time, the cul-de-sac wasn't too isolated: They were an eight-minute drive to Jim's work, close to their 12-year-old daughter's school, and just a few miles from the amenities in town. Most importantly, the price was right for Kim, a paralegal, and Jim, a quality technician for a medical tool company.
They picked custom finishes and furnishings, including a walk-in shower with a railing that they figured would serve them well when they grew old together. Finally, in February 2017, after eight years of construction and $385,000 spent on the land and house, they moved in. They intended to never move again. "This is where we planned to live forever," Kim Mahoney says.
Their hometown had other plans. In October 2017, the couple learned from a local news report that Mount Pleasant would be the site of a new manufacturing facility. Foxconn—a Taiwanese company known for making iPhones in the Chinese city of Shenzhen—was coming to town. Foxconn planned to turn more than 1,000 acres of farmland into an LCD screen factory.
Three days after seeing the news report, Kim heard from her local councilman. "They said they would be taking our home through eminent domain," a policy that allows the government to assume ownership of private property whether the current holder likes it or not.
Three other affected families have already filed lawsuits against Mount Pleasant. This summer, the village moved forward with eminent domain proceedings against two of them. (The Mahoneys received an offer for their house from city officials in July of this year, which they found unacceptable; their counteroffer has so far been met with silence.)
In theory, the Mahoneys should be protected. Although the Supreme Court ruled in 2005's Kelo v. New London that the government could take property to make way for private development, Wisconsin was one of 43 states that changed its laws to make such efforts more difficult. But even with the updated limits on eminent domain, local lawmakers believed they had found a way out: blight. By declaring that the Mahoneys' newly built home was in a blighted area—which only became blighted after the council voted to change the zoning to accommodate Foxconn—the village could clear the land for someone else's private use.
The Mahoneys and their fellow citizens of Mount Pleasant are on the front lines of an ongoing, unresolved battle against eminent domain abuse in America. More than a decade after Kelo sparked a wave of state-level reforms intended to strengthen the rights of homeowners, these families became victims of a loophole created by local government to facilitate a project backed by the state's Republican governor, the GOP speaker of the U.S. House, and even President Donald Trump. Their story shows the lingering weaknesses of some of the responses to Kelo—and offers more proof that when government officials join forces with private corporations in the name of economic development, nobody is safe.
A Brief History of Eminent Domain
To understand how the Mahoneys ended up fighting to keep their home, it helps to know a little bit about the history of eminent domain.
The U.S. Constitution says that governments can deploy eminent domain to acquire land for a "public use" so long as the property owner receives "just compensation" for the taking. Early examples of the public use standard that survived court challenges were the taking of private property to build post offices or to preserve historic battle sites such as Gettysburg.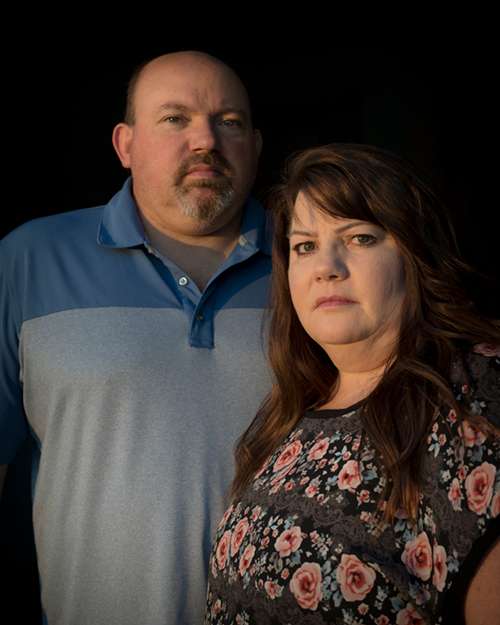 But the definition of public use continued to expand over the years, with courts deciding that public parks, roads, and all sort of other infrastructure projects are legitimate public uses. This culminated in Kelo v. New London, which affirmed that a Connecticut town was justified in seizing the land of homeowner Susette Kelo so pharmaceutical giant Pfizer could build a plant that would supposedly spur economic development in a depressed area.
By this logic, of course, governments could theoretically deploy eminent domain to acquire any piece of property and hand it to a wealthier private party so long as it argued the land would be put to better economic use and thus provide greater benefit to the community. That decision faced public backlash, however, and spurred states across the country to undertake a series of reforms to hamper takings that primarily benefit private developers.
Wisconsin was among those states. In 2005, the legislature in Madison passed Act 233, which explicitly prohibited governments from condemning property for the purpose of acquiring it and giving it to another private entity; it also narrowed the standard for what counts as blight. (The state already had protections against using eminent domain on non-blighted properties for economic development purposes.)
These reforms were supposed to protect people like the Mahoneys from government-sanctioned development deals like the one between Wisconsin and Foxconn. Instead, the family found itself replaying a scenario surprisingly similar to the one that had sparked the protections in the first place.
Blighting the Area
Officially, the move to blight the Mahoneys' home began in early 2018, after Kim made it clear to her local representatives that she was not interested in selling at the price the village initially floated—an amount several hundred thousand dollars below an appraisal the couple had obtained.
But the full story started a year before, when Foxconn spent months negotiating a deal with Mount Pleasant to build its plant on 4.5 square miles of existing farmland and rural properties. The company promised its manufacturing facility would create more than 13,000 jobs in a state that had been hemorrhaging manufacturing positions since the early 1990s.
Under the terms of the deal, the $108.5 billion company will pay exactly zero dollars to acquire the land it needs. The purchaser is Mount Pleasant itself.
The village began buying up land shortly after the deal was completed, mostly from farmers who owned large tracts—and they paid a premium for it. One 24-acre parcel sold for $52,177 an acre, almost 10 times the assessed price, according to the Milwaukee Biz Times. Another 45-acre parcel was assessed at $324,900 but sold for $2,244,300.
The town, which has a population of approximately 26,000, is funding the endeavor through something called a tax increment financing (TIF) district. Mount Pleasant will issue $764 million worth of bonds that it believes will be repaid by the increase in property tax revenues over the next 25 years. The money will cover the land purchases, infrastructure upgrades, and up to $100 million in "development incentives"—essentially just subsidies—for Foxconn should the company hit certain job creation and investment benchmarks.
Although the village may have paid top dollar for the large tracts of land it needed to prove itself to Foxconn, many individual homeowners feel they've gotten short shrift from a local government that makes lowball offers and constantly wields the threat of eminent domain against them.
"They gobbled up all the big parcels…to offer all this land, for free, to Foxconn," says Joe Janicek, who's lived in his Mount Pleasant home for more than 30 years. "And then all you have left is just the little…parcels with the homes on them. So you have to basically squash all these little pebbles that are left behind. And how do you do that? You eminent domain them, and you take it."
That's exactly what the town is warning it will do to the Mahoneys.
Because their neighborhood is several hundred feet from a planned road expansion, the village of Mount Pleasant had no public use rationale to employ eminent domain against them. Instead, the project manager in charge of the Foxconn deal determined that blighting the entire area was the best way forward, despite the Wisconsin law that appears to expressly forbid such a move.
Typically, blight is used to condemn worn-down or crime-ridden areas. But the city government of Mount Pleasant decided to apply a blight designation to properties in areas with "non-conforming" residential zoning. Of course, the zoning only became non-conforming after the village changed it in order to accommodate Foxconn.
Alan Markuvitz, an attorney hired by Mount Pleasant to handle the legalities of the Foxconn deal, argues that this was technically allowed because the post-Kelo law only specifies that a single property may not be blighted for the purpose of transferring it to another private entity. The law doesn't prohibit blighting an entire area for that purpose, he reasons. But he adds that the village wants to acquire all land voluntarily and will only use eminent domain as a "last resort."
Asked whether he believes a negotiation where one party has the power of eminent domain on its side is a fair one, Markuvitz reaffirmed his position. "People have the legal right in Wisconsin to resist the taking of their property," he says. "The court will determine whether we have a right to take your home."
At a May 2018 board meeting to approve the final zoning plan, only one member of the Community Development Authority, Matthew Cramer, objected, saying, "I don't think this is legal." Cramer's view was that Markuvitz's interpretation of the Wisconsin prohibition on blighting property for the purposes of economic development is flawed, and the village would lose if challenged in state court.
The audience erupted in applause at Cramer's objection, but the board ignored the crowd and the critique from one of its own. They voted, and the plan was approved. A court battle over the blighting maneuver now appears all but certain.
Local Policy, National Politics
Why was the Community Development Authority so eager to pass the blight designation? Perhaps because of some of the big names in both state and national politics who backed the deal.
The factory is in the district of Republican Speaker of the House Paul Ryan. In the past, Ryan has decried eminent domain abuses of this kind. "When someone works years to secure a home or establish a successful family store or restaurant, only to be forced by the government to give it up so a corporation can redevelop the land, that's wrong," he said in 2005. But he has declined to step in to prevent the Foxconn deal, dismissing it as a local matter.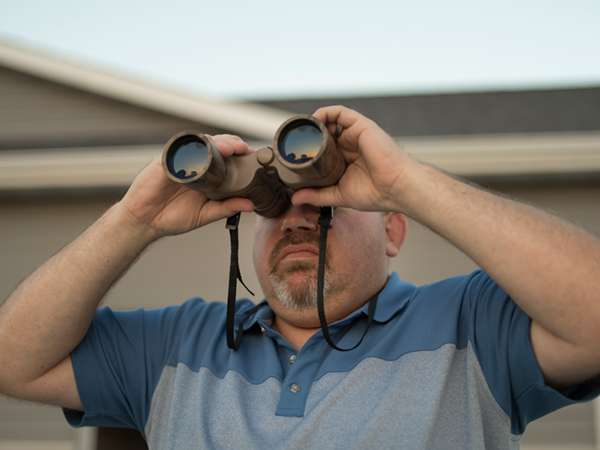 Republican governor and onetime presidential hopeful Scott Walker oversaw the agreement with Terry Gou, chairman of the Hon Hai group, which owns Foxconn. In January, Walker told a local TV reporter that critics can "go suck lemons."
But Walker has sometimes seemed disconnected from the project and hazy on its basic details: In a July 2017 press conference to announce the signing of the deal, he repeatedly called the company "Foxcom" and at one point misidentified Foxconn's key business partner as Sony. (It is actually Sharp, a different Japanese electronics manufacturer.) Speaker Ryan also jumped in to correct the governor when the latter stated that Foxconn's promised investment would be $10 million. (It is actually $10 billion.)
Walker completed negotiations with a handwritten agreement in which he convinced Foxconn to abruptly raise the jobs estimate from 8,000 to 13,000 in exchange for increasing the state-provided tax incentives from $2.85 billion to $3 billion.
Proponents argue that the Foxconn deal will more than pay for itself through "multiplier effects" and increased property tax revenue. With the taxpayer subsidies, including a 17-cents-on-the-dollar payroll tax credit, they say the facility will create thousands of jobs with a median income of $54,000 a year.
Walker and Ryan aren't the only national political figures involved. President Trump headlined the July 2017 press conference announcing the deal and has touted the project as a major part of his agenda to bring manufacturing jobs back to America. He visited the construction site in June—the same time he was engaging in a public fight with the CEO of Harley-Davidson over the Wisconsin-based motorcycle manufacturer's threats to move its production overseas because of the detrimental effects of Trump's tariffs.
In fact, Walker credits Trump with helping pick the site for the plant. At the July 2017 press conference, Walker said Trump was in his helicopter after meeting with Foxconn execs and spotted Mount Pleasant below. When the president's chief of staff, Reince Priebus (who chaired the Wisconsin GOP from 2007 to 2011), informed Trump that the area was largely undeveloped farmland, Trump reportedly decided that's where the project was destined to go.
Citizens Fighting Back
Powerful forces have aligned to make the Foxconn deal happen, but members of the Mount Pleasant community have organized to resist the taking of their private property.
Kelly Gallagher founded A Better Mount Pleasant, a group that has pushed for transparency around the Foxconn deal while raising awareness about eminent domain abuse. She notes that several other large companies, including Amazon, have opened factories in the area, but a major difference is that these companies bought the land on the open market without using the threat of eminent domain.
"Mount Pleasant is actually acting as the real estate broker on behalf of Foxconn," Gallagher says. Giving the land to the corporation at no cost "is in complete contrast to how the free market is supposed to work."
While most homeowners have given in and sold their property, the Mahoneys and a few other residents continue to hold out in hopes the village will agree to pay them their asking price. They plan to challenge Mount Pleasant in state court if it attempts to use eminent domain to take their property.
The outcome of such a case would likely hinge on Markuvitz's interpretation of Wisconsin's law against dubbing a property blighted for the express purpose of giving it to another private party.
If the challenge were to fail there, Kim Mahoney says she's open to taking the case as far as it will go, which could mean a new Supreme Court challenge to the government's ability to seize property through eminent domain. Because a decision from the high court would be years down the road, it's difficult to speculate about how such a federal case would play out—though it's possible a bench that includes at least six new members would be open to reconsidering some of the Fifth Amendment questions raised by Kelo more than a decade ago.
"We're willing to fight," says Mahoney. "And if that takes five years—like it did for Susette Kelo—then we're up for that fight."
This article originally appeared in print under the headline "Has America's Obsession With Manufacturing Jobs Gone Too Far?".