Georgia Sheriff Says Registered Sex Offenders Aren't a Danger to Trick-or-Treaters, Will Humiliate Them Anyway
The sheriff's over-the-top "no trick or treat" signs might make him feel better, but they're actually harming more people than they're helping.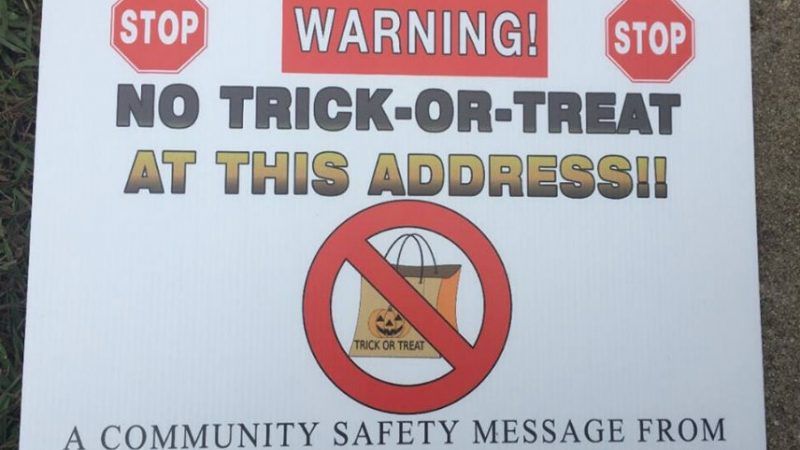 (Butts County Sheriff's Office Facebook)
Candy-seeking children in one Georgia county aren't more likely to be molested today simply because it's Halloween, but that didn't stop Butts County Sheriff Gary Long from ordering his officers to put "no trick-or-treat" signs in front of the homes of each of the county's registered offenders.
Long announced his office's actions in a Saturday Facebook post. "This Halloween, my office has placed signs in front of every registered sex offender's house to notify the public that it's a house to avoid," he said. "Make sure to avoid houses which are marked with the attached posted signs in front of their residents."
He also attached a picture of one of the signs: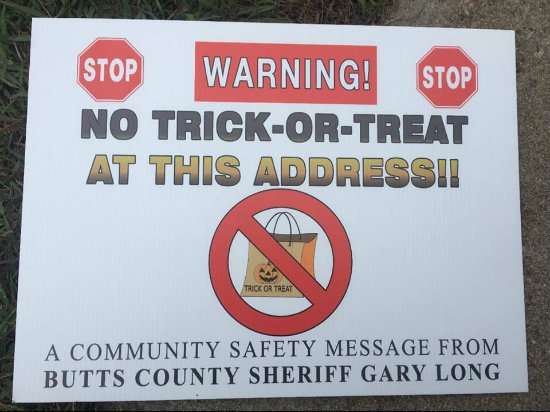 Georgia law does, in fact, require that sheriff's offices "inform the public of the presence of sex offenders in each community." In the past, Long told CBS News that his deputies would put signs on doors letting trick-or-treaters know where registered sex offenders in the county—of which there are currently 54—live. But this time around, CBS reports Long hoped to "increase visibility."
Why the change? Long cited the cancellation of an annual Halloween event where firemen and police officers handed out candy to local children in the town square. This year, Long believes children will instead go door-to-door looking for candy.
Long admitted chances are slim that any of the registered sex offenders in the county would try anything. But he'd rather be safe than sorry. "I'm not trying to humiliate 'em or anything like that. Let's face reality: We have a greater chance of children getting run over by a car [on Halloween] than being a victim of sexual assault by a repeat offender," he told CBS. "But at the end of the day if, in fact, we had a child that fell victim to a sexual assault, especially by a convicted sex offender, I don't think I could sleep at night."
Some sex offenders have emailed Long to tell him the signs are an "embarrassment," he said. That doesn't phase him. "I don't care if they do like it or if they don't like it," he told CBS. "My job us to ensure the safety of the children and the community and that's what I'm going to do."
Long's motives aren't bad, but his actions are an unnecessary indignity for people who've already served their punishment. For one thing, sex offenders are less likely than other criminals to commit the same crime again. As Reason's C.J. Ciaramella pointed out last week:
Study after study has found that same-crime recidivism rates for sex offenders hover between 3 and 4 percent, lower than other types of crime and nowhere near the 80 percent rate once falsely cited by Supreme Court Justice Anthony Kennedy, for instance.
Moreover, it's not as though Halloween presents additional risk to children. In a piece for Reason earlier this month, Lenore Skenazy discussed the results of a study that looked into 67,000 cases of child molestation. The study found no increase in sex crimes on Halloween.
That hasn't stopped the hysteria. Whether it's the small-town Georgia mayor who wanted to confine sex offenders to city hall on Halloween, or Long's ridiculous signs, people are overly fearful of sex offenders targeting children on this one specific day of the year, regardless of whether the offense that landed them on the registry involved children, adults, or adolescents.
Sex offenders themselves aren't the only ones negatively affected. One Butts County woman whose husband is on the registry told WXIA that "threats have been made" thanks to the sign in her yard. "That poster that is causing that hysteria is posted at my property and I have not done anything wrong," the unidentified woman said.
Plus, she claimed her husband is only on the registry due to a relationship he had with a woman when he was 20 and she was 16. "There's so many levels," she said. "There's such a gray area…but yet they happen to be treated all the same."
She's right. Having your name on the sex offender doesn't equate to be being a child molester. And though some on the registry have sexually abused children, they're probably not going to target random kids on Halloween.
Long's signs might make him feel better, but they're actually harming more people than they're helping.