Gary Johnson Polling in 3rd Place With 22%
The New Mexico Libertarian Party's candidate for U.S. Senate trails incumbent Democrat Martin Heinrich (40%) and GOP novice Mick Rich (28%).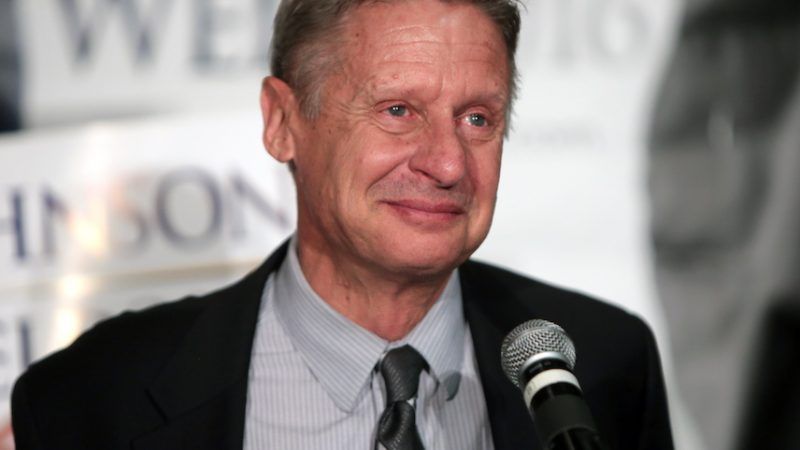 With only 11 days before the election, time is running for short for Gary Johnson to pull off an upset and become the first Libertarian to win federal office in the party's 47-year history. In a three-way race that has featured a paucity of polling, a new October 17–25 Pacific Market Research survey of 400 likely voters was released this morning, showing Democratic incumbent Martin Heinrich with 40 percent, novice GOP candidate Mick Rich with 28 percent, and Johnson with 22.
The three candidates will square off in a second debate tonight at the Albuquerque TV station KRQE, which commissioned the poll.
"If it really was a Heinrich versus Johnson race, Heinrich might actually be in trouble," University of New Mexico political science professor Gabe Sanchez tells KRQE. "I think it's only the fact that you're splitting the vote that we're not talking about a more razor-thin margin of victory for him leading the election."
The two previous nonpartisan polls had Heinrich more or less in the same place, but Johnson and Rich in sharply divergent positions—21 percent vs. 11 percent for the Libertarian in the first, 26 percent to 16 percent for the Republican in the second (which, unlike the others, did not include "undecided" as a category). Averaging the three polls out gets Heinrich at 42, Rich at 22, and Johnson at 20. Emerson College, whose survey produced those first optimistic numbers, is back in the field right now.
Johnson's hope is that the undecided bloc—11 percent in today's poll, a whopping 30 in Emerson's from two months ago—are anti-incumbent voters still making up their minds. He also obviously needs to take more directly from Rich.
That may prove challenging. The Albuquerque businessman is tacking Trumpy in the face of the Central American caravan, releasing "They are coming" oogity-boogity ads and praising a visiting Steve Bannon as a "global thought leader for economic populism." Donald Trump received 40 percent of the vote here in 2016, even though New Mexico Democrats outnumber New Mexico Republicans by a ratio of 3:2.
All of which raises the stakes for tonight's televised debate. Johnson stressed at the outset of the race that the Libertarian Party sorely needs a "win." He also acknowledged that in a three-way race, "I'm the underdog, no ifs, ands, or buts." He's going to need some last-minute magic to pull off history.