San Francisco Activists Irate That Developer Wants To Replace Burned Out Apartment Building With—Wait for It—More Apartments
Community members in the Mission District worry that the proposed market-rate development will spur gentrification.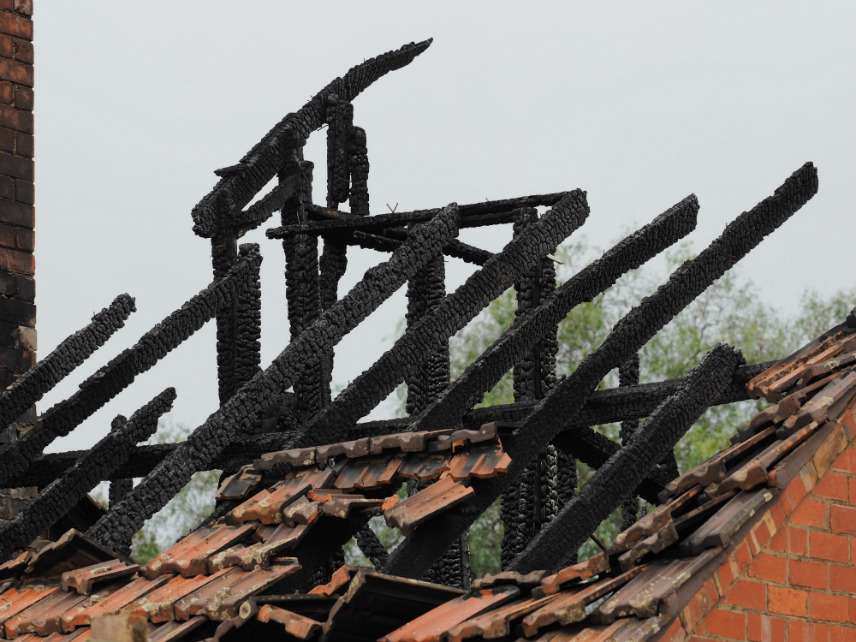 A deadly fire in San Francisco's Mission District has spawned a heated battle between a landowner looking to replace his burned down building with market-rate apartments and local activists willing to go to some extreme measures to stop that from happening.
On October 11, San Francisco business owner Hawk Lou filed a permit application to build a nine-story, 129-unit apartment building— of which 24 units would be rented out at below market rates—on a vacant lot he owns at the corner of 22nd and Mission Streets. This project would replace the three-story, 47-unit retail-residential building that had previously occupied the site before it was destroyed by a 2015 fire.
A net gain of 82 units in housing-starved San Francisco would strike many as a good thing. For local community activists, it's wholly unacceptable.
After the 2015 fire—which left one-person dead, and displaced some 60 mostly low-income tenants and 27 businesses—many in the Mission District nursed hopes that the building would be sold to a community non-profit who would then rebuild it more or less as it was, while also guaranteeing the displaced residents a right to return to their old home.
What Lou is proposing would essentially shut the door on this possibility, while allowing for even more tenants to take up residence in the neighborhood.
On Monday, less than two weeks after Lou filed permits with the city, some 40 people met to discuss how best to stop this project from ever getting off the ground. According to news site Mission Local, their plans "boil down to, essentially, making Lou's life hell so that he will come to the bargaining table."
Ideas for turning up the pressure on Lou included holding a press conference opposing the project, picketing a meat market Lou owns, and even going door-to-door in Lou's neighborhood attempting to shame him into abandoning his plans.
All three options met with group approval, according to Mission Local.
Before any of that happens however, a group of community members will "go pay him a visit," says Roberto Hernández, a prominent Mission activist who attended that Monday meeting, to Reason. "We're hoping and we're praying that [Lou] will come to his senses and recognize that you got to do the right thing."
Hernández levelled a number of charges against Lou, including that he kept his previous building in a poor state of repair, and that he had made a verbal agreement with the late Mayor Ed Lee shortly after the fire to repair the burned structure. (San Francisco law allows rent-controlled tenants displaced by fire the option of returning to their old units after they've been renovated.)
Lou did not respond to a request for comment.
Hopes that the previous structure could be saved were dashed after two subsequent fires broke out at the already charred building. The city ordered it completely demolished in February 2016.
This likely shut the door on any legal right Lou's former tenants have to return to a now destroyed building. Lou has also rejected offers from local non-profit Mission Economic Development Agency (MEDA) to buy the property, opting to build a market rate building instead. (Market rate units can be rented out to anyone at any price. In contrast, affordable units of the kind built by MEDA are heavily discounted and reserved for tenants falling below a certain income threshold.)
This has inflamed fears that a new, pricy building will spur gentrification in the predominately Hispanic, but rapidly changing, Mission District.
"We've had 10,000 people evicted from the Mission in the last seven years because of all the tech companies moving into San Francisco," says Hernández.
A recent study from a U.C. Berkeley graduate student who looked at formal eviction notices in San Francisco dating back to 2003 found no evidence that new construction led to a rise in evictions in the Mission District.
Missions activists' opposition to the project has not been mollified by its inclusion of 24 below-market rate units, given that these would be assigned by lottery, not reserved for the displaced tenants who previously lived at the site.
In addition to the squeeze that activists can put on Lou personally, San Francisco's permitting process gives ample opportunity to delay, appeal, or condition a development's approval. These tactics have been deployed by Mission activists to delay otherwise zone-compliant projects for years—including San Francisco's famed 'historic laundromat'—and to otherwise wring onerous concessions out of developers.
It's possible that using this process against Lou will eventually convince him to withdraw his project or otherwise alter it to make it more politically palpable. It's also possible that he will choose to fight demands made of him by activists, which would likely see the project end up in litigation.
All that can be said for certain is that while this battle plays out, the site at 22nd and Mission will sit vacant, housing no one.