Suspicious Devices Sent to Clintons, Obamas, CNN, Soros Spark Bomb Scares
Another device was reportedly sent to the office of Rep. Debbie Wasserman Schultz.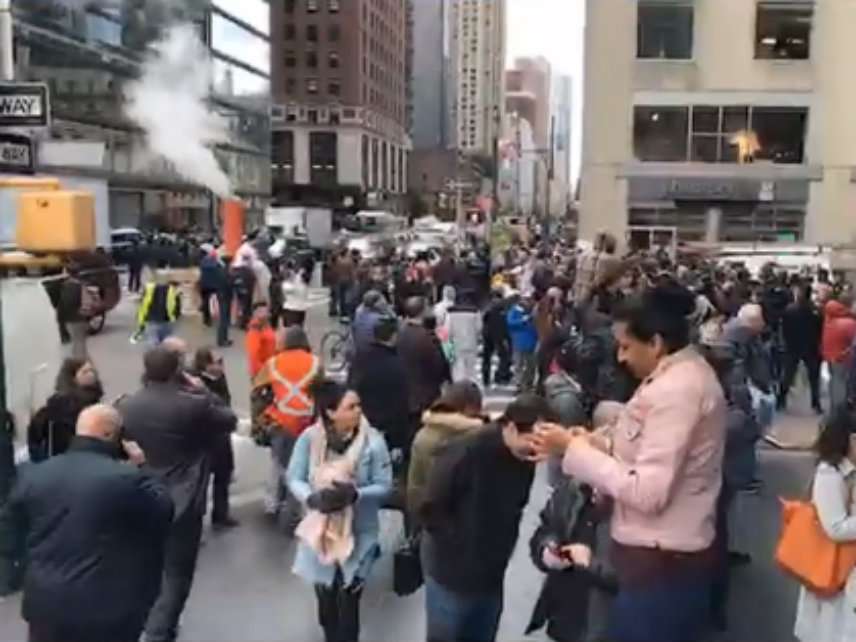 Authorities are investigating multiple reports of explosive packages sent to the offices or homes of several public figures, as well as the news outlet CNN.
WABC reports an explosive device was discovered in the middle of the night near the home of former President Bill Clinton and former first lady Hillary Clinton. The device, which was screened by the Secret Service, was addressed to Hillary Clinton, who was not at the couple's home in Chappaqua, New York, at the time. A source familiar with Bill Clinton's location told CNN the former president was home, though the device never made it there.
Also this morning, the Secret Service said it intercepted an explosive device addressed to former President Barack Obama. He was probably never in danger, as the Secret Service screens his packages from a facility in Washington, D.C., according to The New York Times.
Another suspicious package with an explosive device in it was sent to CNN's offices at the Time Warner Center in New York City. A police bomb squad was deployed to the scene, and the newsroom had to be evacuated, according to the Associated Press. CNN reported that the package was addressed to former CIA Director John Brennan. The network's president, Jeff Zucker, said in a statement that employees should "refrain from sharing any images or geo tags that would reveal" their locations. "We have no particular reason to be concerned, but just think it would be the most cautious approach," he said.
Police were soon able to remove the device from the area. Later, New York Police Commissioner James O'Neill said the package in question contained what "appeared to be a live explosive device" and "an envelope containing white powder."
Florida police, meanwhile, are investigating a suspicious package sent to the Sunrise, Florida, office of Rep. Debbie Wasserman Schultz (D–Fla.), former chair of the Democratic National Committee.
The cluster of bomb threats comes one day after another explosive device was found outside the compound of liberal megadonor George Soros in Westchester County, New York.
According to CNN, which cited a law enforcement official, the devices sent to the media outlet, the Clintons, the Obamas, and Soros are similar to each other. Also, Wasserman Schultz was named on the return address for the Clinton and Obama packages. The package sent to Wasserman Schultz's Sunrise office was supposed to go to former Attorney General Eric Holder. But the address was wrong, and since the Florida congresswoman's name was on the return address, it ended going to her office.
Moreover, Capitol Police were able to identify a package addressed to Rep. Maxine Waters (D–Calif.), ABC's Tara Palmeri reported this afternoon, citing three sources.
The San Diego Union-Tribune also said several suspicious packages were found the newspaper's offices, leading to an evacuation of the building. The packages turned out to be harmless, police said.
There were initial reports that additional explosive devices had been found that were addressed to the White House and New York Governor Andrew Cuomo. Both reports appear to have been untrue. At a press conference, though, Cuomo confirmed that a suspicious package was indeed sent to his Manhattan office. According to Rich Azzopardi, the governor's senior deputy communications director, the initial report was in fact false, but a suspicious package was discovered later on. That package, however, reportedly contained campaign literature, not a bomb.
This post has been updated.
This post originally identified Rep. Debbie Wasserman Schultz as a Republican, when in fact she is a Democrat.