Two Brothers Want to Start a Christmas Tree Farm on Their Own Land. The Township Might Fine Them $450,000.
Gary and Matt Percy had to clear their land before they started planting. They neglected to get the government's permission.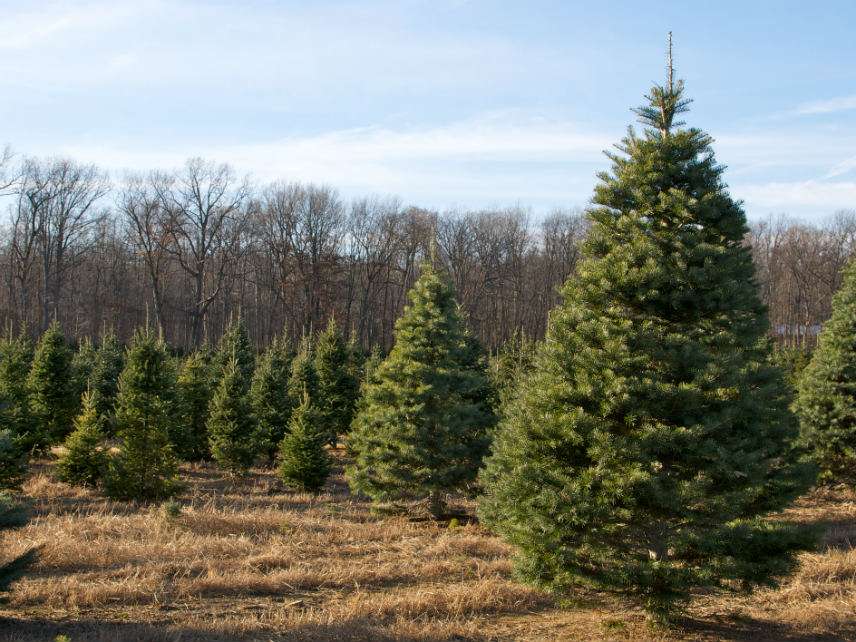 Two brothers might have to cough up $450,000 payable to Canton Township, Michigan. Their infraction: daring to cut down trees on their own private property.
Gary and Matt Percy own and operate two businesses in the state: a trucking company and a tree specialization company. They planned to start a Christmas tree farm on a 16-acre piece of land they own in Canton Township.
But to do that, they needed to cut down more than 1,400 existing trees. And for good reason, their attorney, Michael J. Pattwell, told MLive.com. The property was ravaged by "invasive plants like phragmites, buckthorn and autumn olive," he said.
It's not like the brothers cleared the area without replacing the trees they cut down. They planned to put 2,500 Christmas trees into the ground, about 1,000 of which have already been planted.
Unfortunately for the Percys, a township ordinance prohibits landowners from cutting down trees without the government's permission. Watchdog.org reports:
The township defines a tree as a woody plant with a defined stem of at least three inches in diameter at chest height. Because the township does not know the exact number of trees removed, it hired an arborist to examine the make-up of trees on an adjacent property to estimate what trees were on the Percy brothers' property before they removed them. In a settlement offer, the township proposed fines of about $450,000 for the removal of what it claims is slightly less than 1,500 trees, including 100 landmark or historic trees.
Pattwell told MLive.com that the township's approval "may be obtained by either payment into the township's so-called tree fund or on-site replacement with trees of certain designated trunk diameters." If the brothers do both of those things, their fines can be reduced by about $70,000, he told Watchdog.org.
But Pattwell claims this clients didn't do anything wrong in the first place. For one thing, he says much of what the township defined as trees was actually invasive vegetation. Moreover, the adjacent property examined by the township's arborist has a "different land history and distinguishable characteristics" from the Percy brothers' land, he told MLive.com.
Finally, the brothers believed they were eligible for an exemption under the ordinance. According to that exemption, "agricultural/farming" and "commercial nursery/tree farm operations" don't have to receive government approval before clearing trees on private property.
Township attorney Kristin Kolb, meanwhile, told MLive.com that the brothers were warned "at least twice" they needed a permit, but they "never came and got one."
Pattwell believes the case is an example of "misguided overreach" by the government. "It is unavoidably about whether people who own property are allowed to use it," he told MLive.com.
He's right. Reason's Ronald Bailey has pointed out in the past that locals do a much better job of protecting forests than the government. The Percy brothers may have been cutting down trees, but only so they could plant new ones in their stead. And Pattwell certainly makes it sound like they weren't even in violation of the township ordinance.
But the larger issue at play here is the government infringing on property rights. The land in question doesn't belong to the township; it's private property owned by the Percy brothers. Whatever they decide to do with said land is their choice, not the government's.