Portland Man Protests Extremist Dicks With Dildo March
Martin Connolly's "Stop Sending Dildos to Portland" protest will have marchers waving sex toys on city streets, and maybe stopping by a brew pub.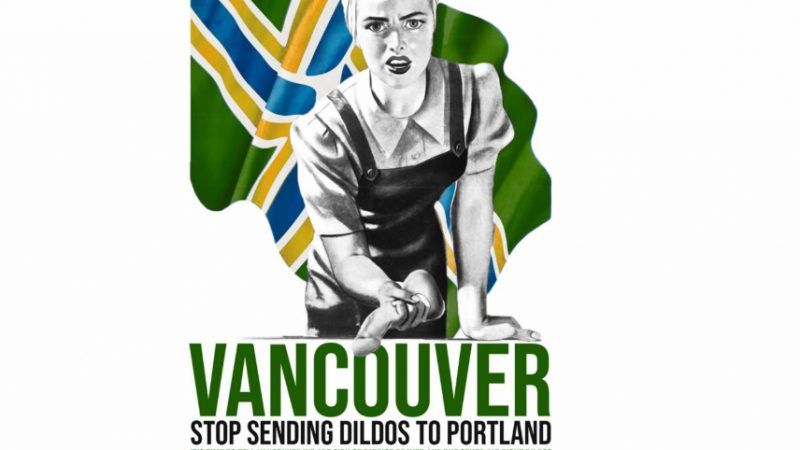 (StopSendingDildostoPortland.com)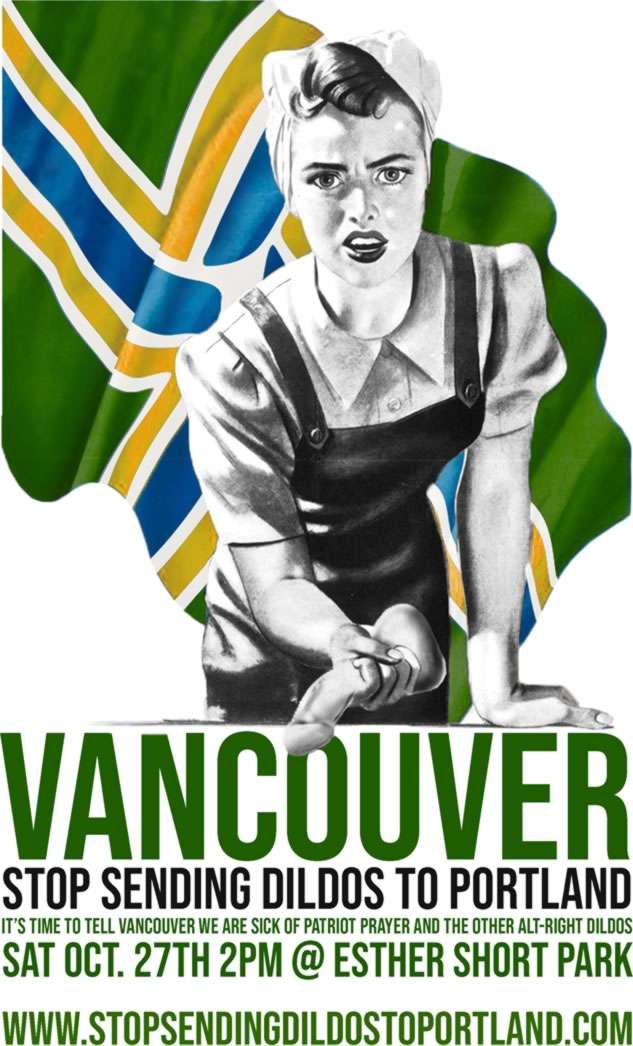 For the past two years, the right-wing group Patriot Prayer has been staging rallies in downtown Portland, Oregon, almost all of which have devolved into fights between rallygoers and leftist counterdemonstrators. Portland Mayor Ted Wheeler has responded to the violence by proposing an emergency ordinance that would give his office wide powers to regulate the location, time, and duration of these protests.
Taking a less coercive approach is Martin Connolly, who instead of trying to crack down on anybody is planning an absurdist demonstration of his own.
Titled "Stop Sending Dildos to Portland," Connolly's plan is to march through the streets of neighboring Vancouver, Washington—home of Patriot Prayer founder and failed Republican Senate candidate Joey Gibson—waving dildos, collecting litter, and maybe hitting up a brew pub or two.
"It's weird that out-of-state groups would come and protest in Portland and it seems like it's just to gain attention or to start fights," says Connolly, describing the street violence that's plagued the city over the past two years as both "frustrating" and "surreal."
Eventually, he says, his frustration gave way to an attitude of "screw this, I'm going to have my own protest with dildos and beer."
According to an FAQ for the event, Connolly and whoever decides to join him will march a half mile from Esther Short Park in downtown Vancouver to the Tap Union Freehouse, a local pub.
In contrast to Patriot Prayer and its leftist opponents—who've been known to march through city streets, blocking traffic—Connolly's plan is, according to his website, to stay on sidewalks and obey all traffic laws. They make a point of saying they won't assault anyone. (The FAQ does state that "We might adorn a few telephone wires with dildos, but that's the extent of our shenanigans.")
Should any Proud Boys or Antifa show up, the FAQ encourages dildo marchers to duck into the nearest bar "until everything blows over."
Connollly, a longtime Portlander who describes himself as "liberal-leaning," says he sympathizes with counterdemonstrators who want to confront Patriot Prayer and the less savory right-wing groups who flock to their rallies. But he also questions the wisdom of that approach.
"I understand the people that want to fight them. Twenty years ago, maybe I'd be doing the same thing, but I just don't know if it works," he tells Reason. "Maybe there's a better way. Maybe this march that I accidentally came up with is the way. Probably not, but maybe."
Connolly says that he has ordered a shipment of discount sex toys from China for the occasion, and he hopes that they arrive in time for the rally. He encourages attendees to bring their own sex toys, protest signs, perhaps a Halloween mask, and cash for beer.
Whether his demonstration manages to cool temperatures in Portland remains to be seen. But it's a nice reminder in these polarized times that one need not choose between two sides of masked extremists, and can instead embrace peaceful parades, humor, beer, and the occasional Chinese-made sex toy.