Overstock.com's Patrick Byrne Is 'Almost Definitely' Not Going to Run for President
To which many Libertarian Party enthusiasts might respond, So you're saying there's a chance?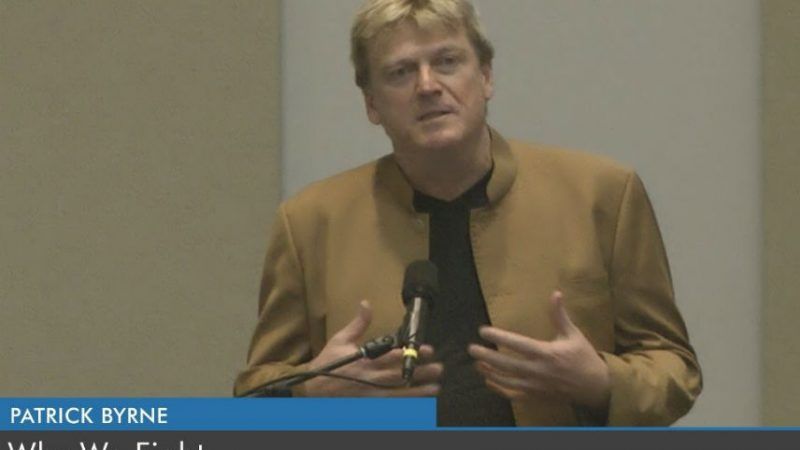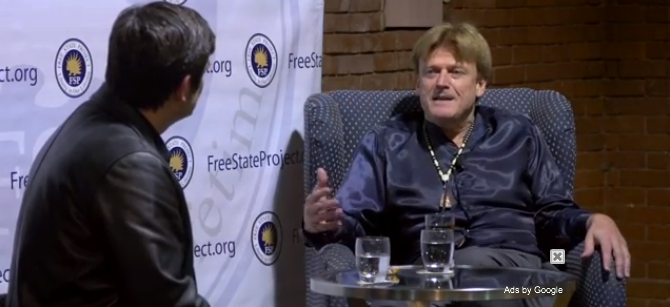 Ever since election night of 2016, it has been clear that the Libertarian Party, through all its fits and starts over the decades, has managed to create a uniquely attractive prize: likely ballot access in all 50 states for a presidential candidate at a time of unusual major-party upheaval and discontent. All this for the low, low price of wooing fewer than 1,000 delegates at the 2020 national convention.
Wherever such Libertarian speculation can be found, including right here, the most-often-cited potential candidate from the "rich businessperson" category is the charismatic Overstock.com founder and blockchain evangelist Patrick Byrne. After all, Byrne was an enthusiastic backer of two-time Libertarian presidential nominee Gary Johnson, he financed the 2016 anti-political-duopoly documentary Rigged, and he is present on the Libertarian state convention circuit.
Sure, Mark Cuban has already said he's "seriously considering" a run, but it would likely be as an independent. The Dallas Mavericks owner told PJ Media in July, "I could care less what happens to the Democratic Party. I could care less what happens to the Republican Party, I could care less what happens to the Green Party or the Libertarian Party, any of the parties—if they all disappeared, I'd be happy. I think, you know, what's missing is a little bit more democracy for our republic."
Besides, Byrne wears his libertarianism right there on his sleeve. So I asked the Overstock CEO in Salt Lake City last week if he was considering a go at the nomination.
"It has been sort of encouraged and offered to me to run," Byrne said cautiously, not entirely comfortable with the topic. (Most of our conversation was about the revolutionary potential of blockchain, which his company tZERO made a huge breakthrough with this week. I'll publish that part of our conversation on Monday.) "I need the job like a hole in the head. I would have estimated my chances of doing it as 10 percent at the beginning of the year; they may be double that now."
Byrne's motivation, scant as it is, stems from his worry that the country is facing both a constitutional crisis ("it looks like such a circus back in Washington, it's driving me nuts") and a philosophical one, in which the very foundations of classical liberalism seem to be threatened on all sides. "I'm really not interested in running," he amended. "I can say almost definitely I'm not going to run. That's how I should summarize it: I can tell you almost definitely I won't run. Things have to get even worse."
So what's Byrne's analysis of the historic (and historically disappointing) Gary Johnson/Bill Weld campaign in 2016?
"I was a huge fan and supporter of the Libertarian Party, but if it couldn't get anywhere last time, I wonder if it's going to ever get anywhere," he said, "because you had two candidates who had minus-60 percent favorability rating….If there were ever a chance for a third party, it was 2016. Now I wonder if that just shows that they're not ever going be viable."
Byrne would probably need to exude more confidence about the L.P.'s prospects if ever his "almost definitely…won't" stance turns into a "what the hell, let's try this," but there is a lot of time between now and Memorial Day weekend, 2020.
Reason has interviewed Byrne several times over the years, including in 2009, 2015, and 2016. You can watch the latter below: