Gary Johnson Out-Fundraising Republican Opponent Mick Rich
Libertarian haul is still dwarfed by the Democrat's, though a Rand Paul-friendly PAC is kicking in $2 million.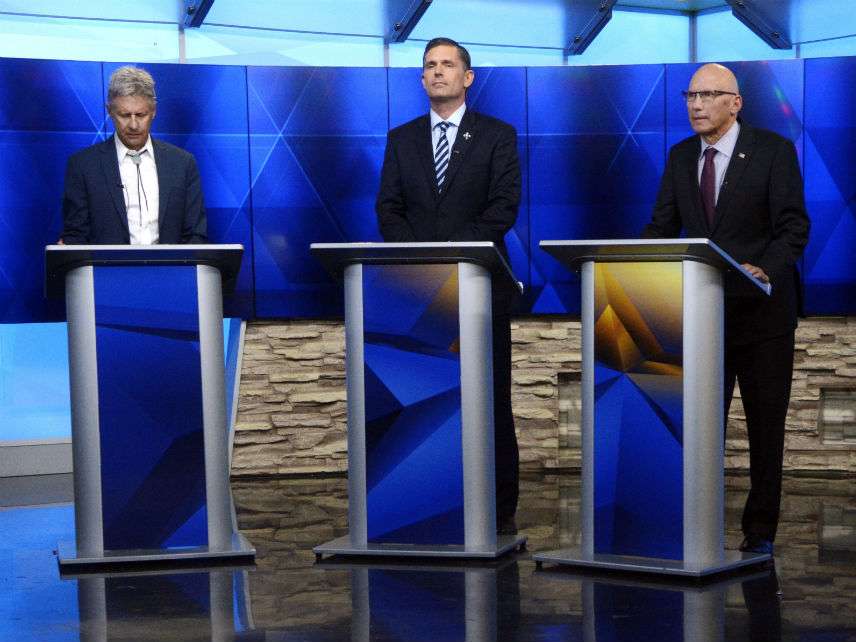 Federal Election Commission campaign fundraising figures for the New Mexico Senate race came in Monday, and they show Libertarian Gary Johnson beating Republican Mick Rich in the race to be a distant second to Democratic incumbent Martin Heinrich.
Johnson out-raised Rich, $235,000 to $133,000, for the July to September period, despite only beginning his campaign in mid-August. Heinrich, who came into the reporting period with a $4.984 million to $689,000 fundraising advantage over Rich, announced a haul of $911,000. Campaign spending during those three months went $2.4 million for Heinrich, $173,000 for Rich, and $171,000 for Johnson. Total cash on hand at the end of September was Heinrich $2.4 million, Rich $158,000, and Johnson $64,000.
As the Santa Fe New Mexican and others have noted, this is hardly the end of the New Mexico Senate campaign expenditure story. The Rand Paul-affiliated Protect Freedom PAC announced this month a $2 million pro-Johnson advertising campaign, which is producing ads like this: "Send a historic message to Washington." On a smaller scale, there's Elect Liberty PAC, run by longtime Johnson collaborator Ron Nielson (sample product: "The Unpolitician"), and the Our Western Values 501(c)4, among others.
As Nielson told me right before Johnson officially announced, "We're hoping that we can raise substantial sums, millions of dollars, here in the not-too-distant future."
How are all those campaign ads, plus the recent candidate debate, affecting the race? We have no measurable idea. Like a lot of states, New Mexico has abysmal polling data, so there hasn't been a nonpartisan poll in a month. A Johnson-affiliated poll from late September showed the Libertarian gaining to within nearly single digits of the Democrat, but nine out of 10 political forecasters collated on this Wikipedia page assess the seat as a "Safe D."
Still, having an unusually competitive Libertarian in the race is a good way to smoke out the workaday awfulness of the two other parties:
In our KOAT-TV debate on Friday, Gary Johnson said the solution to the opioid crisis is to "legalize marijuana." Gary: people are dying in the streets. Pushing dope is not what NM needs. We need good-paying jobs. #NMsen #NMpol #NotTheGovernorYouRemember pic.twitter.com/zH30maB5SV

— Mick Rich (@MickRich4Senate) October 14, 2018
Heinrich, meanwhile, is dragging Johnson for daring to suggest cutting military spending.
So what does Gary Johnson's 2018 pitch look like? Here's his opening statement at the recent Senate debate: