Police Charge a 12-Year-Old Rapper With Felony After Mall Confrontation Over CD Sales
The Cobb County Police Department then blamed Corey J's aunt for escalating the confrontation.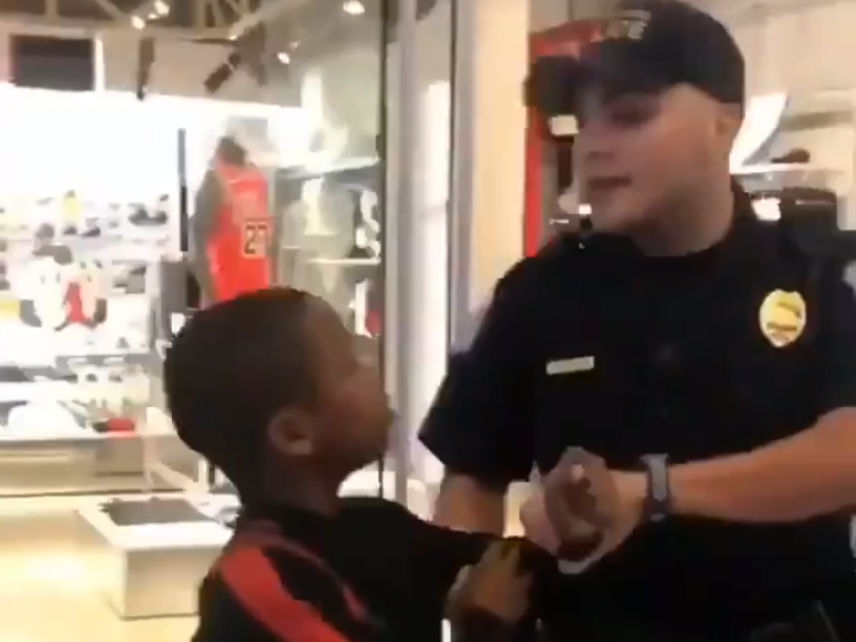 Corey Jackson is a 12-year-old rapper in Cobb County, Georgia. He goes by the stage names Lil C Note and Corey J. In an effort to promote his sound, the entrepreneurial Jackson likes to sell his CDs to strangers with an animated presentation claiming that his $5 CDs are as hot as the summer. He's even showed off his selling technique on Ellen. On October 6, a police officer detained Jackson for selling his CDs at the Cumberland Mall. A cell phone video released earlier this week shows a police officer taunting Jackson and threatening to send him to a juvenile detention center.
The video, taken by Jackson's aunt, shows the officer holding tightly onto the preteen's arm. The officer explains that Jackson is headed to a youth detention center, while Jackson's aunt pleads that his father is on the phone. Instead of taking the call, the officer continues to tell Jackson that he is headed to jail if he continues to struggle. Jackson and his aunt protest the decision, telling the officer that they know they have rights. As the officer attempts to pull Jackson away, his aunt is tackled to the ground while shouting for the officer to let him go.
12 yo entrepreneur selling his rap CD at the mall was detained by a cop who said, "You're 12? You're about 2 go to jail. You're going to go to a youth detention center."

Auntie wasn't having it and who can blame her when cops are mutdering our children?
pic.twitter.com/djlgYlujR3

— Bishop Talbert Swan (@TalbertSwan) October 17, 2018
Police decried the video during a press conference following the incident. Chief Michael Register said the officer was simply "holding the young man by the arm" in response to allegations of "manhandling." Register also criticized Jackson's aunt, saying that she could have remained calm and deescalated the situation. Otherwise, Register believed the officer's actions were justified. The Atlanta-based Law Office of Gerald Griggs released a statement claiming that the officer was wrong to detain Jackson as he was "attempting to find probable cause."
Police charged Jackson with one count of felony obstruction. He also faces misdemeanor charges for criminal trespass and disorderly conduct. His aunt was charged with felony obstruction and misdemeanor criminal trespass, disorderly conduct, and providing a false name to law enforcement. Protestors gathered at the mall on Wednesday to demand that the charges be dropped.
The department announced an investigation following the release of the video.
There are, unfortunately, countless stories of children's business ventures—from selling water bottles to pop-up lemonade stands—being shut down by police. It's not often the case, however, that child entrepeneurs are threatened with jail time and charged with felonies.
Cobb County must be the safest place on Earth if its police officers have the time to pursue criminal charges against a kid selling his own music.