Death of Dennis Hof, the 'P.T. Barnum of Booty,' Leaves Uncertain Future for Nevada Brothels and Senate Seat
Hof had a huge impact on legal sex work in Nevada and his death has spurred a heady mix of reactions.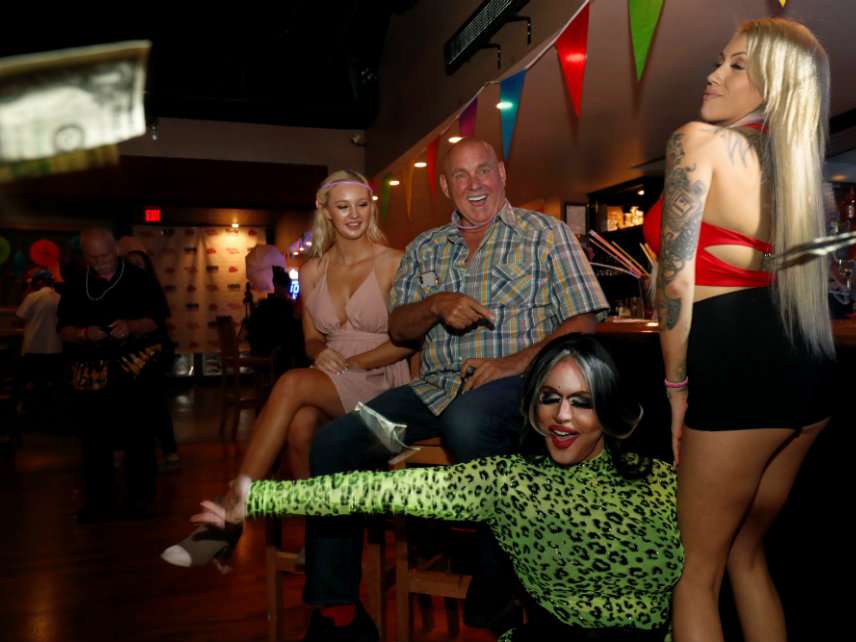 After spending the night at a campaign rally with porn star Ron Jeremy and ex-Arizona sheriff Joe Arpaio, Nevada state senate candidate and notorious brothel owner Dennis Hof passed away at his Nye County "Love Ranch." Jeremy, a longtime friend, discovered the body on Tuesday morning, just hours after the pair had been celebrating Hof's 72nd birthday.
"No cause of death has been determined, but no foul play is suspected," says Chuck Muth, Hof's campaign manager. "I'm told the Clark County coroner will conduct an autopsy."
For now, Hof's death has spurred a heady mix of reactions—befitting a man whose big heart and boorish behavior are both part of the lore.
To many who knew and worked with him, Hof was a priceless mentor, benefactor, and friend. As news of his death spread, so, too, did the online outpourings of gratitude and sadness from former and current workers at Hof's businesses (in addition to the Love Ranch outside Las Vegas, Hof owned six more legal brothels around Nevada, including The Moonlite BunnyRanch) and others who knew him.
"Your amazing achievements and the incredible opportunities you've provided for so many of us will never be forgotten," tweeted Bunny Ranch worker Ava Carter on Tuesday.
Penthouse journalist Mitchell Sunderland called Hof "the sweetest, least judgemental man in American life," and posted a personal story of how Hof had helped him at one of his darkest times. "America knew Dennis as the PT Barnum of Booty," added Sunderland, "but I saw him help numerous people, giving them advice, friendship, shelter, and, in some case's, money when nobody else would."
Many such individuals were sharing their stories on social media yesterday. "Those close to him knew the real Dennis—a kind & strong man who always made time for his friends," posted sociology researcher and sex worker Christina Parreira. "He was my rock, mentor, & friend, and I loved him immensely."
@DennisHof was my best friend. He truly saved my life. I love him so much. I still can't believe this. We had so many plans for the future. I love you Dennis pic.twitter.com/5xAM31XBaW

— Jessica Johnson (@jessica_weenie) October 16, 2018
"You changed the sex work industry forever and your company changed my life," tweeted Ruby Rae, a graduate student and sex-worker rights activist who also works at the Bunny Ranch. "Through the opportunity of your employment I realized my own passions within this crazy world."
Within the larger sex worker community, however, Hof has been a controversial figure. Several dark allegations lie in Hof's history. Former employees and lovers accused him of sexual assault in 2005, 2009, and 2011. "My rapist is dead," former Love Ranch worker Jennifer O'Kane told the Las Vegas Review–Journal on Monday.
And Hof's failure to fight for prostitution decriminalization or legalization writ large struck some as confirmation that his commitment to the wellbeing of sex workers started and ended with his own pocketbook.
"He could have tossed some money at different orgs trying to get sex work decrim," tweeted Amber Batts, an Alaska woman who spent several years in prison for allegedly "sex trafficking" willing adult women who worked for her escort service. Instead, Hof seemed "just fine staying in his neck of the woods" while sex workers elsewhere "are being jailed and getting killed out here."
But within his own brothels, Hof did help revolutionize working conditions for Nevada's legal prostitution industry. "When Hof bought he Bunny Ranch in the early 1990s, Nevada brothels would not let the women leave for days at a time," explains Allison Schrager at Quartz.
They had to do whatever the customer wanted, for the price the house set. Hof took his experience selling time-share property and employed a similar model to sex work. He had all the women work as independent contractors who set the terms of their own transactions, including the price, and then took 50%.
Schrager said she visited Hof's brothels three times while working on articles and enjoyed being in an environment "that felt so devoid of hypocrisy." This, she adds, "is how Hof lived his life."
"Dennis Hof was a visionary," tweeted Alice Little, a Bunny Ranch worker, blogger, and podcaster. "He has a dream- to give women an empowering environment to own their sexuality. He did that, and so much more. He was a mentor, role model, friend, and like a family member to so many of us."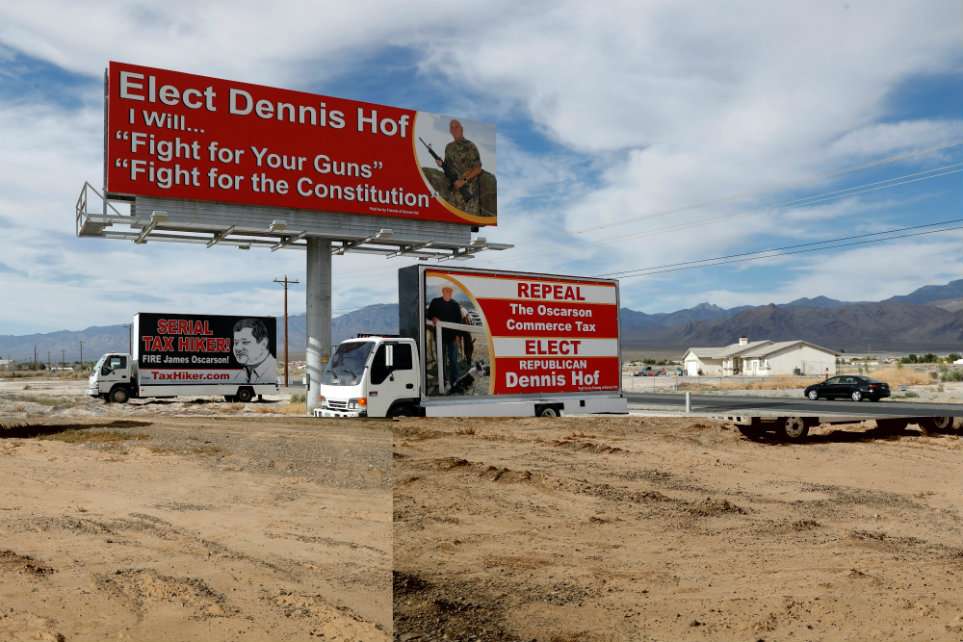 Perhaps it's Hof's general politics—he's flitted back and forth between the Libertarian and Republican parties, coming down in recent years on the pro-Trump side of things—that put him at odds with his largely liberal peers in the adult entertainment and sex-work industries. But this conservatism also helped him out with local authorities in some of the Republican-heavy counties where brothels operate.
Hof was running for the Nevada senate as a Republican, and "though many prominent Nevada Republicans refused to endorse Hof, he was still expected to win the general election to represent the deep-red district," points out Rolling Stone. Now, come November, Hof's name will remain on the ballot but it will note that he is deceased. If Hof still wins, the seat gets filled by another Republican from the district, to be picked by commissioners from Nevada's Nye, Lincoln, and Clark counties.
Hof's candidacy isn't the only brothel-related issue up for a vote this fall, however. In Lyon County, where Moonlite Bunny Ranch and three of Hof's other brothels are based, voters will be asked to decide on the future of legal prostitution. A similar ballot measure was floated in Nye County as well but failed to get enough signatures ahead of last June's submission deadline.
Grover Norquist, who calls Hof "a friend and political ally," lamented that the man—"so full of energy and life" when Norquist saw him Monday—"could have made a big difference in the direction of Nevada towards limited government and lower taxes." Perhaps. But there's no doubt that he helped fight for and preserve Nevada's limited-government approach to sex work. Without Hof's personal and economic influence on local politics, Nevada's brothels face an uncertain future.
For now, Hof's "brothels will close because he was the sole licensee," reports the Review-Journal. But this "could be temporary as authorities and Hof's lawyers work to find a solution."