Proud Boys, Antifa Clash Again on Portland Streets
The city is looking less like Portlandia and more like Little Beirut.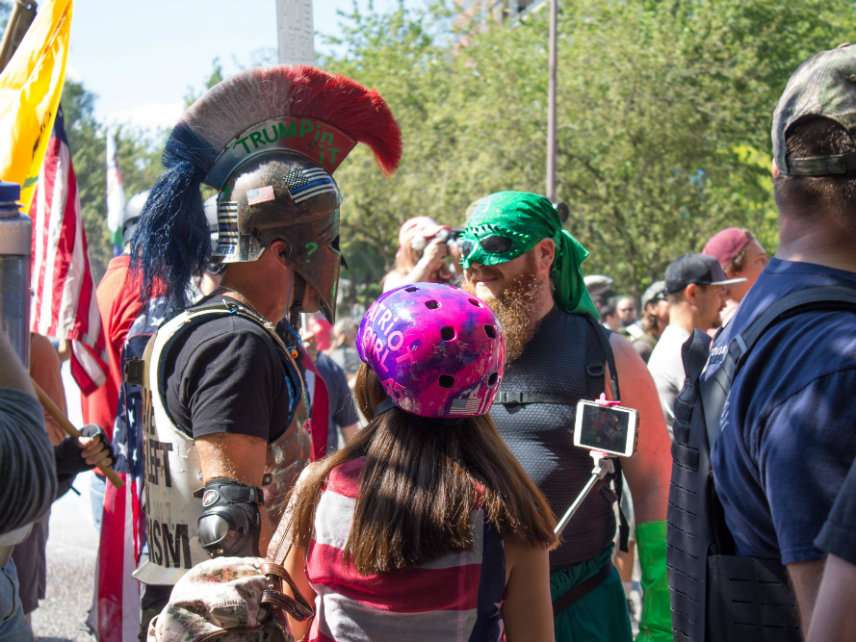 Gangs of masked left- and right-wing protestors clashed again in Portland, Oregon, on Saturday night, raising the question of whether political street violence is the new normal in the Rose City.
The weekend's violence began with an impromptu gathering of the right-wing group Patriot Prayer—a staple of Portland's street melees over the last couple of years—who rallied in the city's downtown to call for the ouster of Mayor Ted Wheeler, who they accuse of surrendering the city to far-left protestors.
Pictures and video from the rally show demonstrators waving American flags and sporting MAGA and Proud Boy hats. One man wore a homemade t-shirt with the slogan "I hunt Antifa cowards."
In attendance were Joey Gibson, leader of Patriot Prayer and unsuccessful candidate for U.S. Senate in Washington state, and Tusitala "Tiny" Toese, another prominent member of the group, who's been charged with assault for his brawling at past protests.
Following the Patriot Prayer rally, the assembled group marched through the city's downtown, shouting chants of "USA" as they passed a vigil for Patrick Kimmons, who was killed by Portland police last month.
According to Willamette Week, the first scuffles started shortly after the Kimmons vigil ended. One vigil attendee set fire to an American flag, which was then snatched away by a member of the Patriot Prayer crowd. Insults started to fly between the two groups, followed by squirts of pepper spray.
One video, captured by Portland freelancer Mike Bivins, shows right-wing protestors he identifies as Proud Boys and a black-clad antifa demonstrator approaching each other, fists raised, before another leftist lets loose a string of pepper spray.
The violence only escalated from there, reaching a peak at around 8 P.M. when a full-scale brawl broke out in front of the bar Kelly's Olympian. Video shows the two sides exchanging more blows and pepper spray. One clip, again captured by Bivins, shows what appears to be a right-wing protestor repeatedly stomping on a left-wing counterdemonstrator, who's lying prone on the ground.
Portland Police eventually intervened, firing pepper ball rounds and other non-lethal ammunition.
"We are aware that there was a large, violent encounter between opposing groups on Southwest Washington Street," Portland Police Chief Danielle Outlaw said in a press release. "Officers responded to the scene and used less lethal munitions to break up the fight and prevent further violence. We will continue to investigate this incident and ask that anyone who was the victim of a crime to come forward and file a report."
No arrests were made Saturday. After being broken up by police, the two sides dissipated, with the Patriot Prayer crowd chanting "Trump, Trump, Trump" as they marched away from the scene.
Violent protests are hardly an unprecedented phenomenon in Portland. The city was affectionately nicknamed "Little Beirut" in the late 1980s for the raucous protests that greeted visits by President George H.W. Bush and Vice President Dan Quayle.
Still the street warfare of the kind we saw this weekend is a relatively new phenomenon, spawned from the hysterical aftermath of Donald Trump's election. As right and left repeatedly face off, the Portland Police have been criticized for both overpolicing and underpolicing the rallies.
And while the fighters like to present themselves either as dogged defenders of racial equality against the forces of white supremacy or as free speech warriors standing up to an intolerant leftist mob, all I really see in these street scuffles are a bunch of angry people looking for a fight.