University of Michigan Punished a Professor for Refusing to Write a Recommendation Letter for a Student Studying in Israel
Trying to compel this sort of speech violates the rights of professors.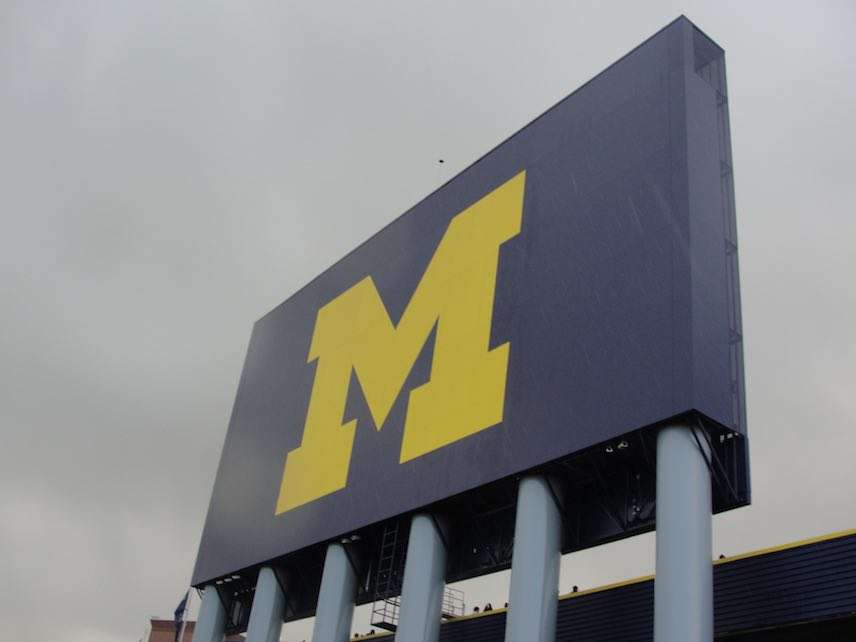 John Cheney-Lippold, a tenured professor at the University of Michigan, was denied a raise and sabbatical privileges as punishment for refusing to write a letter of recommendation for a student to participate in study abroad. Cheney-Lippold had objected to the student's destination: Israel.
"Your behavior in this circumstance was inappropriate and will not be tolerated," wrote Interim Dean Elizabeth Cole in a letter to Cheney-Lippold, according to The Detroit News.
A second teacher at the university, Lucy Peterson, also declined to write a letter of recommendation for a student planning to study in Israel, according to Inside Higher Ed. It's not clear whether Peterson will face disciplinary action as well.
Peterson and Cheney-Lippold are participants in the Boycott, Divest, Sanctions (BDS) movement, a protest against Israel's mistreatment of Palestinians. Anti-discrimination law would prohibit a professor from refusing to write a letter of recommendation because of a student's ethnicity. But students who want to study in a particular country do not constitute a protected category, so the professors' actions are legal.
University of Michigan officials argue that adhering to BDS tactics is incompatible with professors' obligations to their students, Inside Higher Ed reports:
In a statement published in Michigan's University Record email this morning, Mark S. Schlissel, Michigan's president, and Martin A. Philbert, the provost, had strong words.

"Withholding letters of recommendation based on personal views does not meet our university's expectations for supporting the academic aspirations of our students. Conduct that violates this expectation and harms students will not be tolerated and will be addressed with serious consequences. Such actions interfere with our students' opportunities, violate their academic freedom and betray our university's educational mission," they wrote.
The Foundation for Individual Rights in Education's Robert Shibley thinks this is a "thorny" issue from a free speech perspective. He writes:
As always, FIRE takes no position on the main issues that underlie the Israeli-Palestinian conflict. However, FIRE has long been concerned about the effects that the effort to academically boycott institutions in Israel cannot help but have on academic freedom for students and faculty members right here in the United States.…

While the immediate negative effect on students denied recommendations is easy to see, this type of application of the boycott movement risks doing serious, though less obvious, damage to faculty freedom of speech, including the right not to speak. Faculty recommendation letters are, of course, a type of speech. (They are, after all, letters.) Whether or not to write them on behalf of a particular student is also traditionally, and necessarily, left to the discretion of the individual faculty member, as it would be entirely nonsensical to require faculty members to write recommendation letters for students they simply can't or don't recommend. Yes, writing such letters is an expected part of the job, but generally speaking, no student has a "right" to a recommendation letter.
I tend to think academic freedom means that professors should be able to write and say what they think, even if what they think is offensive to some students. A letter of recommendation is a kind of speech: an endorsement of the student for whom it is written. If a university is obligating professors to write these letters against their will, they are essentially forcing the professors to engage in compelled speech.
It's easy to see how this could cause problems. Would a pro-life professor have to write a letter of recommendation for a student taking a job at Planned Parenthood? Should a gay professor be forced to recommend a student seeking a transfer to a conservative religious college? What if the professor's objections aren't political? Is it permissible to deny a letter to a student who wants to visit a particularly dangerous or unstable country?
It seems the best policy here is to leave these decisions in the hands of the faculty. I'm not a supporter of the BDS movement—I tend to think boycotts are hypocritical—but I would be hard-pressed to say that professors who object to Israel's policies should be forced to violate their consciences in order to keep their jobs. Anyone who has a problem with these professors' anti-Israel stances should feel free to criticize them, but disciplinary measures are unwarranted and a threat to the faculty's free speech rights.