Mahmoud Ahmadinejad, Free Speech Warrior?
The former president of Iran, who once banned Twitter, discovers the joys of social media.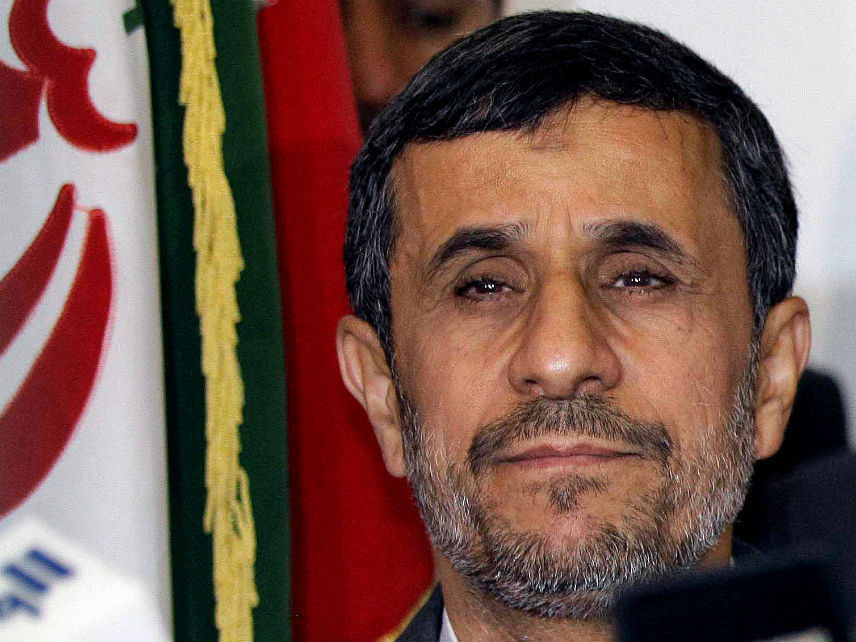 When Mahmoud Ahmadinejad was president of Iran, he banned Twitter. Now he is the platform's No. 1 fan. "Any type of restrictions on ideas and beliefs especially on #SocialMedia will lead to chaos and dictatorship. #FreedomOfSpeech," he tweeted in September.
Since leaving office in 2013, the infamously repressive Ahmadinejad has become a vocal critic of current President Hassan Rouhani. Like many politicians around the world, Ahmadinejad in opposition has become a proponent of freedoms he was unwilling to extend to his own critics while in office.
Ahmadinejad has developed a vocal presence on the internet since creating his Twitter in March 2017. In English, he's weighed in on everything from the gold standard (under the hashtag #DictatorshipOfDollar) to NFL player Colin Kaepernick's protest against police brutality, sparking a brief flame war with Ted Cruz. The tweets are meant to establish "a reputation as an anti-imperialist supporter of the 'oppressed' globally," says Sina Toossi, a researcher at the National Iranian-American Council..
But in Persian, Ahmadinejad has largely used the site to attack the current government.
"In the past year, Ahmadinejad's rhetoric and actions have become sharply more critical of the entire ruling system," Toossi says. "He has called for President Hassan Rouhani's resignation, voiced support for a referendum, and publicly released critical letters to [Iranian religious leader] Ayatollah Khamenei."
Ahmadinejad also promotes the idea that he and his associates are being persecuted by the deep state. When former Ahmadinejad chief of staff Esfandiar Rahim Mashaei and media adviser Ali-Akbar Javanfekr were convicted of "conspiracy against national security" in September, Ahmadinejad shared a video message from Mashaei accusing the intelligence services of plotting against him.
Ahmadinejad frequently complains online about the courts' treatment of Mashaei, Javanfekr, and former Vice President Hamid Baghaei, who was jailed in December 2017 for corruption. In a different September video partially translated into English by Toossi, he said that the head of military intelligence has "no balance, everyone knew this, all the country's officials know what he's done."
Toossi contrasts Ahmadinejad's "relative freedom" with the case of Reformist former president Mohammad Khatami, who is banned from speaking to the media. Mir-Hossein Mousavi and Mehdi Karroubi, Ahmadinejad's main opponents in the 2009 elections, were also put under house arrest without trial in 2011.
Twitter itself was banned in Iran during Ahmadinejad's 2009 re-election campaign.
Many other Iranian officials have verified accounts on banned social media platforms. "Even hardliners who defend Twitter being blocked are on Twitter," says Reza Ghazinouri, co-director of United for Iran, a San Francisco based nonprofit that works towards advancing civil liberties in Iran through technology.
He estimates that "at least a million" Iranians are active on the social network, using tools such as virtual private networks and the TOR browser to circumvent the government's online filters.
Despite his own campaign promises to improve access to social media, President Rouhani's administration blocked Telegram, an encrypted messaging app popular with Iranians. "Rouhani did all he could to unblock Telegram," Ghazinouri claims, but Khamenei "intervened behind the scenes."
In the Islamic Republic of Iran, an elected government shares power with the clergy and the military. The Supreme Council of Cyberspace, which oversees electronic censorship, is drawn from both sides of government, although the religious Guardian Council approves all its members.
When they tried to run again in the 2017 presidential race, the same Guardian Council barred Ahmadinejad, Mashaei, and Baghaei from the ballot.
Ahmadinejad was first elected in 2005 on a platform of expanded welfare programs, conservative social policies, ambitious public works projects, and an aggressive foreign policy. According to Toossi, the Ahmadinejad campaign "promoted populist notions of him combating a criminal elite."
After the liberal Green Movement accused Ahmadinejad of rigging his 2009 re-election, he cracked down on protests with Khamenei's support. (According to an investigation by The Guardian, at least 80 people died and many were tortured in prison.) But Ahmadinejad also clashed with Khamenei over control of the intelligence ministry, and lost support from his fellow Conservatives by hiring Mashaei, who was perceived as a religious heretic.
The clergy also criticized Ahmadinejad for lax enforcement of Iran's religious dress codes in 2011.
Ahmadinejad's successor Hassan Rouhani was elected in 2013 and 2017 on a platform of liberalization, supported by a coalition of Reformists and moderate Conservatives. His landmark achievement is the 2015 nuclear deal, in which Iran scaled back its atomic research program in exchange for sanctions relief from six world powers.
But Rouhani's second term has taken a turn for the worse. In January 2018, demonstrations over food prices turned into violent nationwide unrest. Five months later, U.S. President Donald Trump reimposed sanctions, threatening Rouhani's signature achievement and unleashing rapid inflation.
To make matters worse, Iran was hit by two dramatic terrorist attacks in a little over a year: an ISIS-linked hostage situation at Iran's parliament building on June 17, 2017; and a mass shooting (claimed both by ISIS and by Arab nationalist groups) at a veterans' parade on September 22, 2018.
Criticized from the right for being too soft, Rouhani has begun adopting a more aggressive foreign policy, slowing down on domestic liberties and arresting critics.
He may even have turned his repression against Ahmadinejad. On September 30, the former president was slated to give an interview to the documentary filmmaker Hossein Dehbashi when Dehbashi suddenly claimed that the interview had been "suspended" by the Ministry of Intelligence, which is controlled by the President. Dehbashi, who worked for the Rouhani campaign in 2013, is "known for his hard-hitting interviews, where he touches on controversial or taboo subjects," says Toossi.
Ahmadinejad has so far remained mum about the interview, although he made several posts soon after complaining about Mashaei and Javanfekr's treatment.
In an open letter published on Telegram earlier that day, Ahmadinejad had accused the Larijani brothers, who are moderate conservative members of Rouhani's administration, of censorship. "Without regard for the law and without evidence, they file heavy charges and issue heavier convictions," Ahmadinejad complained, calling the government's actions an "obvious…attempt to wipe a revolutionary current off the political map."
Toossi says that Ahmadinejad "is seemingly attempting to co-opt widespread economic and political grievances and…position himself as an opposition leader."
The irony is not lost on many Iranians.
"Most people are making fun of him," claims Ghazinouri, who fled Iran during the Ahmadinejad administration. "You were the number one enemy of the Internet, and now you're talking about free speech!" he says, laughing.