A Florida Man Faces Prison for Making Grills Without a License
Allen Turner didn't know his business was illegal until it was too late.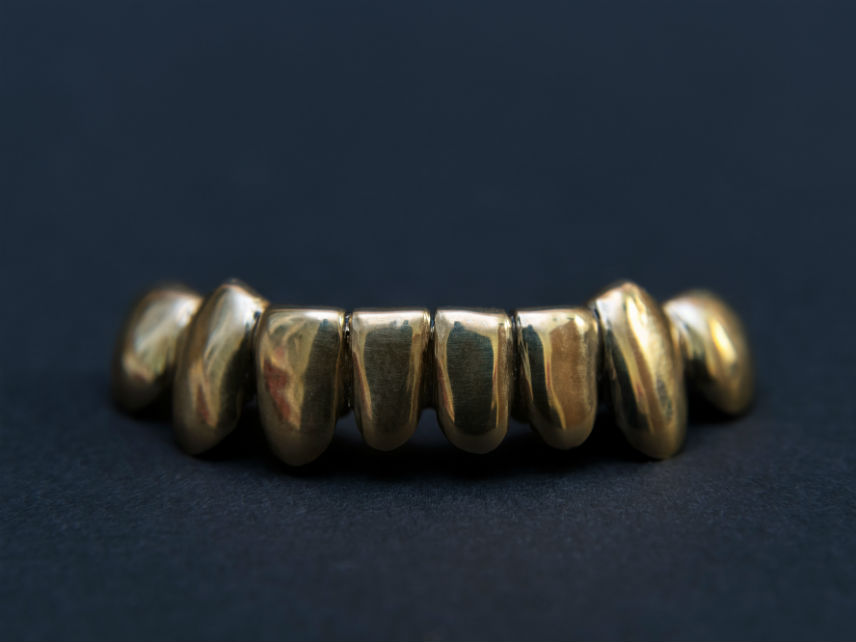 Dental grills have been around for thousands of years—Vice reports that rich Etruscan women were fitting their teeth with gold as early as the seventh century B.C. The service was not carried out by a dentist but by a goldsmith. But in 2018, a Florida man faces charges for doing something similar without a dental license.
Allen Turner, 26, of Leesburg tells WFTV that he used to charge customers several hundred dollars to make custom grills. His business came to a screeching halt when he was visited by a Leesburg police officer and an investigator from the state Department of Health, who informed him that what he was doing was illegal. Florida's definition of dentistry practices includes the "taking of an impression of the human tooth, teeth, or jaws directly or indirectly and by any means or method," and so the molds Turner made to create his grills were unlicensed dentistry. He was fined $1,000 and ordered to stop.
He stopped, as ordered, but it was already too late. In September, the state attorney's office charged him with one felony count of practicing dentistry without a license and one misdemeanor count of public nuisance, saying that he turned his home into a "dental laboratory."
Turner says he was unaware that his actions were illegal: He had seen others doing the same thing and did not realize that a license was needed for the process. Police Lt. Joe Iozzi appeared to understand the confusion, saying, "I think people make assumptions when things are just cosmetic in nature—that it doesn't necessarily require licensing."
Turner was arrested and taken to the Lake County Jail, where he was later released on bail. He will have to appear in court October 22.
From the felony charge alone, Turner faces up to five years in prison and a $5,000 fine. Ignorance of the law may be no excuse, as the saying goes, but it seems absurdly disproportionate that he might have to spend years among violent criminals for a nonviolent crime. And it's overzealous to punish him as though he had been attempting to diagnose patients or perform surgeries, cleanings, and other practices typical of a licensed dentist.
Civil liberties lawyer Harvey Silverglate famously estimated that the average working professional unwittingly commits an average of three felonies a day. I'm sure Turner can relate.