Taylor Swift and Kanye West Divide American Politics Again
Imma let you finish, but the Tay and Ye beef is the best political lesson of all time.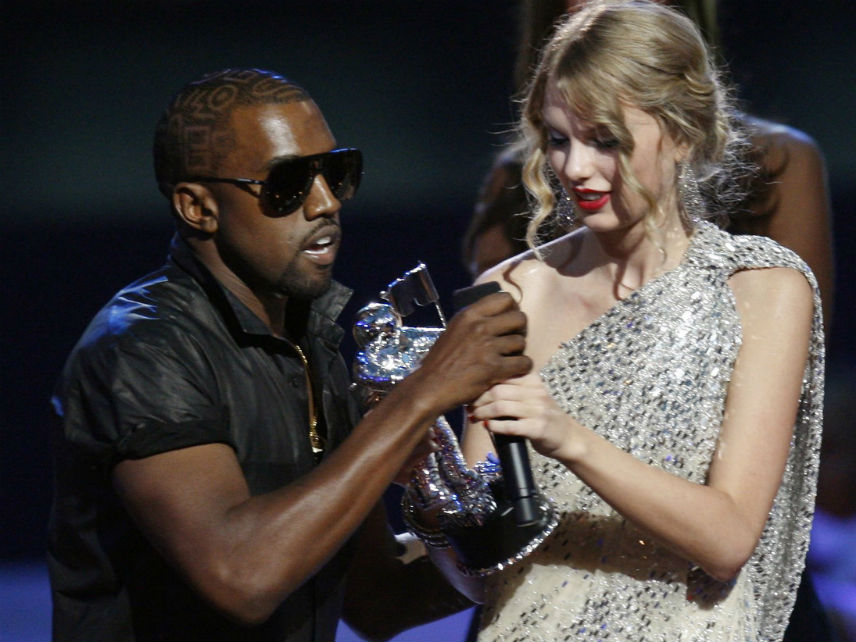 When she isn't singing about her long list of ex-lovers, Taylor Swift is staying quiet about politics. Indeed, her decision to remain silent on the 2016 election inspired lengthy "think pieces" and bizarrely angry complaints from observers who accused her of quietly supporting Donald Trump.
Until yesterday. Swift put the old Taylor to rest on Sunday with an Instagram post endorsing Tennessee Democrats. "In the past I've been reluctant to publicly voice my political opinions, but due to several events in my life and in the world in the past two years, I feel very differently about that now," Swift wrote. Her support for the LGBT community, opposition to systemic racism, and support for the Reauthorization of the Violence Against Women Act meant that she would be backing Democratic nominee Phil Bredesen over pro-Trump Republican Marsha Blackburn for the U.S. Senate.
The Washington Examiner's Siraj Hashmi then weighed in:
The 2018 midterm election is officially a proxy war between Taylor Swift and Kanye West. pic.twitter.com/fahGqZA9OQ

— hiraj sashmi (@SirajAHashmi) October 7, 2018
Back up to 2005. During a live fundraiser for the victims of Hurricane Katrina, Kanye West famously claimed that George W. Bush didn't "care about black people." The moment became a staple of both pop and political culture. Now fast-forward to West's second infamous public outburst, which occurred at MTV's 2009 Video Music Awards. Swift, who was still in her country-singer days, was accepting an award for "You Belong With Me" when West jumped on the stage, took the mic, and said that it was actually Beyoncé who had the "greatest music video of all time."
West's previous condemnation of a sitting Republican president had already made him a foe of the right; his sex-laden lyrics didn't endear him to the traditional-values crowd either. And now he seemed to be attacking Swift, whose damselish looks and country-pop style seemed to represent a sweet innocence that Middle America easily embraced.
The rivalry was exacerbated in 2016, after West rapped: "I feel like me and Taylor might still have sex. Why? I made that bitch famous." Swift responded with a speech at that year's Video Music Awards, saying "there are going to be people along the way who will try to undercut your success or take credit for your accomplishments or your fame." Swift's supporters embraced the idea of West as a villain; West's supporters accused Swift of white privilege.
But this year West declared his love for Trump and even showed off a MAGA hat. He also told TV host Jimmy Kimmel that someone needed to be "fearless enough to break the fucking simulation," and break it he did when he later paired a custom MAGA hat with a Colin Kaepernick sweatshirt—Kaepernick being one of Trump's bêtes noires. Meanwhile, Swift turns out not to be as conservative as some of her fans imagined.
So how does the political world act when the "fucking simulation" falls down? The responses to Swift's Instagram post would indicate that there is still a church in the wild.
Chalie Kirk, president of young conservative organization Turning Point USA, appeared on Fox and Friends on Monday to encourage Swift to stay "away from politics." Needless to say, that wasn't how he reacted to West's Trumpian turn. Like many other pundits, Kirk's knee-jerk reaction was to support the artist who shared his politics (West) and ask the artist who didn't (Swift) to remain silent. The left did something similar after West wore his MAGA hat in public.
The simulation turns out to be pretty resilient. The politics of the West-Swift feud may have reversed itself, but the knee-jerk nature of politics remains the same.