Did Saudi Arabia Murder This Expat Journalist for Criticizing the Government?
Jamal Khashoggi visited the Saudi Consulate in Istanbul last week. He hasn't been seen since.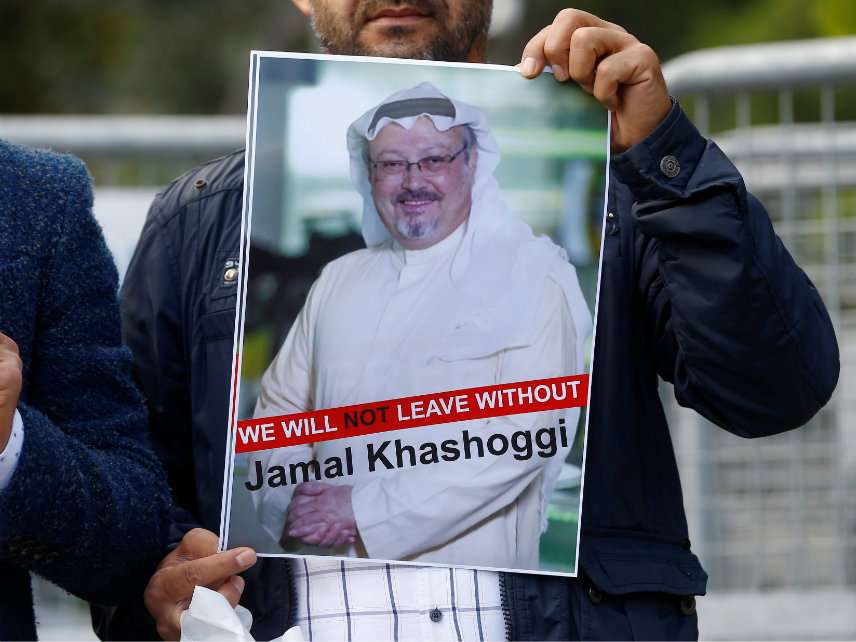 Nearly a week after the Saudi journalist Jamal Khashoggi disappeared, suspicions are rising that the regime in Riyadh has silenced him.
Khashoggi hadn't lived in Saudi Arabia since he moved to the United States last year. According to The Washington Post, where Khashoggi was a contributor, he visited the Saudi consulate in Istanbul last week to get a document for his upcoming wedding. He never came out.
Turkish officials have suggested Khashoggi was murdered. "I personally think the possibility of him being killed is stronger than other possibilities, although I do not want to accept it. Because if he was alive, Saudis would provide evidence that he is alive," Yasin Aktay, an adviser to Turkish President Recep Tayyip Erdogan, tells CNN.
The Turkish government is looking into Khashoggi's disappearance. CNN reports that 15 Saudi nationals visited the consulate the same day as Khashoggi and have since left the country. That team was sent "specifically for the murder," a person with knowledge of the Turkish investigation tells the Post.
Saudi Arabia, naturally, has denied any involvement. But if Khashoggi is dead, the Saudi government certainly had a motive to kill him. "Saudi Arabia wasn't always this repressive. Now it's unbearable," read the headline for one of his articles. Saudi Crown Prince Mohammed bin Salman "is acting like [Russian President Vladimir] Putin," Khashoggi wrote in another one. This past February, he claimed bin Salman exercises complete control over the nation's media.
Khashoggi was right about Saudi repression. Though Riyadh has accepted some reforms recently—women there are finally allowed to drive and to work outside the home—the government has also overseen a renewed crackdown on free speech, and particularly on dissent against the government. In fact, as The Intercept reported Saturday, some of the same women who fought for the right to drive are now being taken into custody and/or exiled. Moreover, the Saudi government put at least 100 people to death last year, according to Amnesty International.
Things are particularly bad for reporters. Saudi Arabia is ranked 169th out of 180 in the press freedom group Reporters Without Borders' latest World Press Freedom Index. Independent media outlets are not permitted, and those who "report the reality" are often detained without a trial and sometimes flogged, the group says.
Khashoggi was one journalist who chose to "report the reality." It may have cost him his life.