Judge Rules Against Woman Mauled by Police Dog Because She Wasn't the Intended Target
Mara Mancini was seven months pregnant when she was attacked by a police dog chasing a suspect on foot.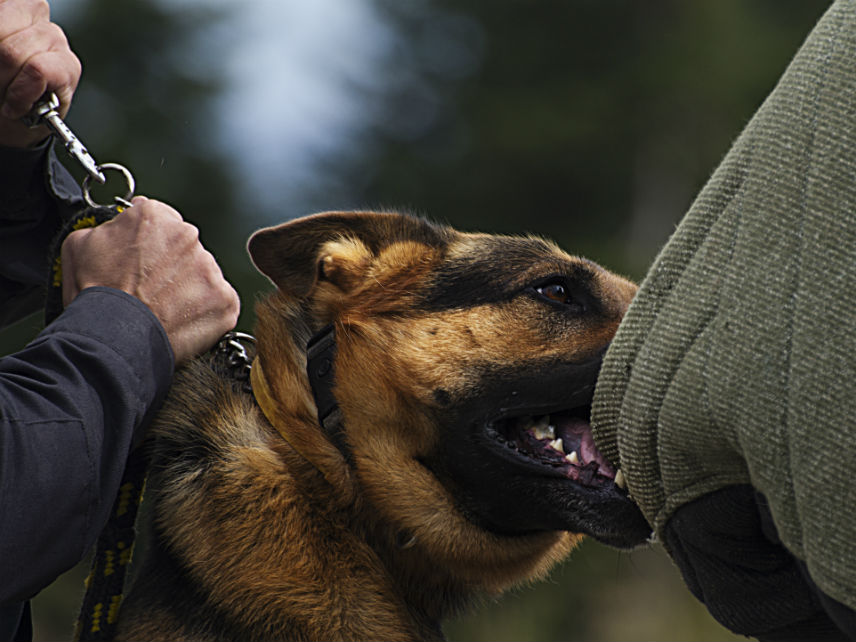 On a Thursday night in July 2015, an Indianapolis police dog named Scooter was chasing a suspect on foot. After the suspect ran into Mara Mancini's yard, she heard her own dogs barking and stepped onto her back porch to investigate. That's when Scooter attacked Mancini, who was seven months pregnant at the time. He bit her repeatedly, tearing pieces of flesh out of her arms and thighs. She underwent several surgeries as a result of the attack.
Last week a federal judge rejected a lawsuit in which Mancini claimed the dog attack violated the Fourth Amendment's ban on unreasonable searches and seizures. "Mancini and her son K.C. suffered horrendous injuries and a grievous lack of discretion by the officers," wrote Judge Tanya Walton Pratt of the U.S. District Court for the Southern District of Indiana. But Pratt concluded that the attack was not a constitutional violation because Mancini was not the intended target of the chase.
Under Indiana Code 15-20-1-3, the owner of a dog that bites a person without provocation is liable for all damages. But the statute makes an exception for dogs owned by and performing duties on behalf of law enforcement agencies.
Jon Little, Mancini's attorney, said she may appeal Pratt's ruling. A state lawsuit related to the incident is still pending. Until then, Mancini will have to deal with irreparable nerve damage to her arm and medical bills that may force her into bankruptcy.