Immigrant Girl Will Be Deported Because Adoptive Father Missed Deadline While Serving in Afghanistan
Is this the America you really want to live in?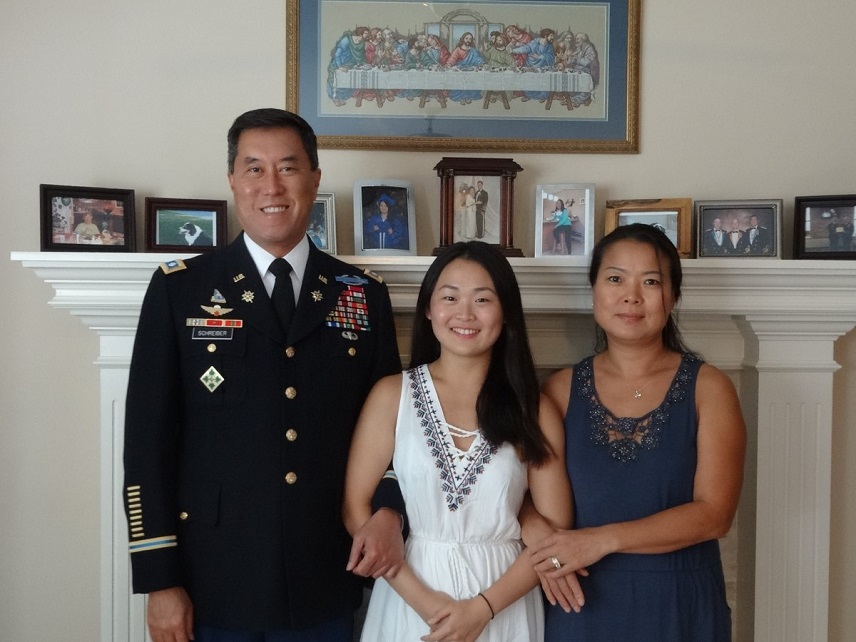 Here's the sort of story that should never happen, especially in a country that prides itself on its humanity and openness to newcomers.
In 2013, Army Lt. Col. Patrick Schreiber and his wife put off officially adopting their teenaged daughter, Hyebin, who was born in the Republic of Korea. The reason? He was about to deploy to Afghanistan for a year. When he returned, they put through the paperwork, adopted her, and then started working on her citizenship. But Hyebin had turned 17 in the interim, which is a problem:
The U.S. immigration law cutoff for a foreign-born adopted child to become a naturalized citizen is 16, and on Friday a U.S. District Court in Kansas ruled in favor of U.S. Customs and Immigration Services that there would not be an exception in Hyebin's case. She is allowed to complete her degree in chemical engineering at the University of Kansas, which she will do next year. Then she must return to Korea, Schreiber said Monday.
Here is Schreiber's backstory:
Schreiber served in the military for 27 years, meeting his wife Soo Jin while he was serving as a tank company executive officer and in other positions in Korea with 1st Battalion, 72nd Armor Regiment in the late 1990s. Hyebin was Soo Jin's niece, and when Hyebin's home life became too difficult, Schreiber and his wife took her in as their own daughter.

During his military career, Schreiber jumped with the 82nd Airborne Division into Panama during Operation Just Cause, served in Desert Shield and Desert Storm, deployed to Iraq from 2005 to 2006 and then again from 2007 to 2008. He was sent to Afghanistan from 2010 to 2011 and then again from 2013 to 2014. He retired in 2015 and still works for DoD as a contractor.
Schreiber and his wife are filing an appeal, but he says that if they lose the case, the whole family will move to Korea. "As I tell my daughter, life isn't fair," Schreiber told Military Times, where the above quotes are taken from. "The main thing is to be resilient."
That sort of stoicism is perhaps to be expected from a career military man, but the situation is nuts. Life being unfair is getting cancer in your teens, or struck by lightning, or something like that. This is a matter of policy which is eminently addressable and fixable, as are so many problems in contemporary America (think of education, drug policy, criminal justice, and other areas where bad outcomes are baked into a system that can be reformed).
Although Donald Trump, his administration, and the Republican Party are openly hostile to legal immigration, one hopes that these particular circumstances might breach the wall around their hearts and cause them to rethink not just this case, but others as well.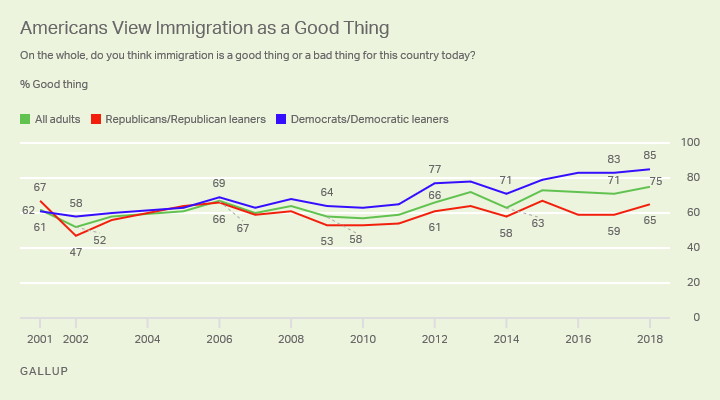 Immigration policy in the United States has a long and tendentious history shot through with unapologetic racism, which makes it particularly difficult to discuss with any sense of decorum or even basic reality. Trump was barely five minutes into the announcement that he was seeking the presidency when he launched into a reality-challenged attack on Mexicans, as you may recall. Back in the 1920s, "even some of the people fighting racist immigration and citizenship laws were racist." Attempting to get around a ban on immigration for Asian Indians, Bhagat Singh Thind argued in front of the Supreme Court that not only was he a "high caste aryan," but that he was as disgusted by "the aboriginal Indian Mongoloid…as the American regards the Negro" and would never have sex with either (he lost his case, which led to the revocation of citizenship to other Asian Indians).
Ironically, the overtly nativist tone taken by Trump administration members, Republican members of Congress (remember draft-dodging Rep. Steve King of Iowa lamenting that "you can't restore our civlization with somebody else's babies"), and anti-immigration activists is making immigration more popular. Gallup finds that that just 12 percent of voters consider "immigration/illegal immigrants" the most important problem facing the country (29 percent say the real problem is "Dissatisfaction with government/Poor leadership.") In June of this year, the polling service found
A record-high 75% of Americans, including majorities of all party groups, think immigration is a good thing for the U.S.—up slightly from 71% last year. Just 19% of the public considers immigration a bad thing….

Corroborating the data that show Americans believe immigration is good for the country, a separate Gallup trend question shows a record-low number of Americans—29%—saying that immigration into the U.S. should be decreased. A plurality of 39% think immigration into the U.S. should be kept at its present level, while 28% say it should be increased.
Donald Trump just might go down in history as the leader who finally, unambiguously made America pro-immigrant. Here's hoping that turnaround happens in time for Patrick Schrieber, his wife Soo jin, and their daughter Hyebin. What a waste to lose them over an accident of timing.