Police Send Helicopter to Disperse Drunk College Students
When the ground strategy failed, police turned to the air.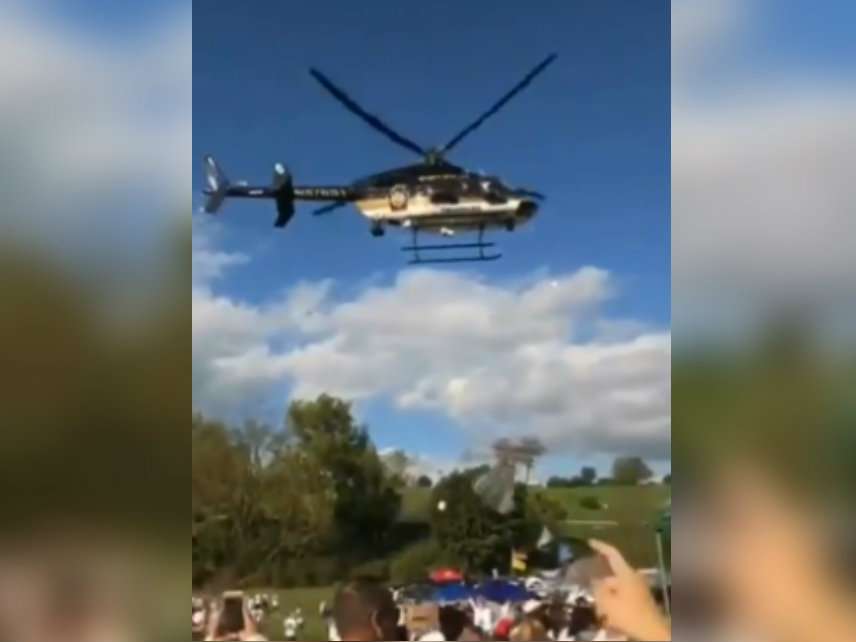 Was is absolutely necessary to bring in a helicopter to deal with some drunk Penn State students having a tailgate party? At first, police said yes. A statement from the campus cops claims they had no choice but to deploy a helicopter before Saturday's football game, given "numerous law violations, including serious threats to officer safety within a disorderly crowd."
"First, the tailgaters ignored commands to disperse from law enforcement on the ground," Cpl. Adam Reed, a spokesperson for Pennsylvania State Police, tells The Patriot News. "The crowd began to turn unruly and two PSP horses were assaulted and a trooper was injured."
The officer in question attempted to "subdue" a man who assaulted his horse and broke his hand in the process, Penn State police tell the Centre Daily Times. That man was eventually arrested.
The cops then abandoned their ground strategy in favor of an aerial one. A state police helicopter flew over the tailgaters, and the officers inside it used a loudspeaker to demand that everyone disperse. Video footage taken from the ground shows the helicopter hovering over the tailgaters, sending debris flying:
Ultimately, the aerial strategy worked. "Following the use of the helicopter, the dangerous behaviors dissipated," university police's statement read.
But several witnesses say the party wasn't really out of hand, aside from the fellow who attacked the horse. Scott Olson, whose son attends Penn State, was tailgating next to the gathering that police were trying to disperse, which he described as a fraternity party. "It didn't seem that crazy. It didn't affect our side at all, but I guess some folks on the other side of the aisle had some issues with them, and they complained to police," he tells the Times.
Penn State graduate Joshua Fulmer, who was also tailgating nearby, says police responded within 30 minutes of the party starting. "Nobody that I interacted with seemed overly intoxicated," Fulmer tells the News. "Frankly, they weren't there long enough to have gotten inebriated."
Indeed, Olson thinks the helicopter may have posed a bigger threat than the tailgate itself. "Can you imagine if a helicopter sent debris that hit a horse and it got spooked and started trampling the kids?" he asks StateCollege.com.
Though they initially defended the tactic, university police later released a statement saying they would "discontinue use of a helicopter to make crowd announcements at football games pending an assessment." The Federal Aviation Administration is investigating too.
Bonus links: In May, police in Rialto, California, called in a helicopter to confront three black women leaving an Airbnb. And in July, Pennsylvania State Police used a helicopter to follow a man they thought might be involved in a 10-plant marijuana grow "operation." The man died after a trooper commandeered a bulldozer and accidentally ran him over.