Cop Kicks Teen Who Had Already Been Pepper-Sprayed
The officer is now under internal investigation. Some want a citizen review panel, but the chief thinks that would be "problematic."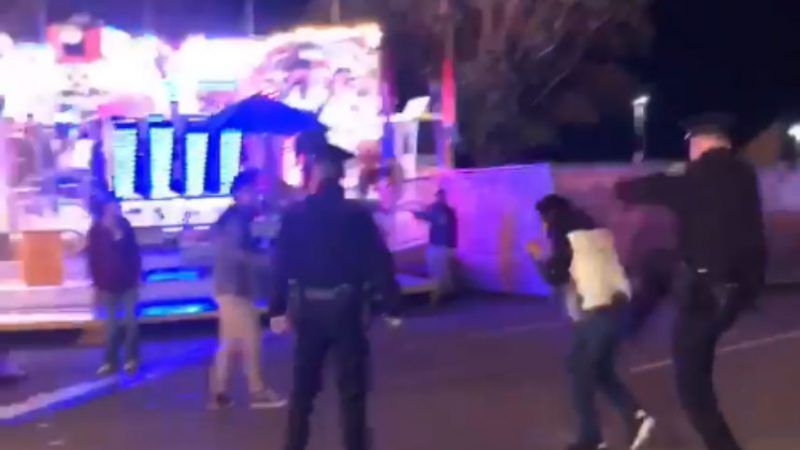 (Screenshot via Facebook/Jasmin Hernandez Cervera)
A fight broke out among a group of teens at a Washington state fair over the weekend. When some officers of the Yakima Police Department arrived, the teens quickly scattered. Those who remained in the area got pepper-sprayed by the police. While one 17-year-old boy held his eyes, presumably in response to the pepper spray, Officer Ian Cole kicked him in the back, causing him to stumble to the ground.
The end of the fight and the subsequent police response were captured on video, and the clip went viral after it was posted to Facebook. The video shows Cole kicking the teen to the ground clear as day:
On Monday, Interim Police Chief Gary Jones released a statement saying that his department had been "made aware" of the video and that an investigation would review Cole's use of force. Cole has been placed on desk duty in the meantime.
Attorney Bill Pickett, who is representing the teen in a claim against the city, thinks an independent group should do the investigation. "What they need is a citizen review panel put together in this community and hold these people accountable when there's misconduct instead of the police saying 'We'll investigate it ourselves,'" he tells the Yakima Herald.
Jones disagrees, telling the paper that "third-party oversight of every use of force investigation would be problematic." He does, however, tout a review team "composed of components outside the department."
On Tuesday, the department tweeted this invitation to apply to work for the department:
Highly scrutinized, stressful, appreciated, and at times hated, being a police officer can be difficult. Yet, some days are amazingly rewarding. Honor. Courage. Integrity. Fidelity. If you think you have what it takes, apply for YPD at https://t.co/Ue5nIARIC7 @yakimapolice pic.twitter.com/BH4OOdMLPR

— Yakima P.D. (@yakimapolice) September 25, 2018