Protesters End Ted Cruz's Dinner Early, Accomplish Little Else
They got plenty of attention, but that's about it.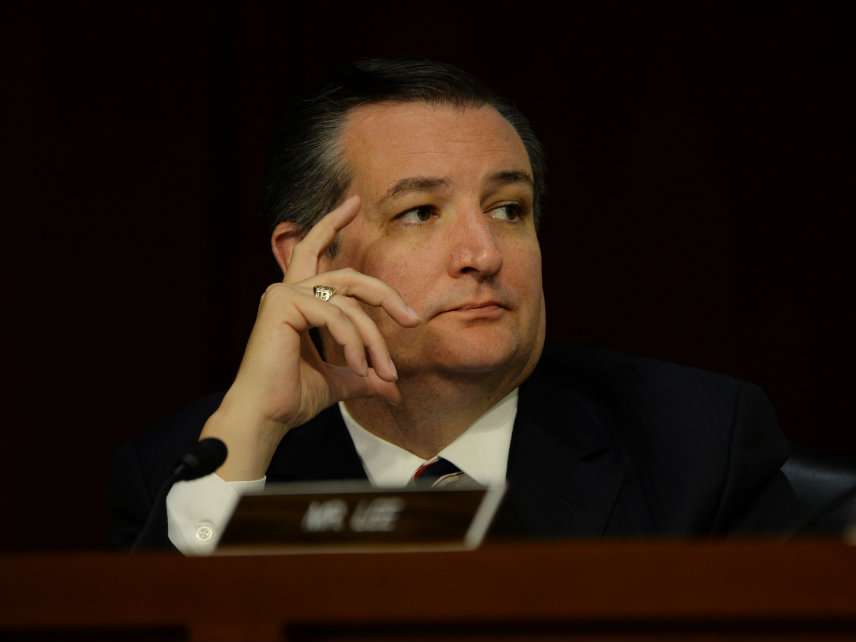 Sen. Ted Cruz (R–Texas) and his wife were heckled by protesters as he dined last night at a restaurant in Washington, D.C. If the protesters' goal was to force Cruz to find somewhere else to eat, then they were successful, though their actions accomplished little else.
A pair of videos posted to Twitter by the group Smash Racism DC shows the protesters loudly chanting "We believe survivors!" In one of the videos, a woman identifying herself as a Cruz constituent and a survivor of sexual assault asks the senator about Supreme Court nominee Brett Kavanaugh, who faces allegations of sexual assault. Cruz, a member of the Senate Judiciary Committee, has previously expressed his support for the judge's nomination.
Responding to the woman's questions, Cruz simply says: "God bless you, ma'am." In the other video, Cruz politely asks some of the protesters to move out of the way so he and his wife Heidi can leave the restaurant. He says again: "God bless you."
Near the end of the latter video, the protesters are heard being told to "leave the premises." They comply, but not before levying additional verbal attacks on Cruz and Kavanaugh.
If this story sounds familiar, it's because somewhat similar things have happened before. In June, protesters heckled Homeland Security Secretary Kirstjen Nielsen while she ate at a Mexican restaurant. Later than month, the owner of a Virginia eatery asked White House Press Secretary Sarah Huckabee Sanders to leave the premises. And in July, White House Senior Adviser Stephen Miller was so upset after a bartender followed him out of a restaurant cursing at him that he threw away $80 worth of sushi, according to The Washington Post.
If business owners want to refuse service to officials they dislike, that should be their right (as Reason's Robby Soave argued in June). And citizens certainly have the right to call out politicians while they eat. Whether they should is another question. Not every possible protest makes sense. It's not clear what protesters gained by forcing Ted Cruz and his wife to end dinner early. Their actions were praised by a handful of left-wing figures on Twitter, and that praise was then drowned out by outraged conservatives. The hecklers got the attention they wanted, but it's unlikely that their actions actually changed anything.
Rep. Beto O'Rourke (D–Texas), who is challenging Cruz for his Senate seat, took the high road this morning and condemned the protesters' tactic:
Not right that Senator Cruz and his wife Heidi were surrounded and forced to leave a restaurant last night because of protesters. The Cruz family should be treated with respect.

— Beto O'Rourke (@BetoORourke) September 25, 2018