Lion King Puppet Technician Arrested Over 3D-Printed Pistol at Theater
Ilya Vett claims he was making the gun as a "gift" for his brother. But he was still arrested and charged with attempted criminal possession of a firearm.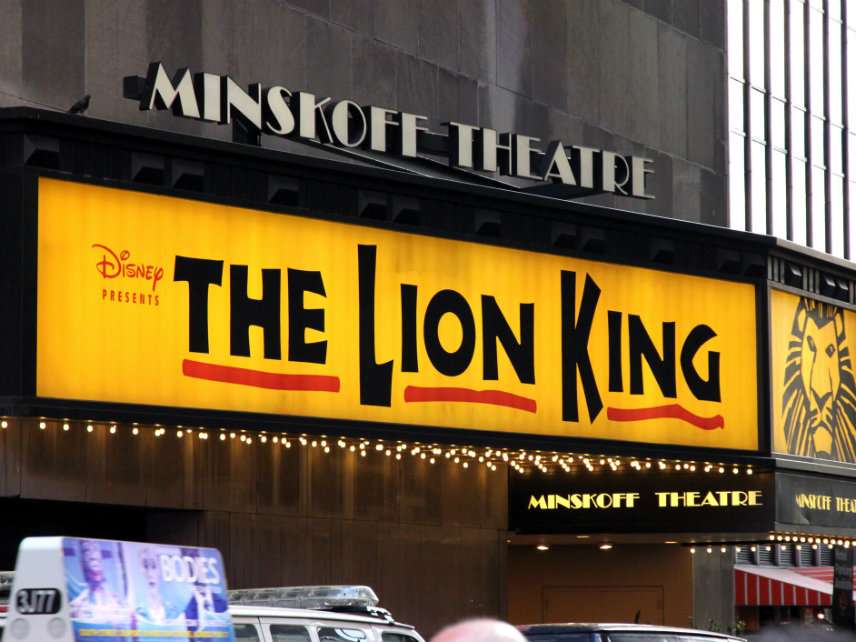 A puppet technician working on the Broadway production of The Lion King says he was making a 3D-printed gun as a "gift" for his brother. Now 47-year-old Ilya Vett faces a criminal charge.
3D-printed guns have been a hotly debated issue in recent months, though as Reason's Nick Gillespie has argued, hysteria over the allegedly untraceable weapons is rooted in technophobia, not reality. While all the facts have yet to come out, Vett's case appears to be a prime example of how relatively harmless individuals suffer the consequences of that hysteria.
New York Police Department (NYPD) sources tell the New York Daily News that Vett was already about to lose his job as a puppet specialist on the hit musical. Minskoff Theatre security personnel were helping Vett clear out the prop room on Friday when they found a 3D printer, as well as a partially constructed gun.
Human resources then called the cops. When police arrived on the scene, they found the printer with a memory card plugged in. "I observed that the 3D printer was producing a hard black plastic object which, based on my training and experience, is shaped like a revolver," NYPD Officer James Taylor wrote in a criminal complaint, according to The New York Times.
Vett told police his workshop was "too dusty," so he brought the printer to the theater "It's mine…. I was making the gun as a gift to my brother," Vett said, according to the complaint. "He lives upstate and has a firearms license. There's a website that has plans for the gun. I downloaded the plans onto the SD card in the printer."
Police took Vett into custody, though it wasn't until Saturday night that he was arraigned in Manhattan Criminal Court, the New York Post reports. Vett was charged with attempted criminal possession of a firearm and released without bail, with his case adjourned until November.
Printing a 3D-printed gun without a license isn't actually illegal under federal law. But according to a notice from New York State Police, anyone who "possesses an unregistered operable 3-D printed pistol or revolver is committing a felony offense."
New York Gov. Andrew Cuomo (D) has been among the more outspoken opponents of 3D-printed weapons. In July, the federal government reached a settlement with Defense Distributed, a company that shares blueprints for 3D-printed guns. Cuomo responded by issuing a cease-and-desist letter to Defense Distributed and directing state police to put out the notice regarding all 3D-printed weapons.
What Cuomo and those of like mind don't understand is that banning 3D-printed guns is a giant overreaction. As Gillespie wrote last month:
3D-printed guns won't increase crime even if and when (and that's a Big Bertha-sized if and when) they become something other than a plaything for tech-forward hobbyists. The printing technology to crank out cheap and durable guns is a long time away, criminals already have access to more guns than they can use, and crime has gone down even as the number of weapons in circulation has gone up.
Vett's story appears to prove Gillespie's point. Again, we don't know all the facts about the puppet specialist's case; but it certainly doesn't sound like he was a hardened criminal. Vett may have simply been a gun enthusiast. Thanks to New York's zero-tolerance stance on 3D-printed weapons, however, he's being treated like a potentially dangerous criminal.