Is Socialism or Capitalism Better at Bringing Freedom and Prosperity To the Masses? 10/15 Debate!
The next Reason-Soho Forum debate in New York features Barron's Gene Epstein vs. Jacobin's Bhaskar Sunkara.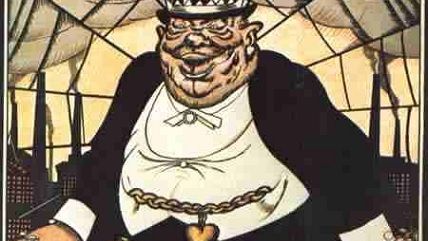 "Socialism is more effective than capitalism in bringing liberty and prosperity to the masses."
That's the resolution under discussion at the next Reason-Soho Forum debate, scheduled to take place in New York on Monday, October 15, at the Gerald W. Lynch Theater of John Jay College. Reason is proud to co-sponsor The Soho Forum, a monthly Oxford-style debate series that "features topics of special interest to libertarians and…aims to enhance social and professional ties within the NYC libertarian community."
As The Soho Forum summary of the event notes, "Socialism has been making a comeback in this country. According to Gallup, 55% of 18-29 year-olds now view socialism favorably. Among Democrats, support for capitalism has plummeted over the past two years from 56% to 47%—while Democrats' support for socialism stands at 57%."
The capitalism vs. socialism debate is taking place in a venue that seats 600 people and tickets, which cost between $12 and $24, are selling fast and must be purchased online.
Here's more about the debaters:
The Soho Forum

For the affirmative:

Bhaskar Sunkara is the founding editor and publisher of Jacobin and the editor of several volumes including The ABCs of Socialism (Verso, 2016). He is the author of the forthcoming Socialism In Our Time (Basic Books, 2019).

For the negative:

Gene Epstein has recently stepped down from a 26-year stint as Economics and Books Editor of Barron's, where he wrote the weekly column, "Economic Beat." He has taught economics at the City University of New York and St. John's University, and worked as a senior economist for the New York Stock Exchange. He's the Director of the Soho Forum.
The debate will be followed by a reception. Here are the details:
Event starts at 6:30 pm
Reception to follow
Gerald W. Lynch Theater
John Jay College
524 W 59th Street
NY, 10019

Seating must be reserved in advance. Buy tickets here.
All Soho Forums are turned into Reason videos and podcasts. Go here for a full archive.
Last November, Reason Editor in Chief Katherine Mangu-Ward and I debated Jacobin's Sunkara and NYU's Vivek Chibber on the same question. The New York Times' Michelle Goldberg moderated. Here's video from that (the program starts at the five-minute mark).
To listen to a podcast version, go here.