2 Hours in Jail for Cop Who Killed Botham Jean. 2 Nights for People Protesting His Death.
The protesters may have broken the law, but two nights behind bars is a bit much.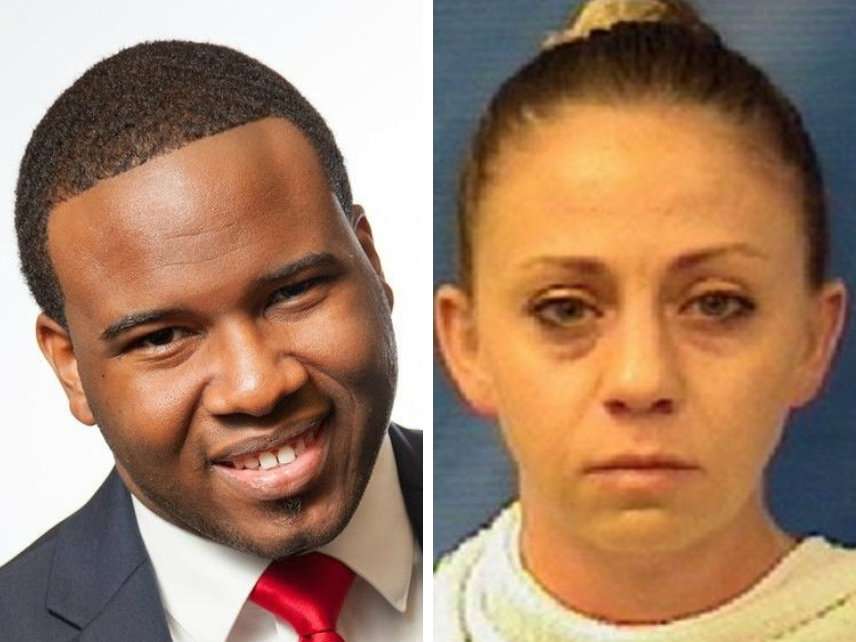 Nine activists spent two nights in jail for protesting the death of Botham Jean, the Dallas man killed by a policewoman who had apparently entered his apartment by accident. The officer who killed Jean, by contrast, was released on bond within two hours of turning herself in.
Prior to Sunday night's NFL game between the Cowboys and Giants, roughly 100 protesters gathered outside AT&T Stadium in Arlington, Texas. They were protesting the recent deaths of Jean and of Oshae Terry, who an Arlington officer killed as he was fleeing a traffic stop. After the original protest ended, nine of the marchers started blocking one of the stadium's gates. They then walked to a nearby intersection and locked arms, blocking traffic.
The nine demonstrators were taken into custody on charges of obstructing a roadway. That is indeed a crime—specifically, it's a Class B misdemeanor—though it's not the sort of crime that you'd expect get someone detained for two nights. Arlington Police Sergeant Christopher Cook blames the extended stay on the fact that the Arlington police don't have the authority to set bond for Class B or higher misdemeanors. Instead, the protesters had to be transferred to Tarrant County Jail and appear before a judge. Each of the protesters had been transferred by Monday night, though they were still detained as of Tuesday morning.
Contrast that with what happened to Amber Guyger, the police officer who killed Jean. She didn't turn herself in to the authorities until September 9, nearly three days after she killed Jean. Dallas Police Chief Reneé Hall has said the arrest was delayed because the Texas Rangers, who took charge of the investigation, wanted more time. Guyger was eventually booked and charged with manslaughter, but she was released within two hours after posting the $300,000 bond. She's also been placed on paid administrative leave.
"Only in America do you get charged for a Class B misdemeanor and sit in jail for two days," activist Dominique Alexander tells KTVT. "Only in America can an officer kill someone and a person can block a street and get more time than a killer."
Guyger may, of course, end up spending much longer behind bars. It's up to a grand jury to decide what charges she'll ultimately face.
Since 2005, just 90 cops involved in fatal shootings have faced criminal charges. Of those 90, only 32 have actually been convicted, with roughly half of those convictions resulting from guilty pleas.