DHS Gave ICE an Extra $169 Million to Detain and Remove Immigrants Last Month
Nearly $10 million was redirected from FEMA.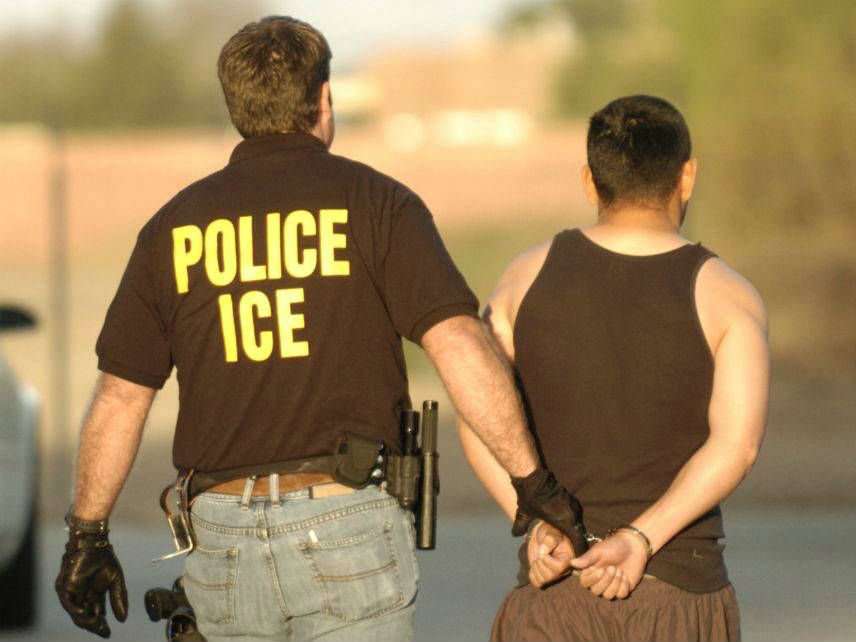 The Trump administration came under fire this week following the revelation that nearly $10 million had been transferred from the Federal Emergency Management Agency (FEMA) to Immigration and Customs Enforcement (ICE) to help pay for the detention and removal of immigrants. But that $10 million was just a fraction of the $169 million that the Department of Homeland Security (DHS) redirected to ICE in August.
Sen. Jeff Merkley (D–Ore.) highlighted the transfer of funds during a Tuesday night interview with MSNBC host Rachel Maddow. Merkley cited a 39-page DHS document sent to Congress that detailed how the money was moved around. In addition to the $9.8 million in FEMA money that ended up funding things like "Detention Beds" and ICE's "Transportation and Removal Program," DHS redirected tens of millions from other agencies. NBC News reports:
Many of the transfers came from key national security programs, including $1.8 million from the Domestic Nuclear Detection Office, $9.8 million from FEMA, $29 million from the U.S. Coast Guard and more than $34 million from several TSA programs. DHS also transferred $33 million from other ICE programs to pay for detention and removal, making the total amount of money transferred $202 million.
DHS does not have to notify Congress as a whole before moving money between its agencies. It just needs to get permission from the relevant appropriations subcommittee chairs in the House and Senate. These transfers were approved by those chairs, Sen. Patrick Leahy (D–Vt.) told the Associated Press. Leahy, vice chairman of the Senate Appropriations Committee, said no Democrats supported the transfers. Since Republicans control Congress, that didn't matter.
It's not the first time DHS has redirected money from other agencies to ICE. A combined $83 million was repurposed in the 2014 and 2015 fiscal years, plus an additional $127 million in fiscal year 2016, CNN reports. "[It's] this pattern of misbehavior by ICE where they overspend the amount they have been given by Congress, specifically for immigration detention, and then they make it up by basically robbing other accounts in DHS," Mary Small, director of the immigrant rights group Detention Watch Network, told CNN. Small's organization provided Merkley with the DHS document.
The document suggests the most recent transfers were at least partly a result of "increasing operational demands." But in the past, Congress has criticized ICE's mismanagement of money.
According to a 2017 House statement about DHS funding, "The lack of fiscal discipline and cavalier management of funding for detention operations, evidenced by inaccurate budget formulation and uneven execution, seems to be the result of a perception that [ICE's enforcement and removal operations are] funded by an indefinite appropriation." In its proposal for DHS funding in fiscal year 2019, the Senate Appropriations Committee noted that "ICE continues to spend at an unsustainable rate."