Classy: TSA Uses 9/11 Anniversary to Debut New Slogan
"Not on our watch" to replace "not on my watch." Great work, guys.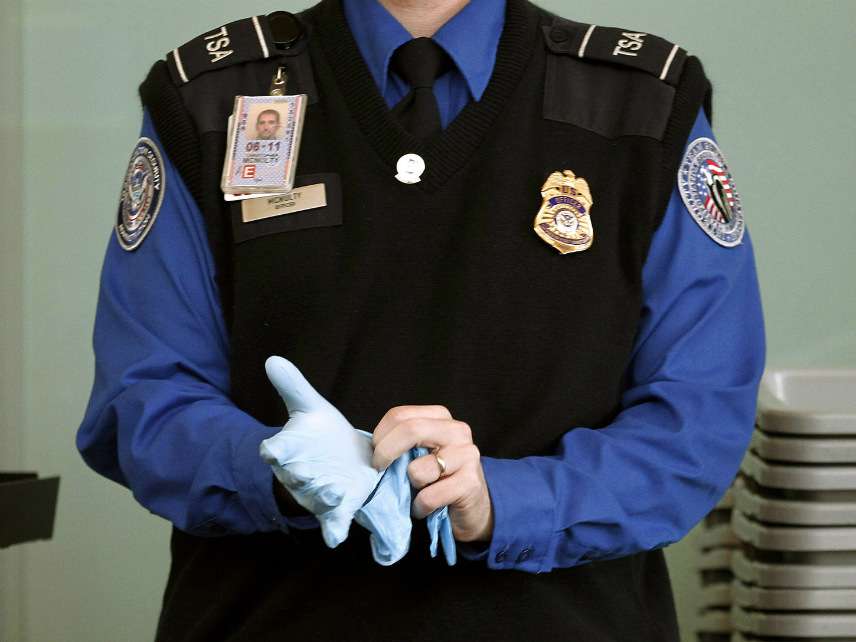 The Transportation Security Administration (TSA) has come in for a lot of criticism over the years, whether its for its ineffectiveness in spotting contraband going through its security checkpoints, overeager pat downs of passengers, or just generally being an affront to the liberty and dignity of the traveling public.
Now the much-maligned agency is taking the 17th anniversary of the tragic, violent attacks that brought it into being to roll out a new slogan, one that will hopefully remind Americans that airport security is not the just province of a brave, blue-shirted few.
"Since our inception, TSA has lived by the motto 'Not on My Watch.' This has served as a powerful call to action for TSA," said agency administrator David Pekoske in remarks at a September 11 commemoration ceremony in Virginia. "But we know that we are stronger together. So today, I ask each and every one of you, whether you are a TSA or a DHS employee, a veteran, an active duty member of the U.S. military, an industry partner, a law enforcement officer, a first responder or a private citizen, to join me in adopting and embracing a new creed: 'Not on Our Watch.'"
Everything about this motto is classic TSA.
There's of course the matter of timing. One might find the anniversary of a major tragedy an inappropriate occasion to engage in a little rebranding. Not the TSA! The agency owes its existence to the terrible events of September 11, and stands only to gain by reminding people of that terrible day.
This is hardly unique for the agency either. In posters, pronouncements, and press releases the TSA has taken every conceivable opportunity to remind flight catchers that they would be endangered yet again without their gloved watchers on the wall.
Then there's the explicit shift in focus, from the agency being separate and distinct from its charges ("not on my watch") to a part of all of us ("not on our watch"). Hokey as it is, this isn't terrible PR.
Whatever slogan the agency chooses to adopt is of course utterly irrelevant to the wider fight against terrorism. That's because the TSA writ large is utterly irrelevant to the wider fight against terrorism.
Time and time again investigations from the TSA's own watchdogs have exposed the agency for the sham security it provides. In 2015, the TSA sent undercover agents through airport security checkpoints carrying fake weapons, knives, and explosives. TSA security personnel managed to miss 95 percent of these items. Similar tests two years later found a failure rate of at least 70 percent, and possibly higher than 80 percent.
Rather than reconsider its approach, or even question the justifications for the agency, TSA is expanding its scope. The agency is beginning to roll out facial recognition scanners in airports across the country, while its body scanners have migrated to subway stations and bus depots.
Anger around the TSA usually revolves around what it does to passengers for our safety; shepherding us through invasive, ineffective body scanners; poking, prodding, and occasionally molesting us with latex-covered hands; rooting through our bags in search of contraband liquids and suspicious items. The new motto attempts to cast these measures as things done not to us, but with us, and with our own consent or even help. They're on the front lines and so are we.
Whether intentional or not, it helps reinforce the notion that the hassle and indignities of air travel post–9/11 are not just the product of TSA agents at security checkpoints, but part of a wider counter-terrorism bureaucracy and security culture that has firmly wedged itself into modern American life.