Will D.C. Be the Next City Suckered Into Paying for an NFL Stadium?
The stadium building craze of the early 2000s has slowed, but the Redskins might be the next team to test the waters.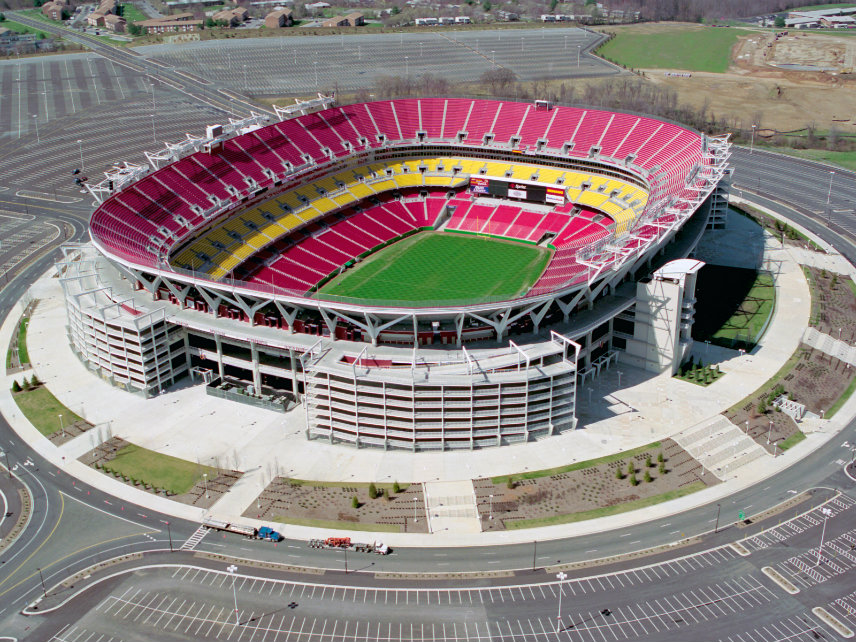 The opening of FedEx Field in 1997, home of the National Football League's Washington Redskins, helped kick-off a stadium-building frenzy across the country. By the time the Redskins' home turned 10, it was older than more than half of the stadiums in the 32-team league.
When it turned 20 last year, there were only 10 older stadiums around the league—and that number will grow smaller in the coming years when the Los Angeles Rams and Oakland Raiders ditch older facilities for brand new ones.
Seeing so many of his fellow team owners running around with younger, hotter models seems to have gotten Redskins' owner Dan Snyder a bit jealous. He's been flirting with local politicians in Maryland, Virginia, and D.C. for years—FedEx Field was only 10 years old when Snyder, who bought the team in 1999, first started checking out his options—but things might finally be getting serious.
Mayor Muriel Bowser has gone on the record with her opinion that the Redskins should relocate to D.C., and two members of the D.C. city council told DCist this week that they would be in favor of bringing the Redskins back into the district. Neither Jack Evans nor Vincent Gray said anything about having the public contribute to the new stadium that would be a necessary part of luring the Redskins back into town, but that's pretty much implied any time a politician is talking about getting a professional team to relocate.
Five council members told DCist that they are opposed to public money going to a new Redskins stadium in D.C., and six refused to comment—so any stadium project faces an uphill, but not insurmountable, climb. "If history is any guide," jokes Neil deMause, author and stadium critic, "that's plenty enough votes available to be bought off—er, I mean of course convinced of the economic responsibility of the plan!"
Unlike most of the NFL stadiums built since 1997, FedEx Field was built with mostly private dollars. Then-owner Jack Kent Cooke, whose name graced the stadium when it first opened, put up the $180 million to build it, with Maryland taxpayers kicking in about $70 million for infrastructure improvements around the suburban D.C. site.
A replacement for FedEx Field is likely to cost taxpayers a lot more. Both the overall cost and the portion of those dollars paid by the public have increased dramatically in the past 20 years. The league's two newest stadiums—in Atlanta and Minneapolis—cost more than $1 billion to build, and taxpayers have covered at least 50 percent of the overall costs in all but three of the new NFL stadiums built in the 21st century. A 2010 proposal to replace RFK Stadium on the east side of D.C. with a retractable roofed football stadium had a prospective price tag of $2 billion.
Unlike other teams that have to threaten relocation to squeeze tax dollars out of local and state governments, Snyder seems to have a built-in geographic advantage. The Redskins can negotiate with officials in D.C., Virginia, and Maryland for the sweetest deal.
Bowser and other Washington officials are clearly swayed by the chance to bring the Redskins back into the city after their 1997 exodus to Maryland—and they might be motivated by the chance to replace the rusting hulk of RFK Stadium, now empty since the D.C. soccer team moved into a brand new, taxpayer-funded stadium along the waterfront. Virginia is the largest state, by population, to not have a team in any of the four major North American professional leagues, and officials there have been making eyes at Snyder for a while. Maryland could be hoodwinked into putting up millions of dollars to renovate FedEx Field in order to keep the team from leaving.
But it won't happen without a fight. Bills have been introduced this year in the Maryland and Virginia legislatures and the D.C. city council to eschew the spending of public dollars in pursuit of the Redskins. This supposed "cartel against corporate welfare," as the Washington Examiner termed it, would be a near-heroic rejection of the status quo.
Perhaps Snyder's politics will get in the way, too. He's a fan of and donor to President Donald Trump, and has steadfastly refused to change the team's name despite years of criticism. Regardless of what you may think of those decisions, they might make the deep blue D.C. City Council think twice about raiding the city treasury to build a new sporting palace.
Of course, local officials shouldn't need to dislike a team owner's politics to deny public funding for a new stadium. Stadium projects are notoriously bad deals for taxpayers and cities, rarely achieving the high levels of economic output projected in order to get the deal done.
Officials in D.C. should know this better than most, since they shelled out more than $600 million of other peoples' money to build Nationals Park a decade ago. Even though the stadium helped touch off explosive redevelopment in the Navy Yard neighborhood, it still probably wasn't worth the cost because the city is on the hook for $20 million in debt service payments every year for the next few decades (oh, and the team doesn't pay property taxes on their fancy stadium, either).
But if Snyder's support for Trump means he has to pay for his own new stadium—well, it's hard to feel bad for him.