Busybodies Summon Cops on Black Teen Riding Home From Church With His White Grandmother
Some concerned bystanders thought a robbery was taking place.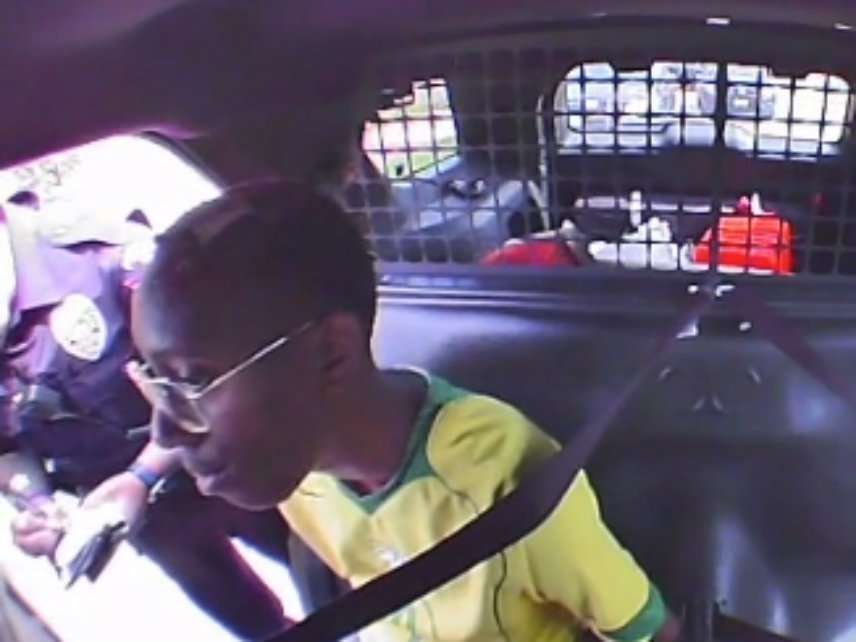 Go ahead and add this one to the Summer of Snitches file: Wisconsin police handcuffed a black teenager on Sunday because a concerned couple thought he might be robbing two white women. In reality, one of the women was his grandmother, and the three of them were simply driving home from church.
The Wauwatosa Police Department said in a statement to local ABC affiliate WISN that an African-American couple "flagged down" an officer on patrol late Sunday morning. The couple alerted the officer to a potential robbery being carried out by "a black male in the back seat of a blue Lexus."
Two officers conducted a traffic stop and asked the teenager, 18-year-old Akil Carter, to approach them. When he did, police placed him in handcuffs and started investigating.
Dash camera footage from the patrol car shows the officers approaching the car and talking with the women in it, both of whom are white. "This is my grandson," one of the women says. "We're going back from church to my house."
One of the officers then explains why he pulled them over. After the woman insists she's known her grandson "since he was a baby," the officer apologizes. But the grandmother is still upset. "I'm sure he saw two old white ladies in the car with a black kid and [made] some assumptions," she says, referring to one of the people who reported the "robbery."
Footage from inside the patrol car shows the other officer telling Carter, who is handcuffed, that "what this sounds like is a really big misunderstanding."
It's not clear when exactly the officers placed Carter in handcuffs. But the statement from police says he was "detained based on reasonable suspicion for approximately 6 minutes" before being released. The statement also says both officers drew their handguns "but kept their weapons pointed in a safe direction during the stop."
Dominique Elliott, who witnessed the police stop, captured video footage on his cellphone. "He was crying," Elliott tells WDJT, a local CBS affiliate. "When he walked up to his grandma, she was crying."
Carter's family has since retained an attorney, who is asking police for all documents related to the incident. "After we take a look at whatever basis they have for stopping and harassing this family, we will be able to comment further," the attorney, Joy Bertrand, told the Milwaukee Journal Sentinel.
According to the police statement, both "officers acted professional during the entire interaction."