4 Dead, 2 Injured in Shooting at Cincinnati Bank
The shooter, who's among the dead, was killed following an exchange of gunfire with police.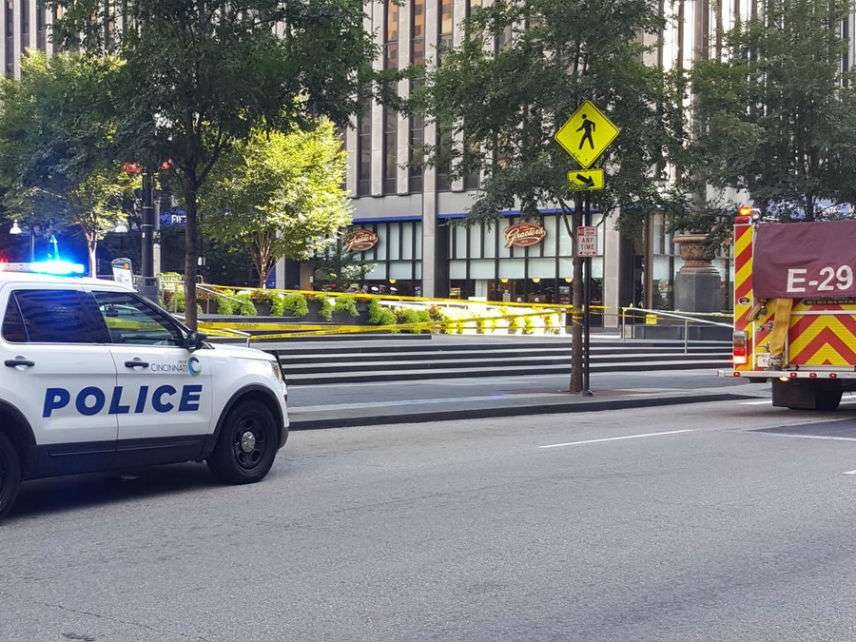 A shooter opened fire at a skyscraper in downtown Cincinnati this morning, killing three people and injuring at least two more. The suspect later died after exchanging gunfire with police.
The shooting occurred at the loading dock and lobby area of the Fifth Third Center, according to Fox News. The building serves as the corporate headquarters of Fifth Third Bank.
It's not clear what the shooter's motives were. "[The gunman] was actively shooting at innocent victims, it appears, and our officers were able to kill him and stop the threat," Cincinnati Mayor John Cranley said at a press conference. No officers were injured in the shooting.
The victims were taken to University of Cincinnati Medical Center. One of the injured is in serious condition, while the other is in critical condition.
Authorities have yet to release the identity of the shooter, but the Hamilton County Sheriff's Office told WLWT that police are currently searching the suspect's home in North Bend, Ohio.
Witnesses described the terrifying scene. Leonard Cain tells The Cincinnati Enquirer that he was about to walk into the bank until someone told him about the shooting. Passersby tried to similarly warn a woman not to enter the building, but she couldn't hear them over her headphones. "She walked in the door and he shot her," Cain says.
Some didn't have to see the shooter to know something was wrong."We did hear a gun shooting from the 29th floor," a manager at the bank tells WXIX. "We could quickly see there was a large police presence and could see them blocking Fountain Square. We knew immediately something was wrong. We're a bit rattled."
By the Enquirer's count—which defines "mass shooting" by the total number of victims, not the number of people killed—this is the 15th mass shooting in the area since 2013, and also the deadliest.