Trump Slams Sessions for Failing to Place GOP Candidates Above the Law: Reason Roundup
Plus: Kavanaugh confirmation hearings start today and Nike launches a controversial new ad campaign.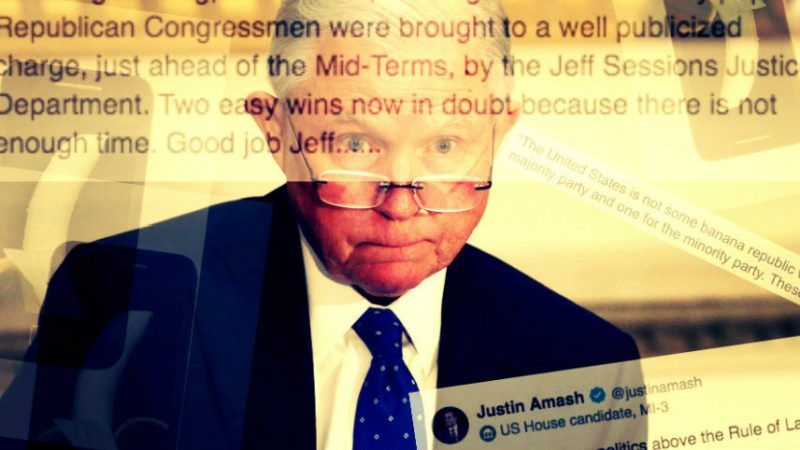 (Sessions background image: LEAH MILLIS/REUTERS/Newscom)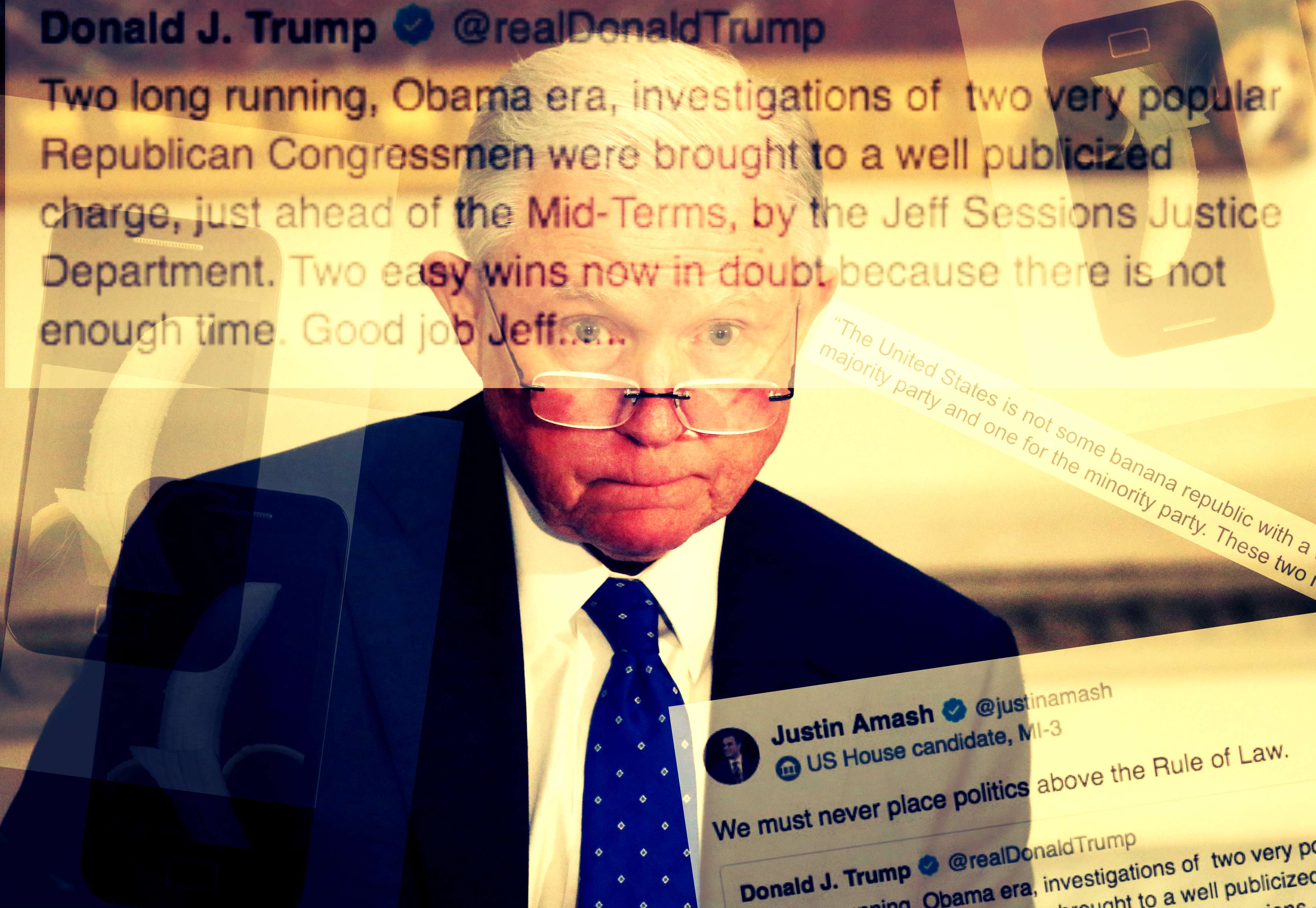 A tweet too far? On Sunday, President Trump explicitly condemned Attorney General Jeff Sessions for bringing charges against two Republican congressmen so soon before the 2018 midterm elections.
"Two long running, Obama era, investigations of two very popular Republican Congressmen were brought to a well publicized charge, just ahead of the Mid-Terms, by the Jeff Sessions Justice Department," Trump tweeted.
"Two easy wins now in doubt because there is not enough time. Good job Jeff……"
The president appears to suggest that getting Republicans elected should come before impartial application of the law. Obviously, it set off alarms across political media and observers, with many suggesting that this goes above and beyond Trump's typically awful Twitter tirades.
This is how you normalize Presidential corruption: Slowly put it more and more in the open until everyone just shrugs that *of course* the President wants to use law enforcement for partisan ends. https://t.co/AExNWVggH4

— Orin Kerr (@OrinKerr) September 3, 2018
Few within the GOP, however, have condemned or even commented on Trump's statement. So far, the total conservative congressional outcry seems to come from Nebraska Sen. Ben Sasse, Arizona Sen. Jeff Flake, and Michigan Rep. Justin Amash.
"The United States is not some banana republic with a two-tiered system of justice—one for the majority party and one for the minority party," said Sasse in a statement.
The two men Trump was referring to—Reps. Chris Collins (R–New York) and Duncan D. Hunter (R–Calif.), both big Trump supporters—"have been charged with crimes because of evidence, not because of who the President was when the investigations began," Sasse's statement continued. "Instead of commenting on ongoing investigations and prosecutions," Trump should be concerned with "defend[ing] the Constitution and protect[ing] the impartial administration of justice."
Outgoing Sen. Jeff Flake (R–Ariz.) tweeted a Washington Post article on the outburst, adding, "This is not the conduct of a President committed to defending and upholding the constitution, but rather a President looking to use the Department of Justice to settle political scores."
In addition, Amash was also slightly critical, tweeting out that "we must never place politics above the rule of law."
FREE MINDS
Confirmation hearings begin today for Brett Kavanaugh, President Trump's pick to fill Justice Anthony Kennedy's spot on the U.S. Supreme Court. The 53-year-old "is a respected federal judge with many admirers in conservative legal circles," notes Damon Root.
"But there are still a number of unanswered questions when it comes to his jurisprudence," Root adds. He suggests five topics that senators should ask Kavanaugh about in the coming days, including executive power, National Security Agency data collection, and unenumerated rights.
Meanwhile, at The New York Times, Emily Bazelon argues that Kavanaugh gets promoted as an originalist, but "hasn't earned his originalist badge. It's being fixed to him to mask the fact that as an appeals court judge, he relentlessly pressed forward a Republican agenda favoring business and religious interests."
FREE MARKETS
Why are Twitter conservatives cutting up their Nike socks? To protest the brand's new choice of a spokesperson, professional quarterback Colin Kaepernick. A new ad campaign featuring Kaepernick features the slogan "Believe in something, even if it means sacrificing everything." Kaepernick, who has had an endorsement deal with Nike since 2011, became a recent target of the president after taking a knee during the National Anthem. He is currently suing the NFL.
Our Soundman just cut the Nike swoosh off his socks. Former marine. Get ready @Nike multiply that by the millions. pic.twitter.com/h8kj6RXe7j

— John Rich (@johnrich) September 3, 2018
The sad little sock protest seems to have only amplified Nike's new campaign and attracted more media folks to praise it.
QUICK HITS
Former Philly cop Ryan Pownall will be indicted on Tuesday on first-degree murder charges in the June 2017 shooting death of David Jones. https://t.co/2bP41Z55Zn pic.twitter.com/QgHOOfRrzV

— Philly Mag (@phillymag) September 4, 2018
The New Yorker invited and then disinvited former Trump advisor and Breitbart News head Steve Bannon to headline its annual Ideas Festival, after other speakers threatened to pull out over Bannon's inclusion.
"Trump-appointed Justice Neil Gorsuch racked up a more 'liberal' voting record than Justice Anthony Kennedy," notes Damon Root.
In the great Red Delicious versus Gala apple wars, Gala has finally emerged victorious.
Given the author's disdain for CDA 230, CDA 230 defenders, "Internet evangelists" like EFF, FOSTA/SESTA opponents, and the First Amendment in general, I'm much happier to be part of this libertarian fever swamp than to be in the author's camp. https://t.co/N8esikgJUB pic.twitter.com/Yt0BcckXpw

— Peter Bonilla (@pebonilla) September 4, 2018