Justin Amash: 'Straight-Ticket Voting Makes it Prohibitive to Run Outside of the Major Parties'
The libertarian Republican explains why New Mexico's voting change is "primarily a scheme to unfairly benefit the major party establishments."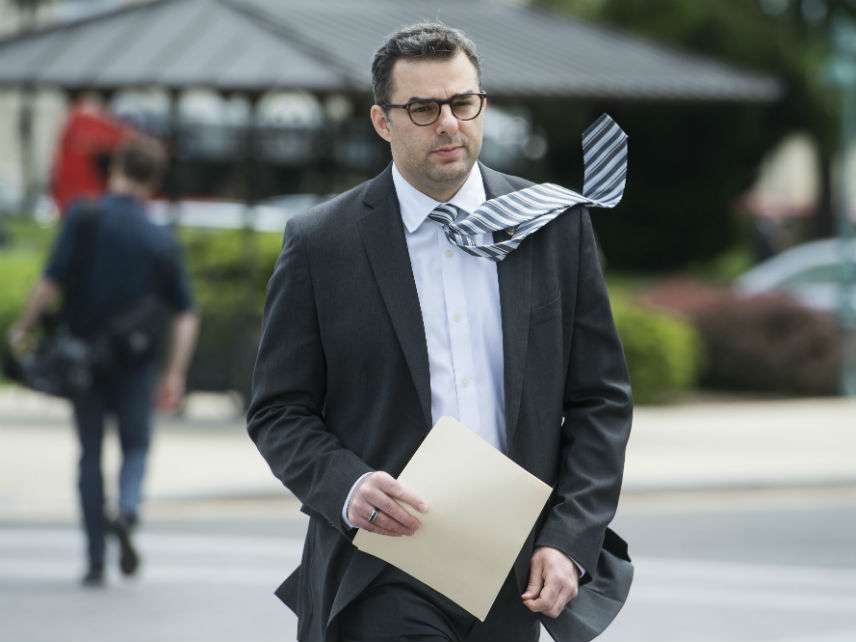 The Libertarian Party of New Mexico has joined the state Republican Party's lawsuit to block yesterday's decision to reinstate the "straight ticket" ballot option. With straight-ticket voting, citizens can choose a political party's entire slate of candidates by filling in just one blank.
Critics have derided the move as a brazen attempt by an elected Democrat in a heavily Democratic state to blunt a historic challenge by the Libertarian Party's U.S. Senate candidate, Gary Johnson. In a statement, New Mexico L.P. Chair Chris Luchini called the change an "abuse of power via executive fiat," "a blatant act of self-dealing," and "an [attempt] to interfere with our major party status."
The move was also criticized by Michigan Rep. Justin Amash, a libertarian Republican, who serves in one of the nine straight-party states in the country.
"Straight-ticket voting makes it prohibitive to run outside of the major parties," Amash told me today.
A popular four-term congressman who is projected to breeze to re-election after going uncontested in the Republican primary, Amash has nevertheless chafed at both the GOP and the two-party system overall. In an interview with me a year ago, he said that "hopefully, over time, these two parties [will] start to fall apart" and expressed his preference for the self-descriptor "libertarian" over "libertarian-leaning Republican." (Yesterday, when a Twitter critic accused him of thinking he's "the most popular libertarian in congress," Amash retorted: "I'm the only libertarian in Congress. There are maybe a dozen libertarian-leaning conservatives.")
Libertarians, independents, and other third-party candidates face a blizzard of obstacles in getting on ballots, into polls, and onto debate stages. Straight-ticket states add the wrinkle of simplifying the voting process for their major-party competitors, particularly in down-ballot races. Registered Libertarians in New Mexico are outnumbered 66 to 44 to 1 by Democrats and Republicans, respectively, while the 22 percent of registered voters there without a party affiliation have to go through the trouble of selecting each candidate rather than voting just once for their entire team.
Amash's criticism of that set-up the past two days has been blunt.
"Both straight-ticket voting and partisan gerrymandering are terrible for our country," he tweeted. The former is "primarily a scheme to unfairly benefit the major party establishments," he continued.
The Michigan legislature struck down straight-party voting in 2015, but a series of court decisions, the latest coming this very month, have kept the system in place, claiming that it protects historically disenfranchised voters. Amash says he favors several reforms to make voting easier, but he doesn't think the straight-ticket option fits the bill: It's "not only unfair and harmful, it's also a solution in search of a problem. The person who intends to vote all one party saves almost no time by having a straight-ticket option. Voting all one party is super easy."
New Mexico Secretary of State Toulouse Oliver, who made the decision to reinstate straight-ticket voting, is running for re-election against Republican nominee Gavin Clarkson. In a statement today, Clarkson pointed out that she's reversing a legislated repeal of the practice that was signed into law by none other than Gary Johnson, who was a Republican governor before he was a Libertarian senatorial candidate:
Maggie Toulouse Oliver's unilateral and likely illegal straight-party ballot decree is an attack on our democracy and the rule of law. Sadly this act of voter suppression is just another cynical example of the abuse of power in the service of extreme partisanship. That's why I'm running to restore impartiality and integrity to our state's ethics and elections.

Straight-party voting was repealed in 2001 by a Democratic legislature and a Republican governor, Gary Johnson. Specifically, House Bill 931 repealed Section 1-9-4 of the Election Code, which permitted each voter "to vote a straight party ticket in one operation." That was the only law authorizing straight party voting in New Mexico, and it has been gone for nearly two decades.

Since then, the people's elected representatives in the legislature have refused to reinstate it. Only nine states still use it, six have repealed it in the past decade, and another state is dropping it in 2020.

Legally speaking, the Secretary of State simply doesn't have the authority to unilaterally make laws, especially against the expressed will of the legislative branch as she is now attempting to do. Thus her actions are not only an insult to the idea of an informed electorate but also an attack against the will of the people of this state and their elected representatives.

It is clear that Maggie Toulouse Oliver is trying to turn back the clock to an era of back rooms and party bosses. Her transparent attempt to unfairly help her own re-election campaign and the rest of her party's underperforming ticket must be stopped for the sake of public trust in our institutions. Her participation as both candidate and referee in this election is looking increasingly like a conflict of interest.

Radical ideologues like Maggie Toulouse Oliver don't believe in letting the people govern, and they don't think the people have the critical thinking capacity to evaluate each candidate independently. This is what happens when you have an adjunct political science professor attempting to practice law.
Here's my interview with Amash from last year:
UPDATE: More on the lawsuit here.