Ron Paul–Backed Libertarian Senate Candidate Murray Sabrin Not Getting Polled Despite Running Against Robert Menendez
What does it take for a strong third-party candidate to get polled against a scandal-plagued incumbent? His own money, turns out.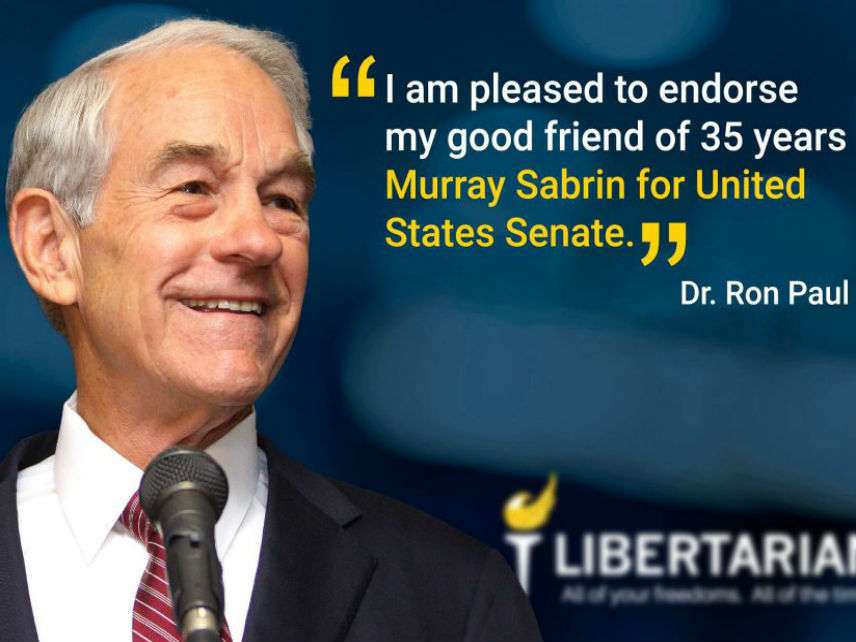 Sen. Rand Paul (R-Ky.) is not the only member of the Paul family to endorse a Libertarian Party candidate for the U.S. Senate this year. His father, Ron Paul—a longtime Republican congressman and three-time presidential candidate (twice with the GOP, once with the L.P.)—last month endorsed his 2008 New Jersey campaign spokesman Murray Sabrin in a race against scandal-plagued incumbent Democrat Robert Menendez and moderate Republican pharmaceuticals executive Bob Hugin.
"I am pleased to endorse my good friend of 35 years Murray Sabrin for United States Senate," the elder Paul said in his endorsement. "Murray's dedication to, and knowledge of, the principles of liberty will make him an effective advocate for freeing the people of New Jersey—and the Nation—from excessive taxes, debt, and inflation, as well as ending the ongoing violations of our right to free speech, property, and privacy. Murray will also be an outspoken Senator for peaceful relations with other nations, and work to ensure that our immigration policies adhere to common sense solutions like his proposal to have immigrants obtain sponsors so they can assimilate and become financially independent."
Ron Paul has not made a habit out of endorsing Libertarians—declining, for example, to endorse presidential nominee Gary Johnson in 2016 or 2012, and backing the Constitution Party's Chuck Baldwin in 2008. Making the endorsement even more significant that Sabrin is an unusually strong candidate, running against an unusually weak incumbent.
A longtime economist and educator who is strongly anti-war and pro-life, Sabrin owns the seventh-highest percentage of any Libertarian Party gubernatorial campaign in the party's 47-year history, earning 4.7 percent of New Jersey's vote in 1997. Switching to the Republican Party, he finished fourth, with 19.4 percent, in a tight four-way primary for Senate in 2014. (The winner, Jeff Bell, got 29.4 percent, then lost to incumbent Cory Booker by 14 percentage points in the general.)
And yet, like similarly strong L.P. Senate candidates in the toss-up states of Indiana and Nevada, Sabrin is generally not being polled, appearing only in a Gravis Marketing survey that his campaign paid for. There he pulled a respectable 7 percent, to Menendez's 40 and Hugin's 30. The race is widely considered to be a "lean D," but as columnist George Will has pointed out, support for the shabby Menendez has been weak in this strongly Democratic state.
"New Jersey Democrats—they outnumber Republicans by nearly 900,000—powered Menendez to a 19-point victory six years ago," Will wrote. But in the Democratic primary in June, "his opponent won 37.8 percent of the vote while spending next to nothing—not enough to require filing any financial statement." Even in two-way polls, Menendez hasn't topped 43 percent since April, with as many as 46 percent of respondents in one case declaring themselves undecided. This isn't your standard race.
To reiterate a point that apparently requires periodic repetition, polls that don't include strong third-party candidates in contested races amount to journalistic malpractice. You don't know what's going on in the New Jersey Senate race if you're not asking about Murray Sabrin.